Ready for a Career Change? Choosing Your Next Chapter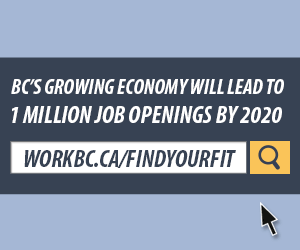 Many Vancouver moms reach a point where they realize they're ready for a career change. Perhaps you left your old job behind when you had kids, and now you'd like to do something new. Perhaps you're looking for a field that offers you more flexibility when it comes to combining work and family. Or perhaps you've experienced a lay-off and you realize you'd like to be part of a growth industry for greater opportunities down the line.
As we're taking steps to improve our own wellness this month, it's a great time to think about how to find a career that really works for you and your family. To help you get started on your own next chapter, today we're sharing four tips to help you find your fit.
Career Change: Four Tips to Help You Find Your Fit
1. Research the Job Market
As you set out to make a career change, you'll want to know that your new field has growth potential. No one wants to invest a whole lot of time and money in training, only to discover that there are very limited opportunities waiting at the end. So, as you consider what direction you want to take, start by researching the job market. One great place to start is WorkBC's Labour Market Navigator. It lists the highest-growth fields, broken down by region, so you can make good decisions about what jobs will be in demand here in Vancouver.
2. Consider the Skills and Interests You Already Have
As you consider making a career change, another good thing to think about is what skills or interests you already have. As a mom, for instance, you're likely organized and dependable, with excellent multi-tasking skills. Perhaps you've gained some skills through volunteering, or you've always enjoyed working with people. If you can leverage your existing skills and interests, you can find a job that you'll be good at and you'll actually enjoy. If you know the general field you'd like to work in, tapping into your strengths is a great way to narrow down exactly what role you'd like to fill within that field. If you need help getting started, check out the WorkBC self-assessment page.
3. Think Trades
We've all heard about how the trades are taking off here in BC and across Canada. Have you actually considered a career in the trades for yourself, though? Many moms haven't, just because we usually associate the trades with men. With serious skills shortages in the trades, and many government programs encouraging us to consider a career in the trades, there are lots of opportunities in that sector if you think outside the box. Another bonus of a career in the trades is that skills training programs are typically shorter than more traditional post-secondary options, like pursuing a university degree. Learn about skills and education required for specific trades with WorkBC's Career Trek video series.
4. Advanced Training: Yes or No?
For many people who are considering a career change, the next logical question is to ask what training may be required. Going back to school is a big deal for moms. Our own Managing Editor Amber headed back to school this month, in fact, and she shares, "Juggling school with my other commitments is definitely harder now that I have kids and a job, than it was when I was a full-time student in my late teens and early twenties. It's also more rewarding, though, because this time I'm really choosing something that energizes me, and I know I'm setting a great example for my kids." If you do decide to go back to school, make sure that you understand exactly what kind of time commitment is required, and exactly how much books, tuition and so on will cost up front, so that you're making an informed choice. For more help in choosing an educational program, check out WorkBC's information on Getting the Right Education.
Whatever direction your career change takes you, we hope it brings you a greater sense of mental and financial wellness. And remember – a new pair of shoes for your new chapter is never a bad idea!

This article was sponsored by WorkBC.ca. With one million job openings expected by 2020 now is the time to think about your and your kids' future. Visit WorkBC.ca one of B.C.'s most powerful job search tools. WorkBC.ca is your one stop shop for all things labour market related in B.C. Whether you're looking for labour market information for your child's future, job search tips for yourself or just want to browse opportunities throughout BC – WorkBC.ca is where to start. We know – you're on the go, not to worry! WorkBC's online tools such as Job Search, Labour Market Navigator, and Career Trek can be viewed on tablet, mobile and virtually everything in between.
Vancouver Mom
Would you like to write for us? We welcome well-written guest submissions with a local interest slant. Share your tips, review local businesses and highlight hot trends for Vancouver moms. Get all the info on our Contributor Page!