My Daughter and The Wiggles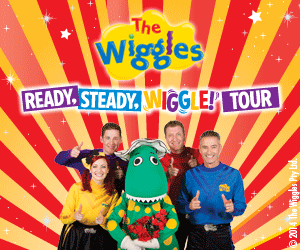 My daughter is nine years old now. She loves Taylor Swift and Katy Perry. She can't get enough of the Harry Potter books or movies. She writes in her diary a lot, loves her grade four class at school and has recently asked if she can take circus classes. She's getting bigger every day. But long before any of these things were part of our family's day-to-day life, we had The Wiggles. CDs and DVDs from the Australian kids' group were in heavy rotation in our home during my daughter's preschool years. I still can't hear the phrase 'fruit salad' without mentally adding 'yummy, yummy' in my head. And I still have a soft spot for Dorothy the Dinosaur.
The Benefits of Children's Music
Let's be honest – few of us listened to children's music in our pre-kids days. Whether you love a song or not, though, there are tangible reasons to expose your kids to music. Kids love to sing and dance, and having music in your house facilitates that. As kids sing along to music they learn about rhythm, language and a whole lot more. While it's valuable to expose your children to a variety of different kinds of music, the upside of children's music is that it is targeted specifically at children. You're not going to hear questionable lyrics from The Wiggles. Instead, you're going to get songs that kids can understand and sing along with, that share messages targeted at toddlers and preschoolers.
If you attend a live children's music show you'll notice that the kids are invited to participate by performing specific actions and singing along. For children, music isn't about appreciating a musician's technical skills, or admiring a carefully constructed lyric. It's an immersive experience that they can be part of. If they attend more than one concert featuring the same performer, or watch a concert DVD, they'll see the same actions every time. Preschoolers love routine, so this repetition and predictability is actually a big plus for them, and makes it easier for them to play along. And as they do, they're not just having fun, they're learning, too.
See The Wiggles in Metro Vancouver
The Wiggles are bringing their show back to Metro Vancouver. You can see them at the Bell Performing Arts Centre in Surrey on October 18, 2014. Then catch them the next night – October 19, 2014 – at the Centennial Theatre in North Vancouver. My daughter may have outgrown their show, but we still have fond memories, and I bet you'll make some of your own if you attend with your children.
This article was sponsored by The Wiggles. After years of captivating children from around the globe, the number one children's entertainment group, The Wiggles, are bringing their colourful song-and-dance showback to North American audiences with the "Ready, Steady, Wiggle" tour. This will be the biggest and brightest wiggly show all year! Coming October 18th to the Bell Performing Arts Centre in Surrey and October 19th to the Centennial Theatre in North Vancouver! They'll play wiggly favorites from 'Hot Potato' and 'Rock-a-Bye your Bear' to the new hits like, 'Do the Propeller!' Tickets on sale now at www.thewiggles.com.
Vancouver Mom
Would you like to write for us? We welcome well-written guest submissions with a local interest slant. Share your tips, review local businesses and highlight hot trends for Vancouver moms. Get all the info on our Contributor Page!