Wesbrook Village: Vancouver's Newest Family Friendly Neighbourhood
A new neighbourhood takes time to develop its own culture, but Wesbrook Village on the UBC endowment lands is fast tracking it's way to earning the title of Vancouver's Most Family Friendly Neighbourhood. Wesbrook Village consists of a myriad of condo developments interposed with retail and recreational facilities. The neighbourhood also boasts one of Vancouver's newest high schools, University Hill Secondary. Wesbrook Community Centre, a 30,000-square-foot facility, is set to open in 2015. There can never be enough play gyms, drop-ins, day-camps and preschools in Vancouver. In the meantime, Wesbrook Village offers a slew of other family-friendly activities.
Weekly at Wesbrook Village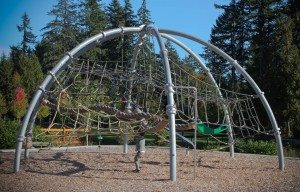 Every Saturday at 10:15am at the Wesbrook Welcome Centre is a story time for children. The story telling time is peppered with songs and even crafts. On Wednesdays at 4:30pm at the centre is a family movie time which includes juice and popcorn for the kids.  The best part is, it's all free! The Wesbrook Welcome Centre is staffed by incredibly helpful individuals who are eager to offer  advice on what to see and do not only in Wesbrook, but on the UBC campus as a whole.
Errands Made Easy
The retail shops in Wesbrook Village are what every parent hopes for, a place where you can get all your errands down in one fell swoop.  To name a few there is a Save-On-Foods, a Shopper's Drug Mart, a Menchie's Frozen Yogurt (because we know you deserve it), an eye care and dental centre, a Jugo Juice and a BC Liquor Store (because we know you need it).
The Best Park Ever
Like most activities in Vancouver, at Wesbrook Village the best things to do are outdoors. Nobel Park was voted by my five-year-old and three-year-old as the Best Park Ever. From the innovative, choose your own adventure climbing apparatus to the serene community garden and trickling stream, Nobel Park provides hours of fun for the whole family.
See Also
If you're a Vancouver family looking for a new family-friendly neighbourhood to explore, check out Wesbrook Village. Come to think of it, Wesbrook is a lot like Storybrooke. Once you're there, you won't be able to leave….
Wesbrook Village
Michelle Gadd
Michelle Gadd is an urban dwelling, Vancouver housewife and mother of two rambunctious boys. She has a passion for discovering, and writing about, ways to engage kids in city culture. Michelle created www.elasticpantcity.com as an outlet to write about life, from parenting to city living, fashion to frugality, food to faith, no subject is off the table. Michelle invites readers to take a glimpse inside her life and be inspired by the beauty of art in the every day.