A Sweet Visit to the Fort Langley Cranberry Festival
A wonderful Thanksgiving long weekend stretches ahead of us. If you're looking for good ideas to use up some calories ahead of the impending turkey feast, head out to the Fraser Valley this weekend for the 19th Annual Fort Langley Cranberry Festival.
Fort Langley Cranberry Festival
Fort Langley is always a wonderful family destination choice. This Saturday, October 11th, 2014 from 10:00am to 4:00pm, will see the village celebrating the healthy red berry in one hundred and one different ways. There will be food trucks, street vendors, children's entertainment, and of course, lots of fresh cranberries for sale at the Fort Langley Community Hall. Other optional festival activities include a tour of a local cranberry bog. (Tip: wear your wellies … and maybe bring extra pants and socks for the kids.)
Parking is limited in the village, so take advantage of the free shuttles from Walnut Grove Secondary and Trinity Western University into Fort Langley.
Visit the Fort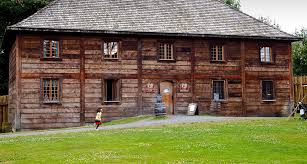 If the Fort Langley Cranberry Festival doesn't completely exhaust your family, head over to the Fort Langley National Historic Site. The site is a short walk from Glover Road, the main street of Fort Langley village and site of Saturday's Festival.
This impressive former Hudson's Bay Company fort is worth a visit, outside of the obligatory school field trip. It's a fantastic living museum where you can experience the 1800s fur trading post like a real explorer. Watch black-smithing, pan for gold, and listen to costumed interpreters relate what life was like in pioneer British Columbia. The Fort's operating hours are from 10:00am to 5:00pm.
Happy Thanksgiving!
Photo Credit: Inside Vancouver and Flickr
Claudia Laroye
Claudia lives in Vancouver. She's the mother of two teenage boys, and has a thirst for travel, chocolate, and pineapple margaritas. She writes and blogs as thetravellingmom.ca, offering a modern mom's guide to family travel sanity. She is much too active on Twitter as @travelling_mom.