Book a winter camp at Funtopia

Looking to keep the kids busy over the Christmas break? Funtopia has winter camps ready to cover all your needs.
Seriously flexible options
Need a day to do some errands? School holidays don't line up with your work schedule? You can book a single full-day drop-in, a week of mornings or afternoons, or full days. Book for one week, or two weeks. This is definitely one of the more flexible camp options in the city. On top of that, snacks and juice are included for half-day programs, and lunch – kid favourites of pizza or hot dog – is included in the full-day camps. You're also welcome to pack one for them of course.

Bouncing off the walls
The kids get time in the soft play area: diving into ball pits, chasing each other through tubes and down the slides. There's special wall-climbing time, where the kids explore all the cool challenges like the Speed Wall, Fireman's Wall, and the Volcano. Then there's the freefall slide, which is great for those kids who like to make playground slides even crazier by launching themselves in the air first. The staff at Funtopia have built in some quieter time too, there's arts and crafts, and storytime as well.
You will be sure to get a completely exhausted and happy child at the end of the day.
Bonus: Parents' Night Out
If you live near Funtopia Surrey, you can take advantage of their great Parents' Night Out offers, where your kids get a great adventure for a few hours and you get to go have a meal by yourselves. Check Funtopia's Facebook page for details.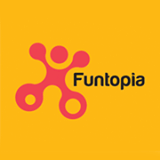 This post was sponsored by Funtopia. We strongly believe that staying fit and healthy is important for having a high quality of life. Climbing, stretching, jumping… these are all great sports activities we turn them into a great way of having fun while keeping fit.
Image Credits: Funtopia
Find more great places for moms just like you. Download JellyBeen, the social mobile app to find the best places to shop, eat and play with kids.
Erin McGann
Erin McGann is the former Managing Editor for Vancouver Mom and Toronto Mom Now. She drinks just a bit too much coffee, is a bit obsessed about sourcing local food, plays the cello moderately well, spends too much time on Twitter, keeps honeybees on a rooftop, and has a thing for single-malt whisky. Erin is working on a novel set in turn-of-the-century Vancouver, which her husband, son and dog have to hear about all the time, and also blogs at Erin at Large.