Summer in Vancouver: Dinotown FUNLAND
Just an hour from Vancouver, Dinotown FUNLAND has now moved from Bridal Falls to Cultus Lake. This family fun venue has five acres of kid-friendly entertainment. Take exit 104 from Highway One and follow the route in Yarrow to Cultus Lake. They are right across from the Cultus Lake Waterslides, and very close to the beach if you're looking to make a day from it.
Dinotown is Back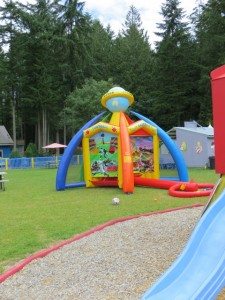 Owner, Rob Eli, has been bringing family fun to the Fraser Valley for over 30 years. Once known for Flintstones Park, Dinotown was born in 1995. Last year, Dintotown came to Surrey.  This year they will open from June 28 – September 1, 2014, from 10:00-4:00pm daily.  Toddlers under 30" tall are free. Kids 30"-54" are $11.95. Adults 54" and up are $9.95 and seniors are $7.95. Be sure to check out their site to get a discount coupon. Because it is a new location, parking fees are not available at this time. Call them at 778-808-5164 if you need details.
Join Dusty Bones, Dexter, Dee Dee and Flapper performing the Live shows at 11:00 am, 1:00 and 3:00pm every day. There are two dance parties at 12:00pm and 2:00pm. In between the shows and parties kids can bounce, take a slide, have fun playing mini-golf, explore the maze and much more. You can also bring your picnic to eat. They have wonderful birthday party options as well. Be sure not to pack a dessert as Frosty's has many yummy ice cream flavours.
Be sure to like their Facebook page and enter the Family Fun Photo Contest to win free passes every week this summer. While you are planning your visit, check out their site for colouring pages you can enjoy at home. And don't forget the sunscreen!
See Also
Dinotown FUNLAND
www.dinotown.com | Facebook | @DintownFUNLAND
4121 Columbia Valley Road, Cultus Lake
Danielle Christopher
Danielle moved to Langley with her husband when she was expecting their first child. It was a move of convenience eight years ago, and they can't imagine living anywhere else. They fell in love with the neighborhood and the community around it. Danielle's personal blog (MotherlessMoments.com) was nominated for Vancouver Mom Top Blogger 2013. She writes about being motherless and raising a child with autism. Find her on Twitter: @DanielleASigne