Light at Science World Illuminates the Imagination
One of the great things about TELUS World of Science annual memberships are the feature exhibitions, which keep things new and interesting for the kids. The second thing is that it gives us somewhere entertaining to take them whenever it's raining! Whether you have membership or not, this new exhibit at Science World is well worth exploring – it's an amazing collection of installations that show light in weird and wonderful ways.
Light: Illuminating Science and Art
This latest feature exhibition explores the many facets of light, showcasing interactive works from local and international artists. There's a lot of things to do, buttons to press – and even a place kids can make their own animation (this is a big hit).
'Light' is on at Science World from now until Sunday, January 4, 2014. It's the perfect answer for what to do in Vancouver on a rainy late fall day.
The Artists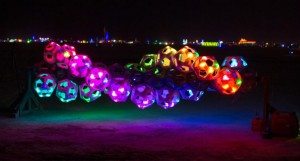 From DNA Origami to a Phantogram to an Instant Coffee Light Bar, there are multiple exhibits that will appeal to all ages. Alex Beim's Halo (our feature image) is a light-based interactive experience. Turn the wheels to make the colours change and create vibrant movement. Max Zorn's 'New York Eve' includes a video of the artist creating this freehand sepia scene using only packing tape with light shining behind it.
Our favourite? 'Ning Ning' by Karen Garrett de Luna and Cadin Batrack. You are invited to sit in front of a swarm of LED 'fireflies' that react to motion and stillness. Keep still kids, and you'll encourage the fireflies to come out! I've never seen kids sit so motionless to reap the rewards of the choreographed little lightning bugs. (Do they do home installations?)
Lunch with a View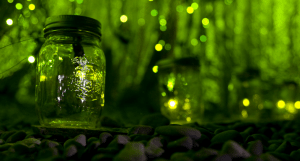 As well as a café, there is a pick-up White Spot Triple O's with plenty of seating overlooking the water. It's a pleasant spot to grab a bite amidst all the fun.
General admission is $22.50 for adults, $18.50 for youth (13-18) and $15.25 for children (3-12). There are group admission rates, plus upgrades to include OMNIMAX viewings. A family membership is $185 for one year, with many benefits including 15% off the gift shop and 20% off various other venues in Vancouver.
Science World
scienceworld.ca | Twitter | Facebook
1455 Quebec Street, Vancouver, 604.443.7440
Jackie Bateman
Jackie Bateman is an author and copywriter based on the North Shore. She has two children and several eye-bags. In between picking up goldfish crackers and making grilled cheese sandwiches, she writes dark, psychological thrillers. Drop by her website at www.jacbateman.com or follow her on Twitter where she's @jacbateman.