Helping Kids and Dogs Live Together in Harmony
Pretty much anywhere you go in and around Vancouver, you're going to see them: dogs. Big dogs, little dogs, old dogs, young dogs, quiet dogs and barking dogs. Vancouver is a city of dogs. Unfortunately, kids and dogs aren't always a match made in heaven. That's why Modern Mama Vancouver is teaming up with Vancouver pet store The Bone & Bowl for the Mamas, Munchkins and Mutts kids and dog safety workshop. They'll be covering a number of topics, including:
[unordered_list style="bullet"]
How to deal with an overly friendly dog.
How to approach dogs.
Working with dog owners.
How parents talk to their kids about dogs.
Helping kids overcome their fear of dogs.
[/unordered_list]
Talking Kids and Dogs with Georgina Bradley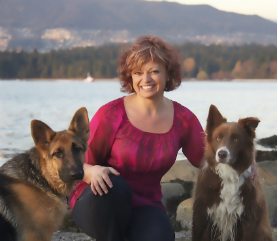 We recently connected with Georgina Bradley of DogStars Animal Training to get some tips on kids and dogs. So how do we teach our kids about dog safety? Georgina says, "Making sure that the dog is friendly with kids is the first step. If the dog is left alone, don't approach the dog until there's somebody there that knows the dog. Sometimes the signs that we all may think the dog is friendly is not necessarily a sign the dog is happy. Wagging tails don't always mean that they're happy. It can mean that they're stressed or that they're alerted to something they're not necessarily comfortable with."
Once you're checked in with the dog's owner, have the dog approach the child rather than having the child approach the dog. Georgina explains, "If the dog's okay with kids, the dog should be walking towards the little one. Having the dog on leash is always better, making sure we don't have any jumping happening. Then just having the child approach the dog softly. We don't want to rush at them. We don't want to run at them or grab them, or pull on their fur or their ears or anything like that. Then we want to have the dog sniff the child." If the dog appears sensitive or shy at any point, it may be best to cut the interaction short.
Helping Kids Who are Afraid of Dogs
Some small children are afraid of dogs. Georgina suggests teaching your child to be a tree and ignore a dog who's scaring them. She says, "The dog will sense that you're scared, and if you run away, the dog will follow you. If you ignore the dog, it will go away." Georgina's also worked with her nephews, one of whom was scared by her dogs. She shares, "What I got my nephew to do was ask my dog to roll over and play dead and get him to do some tricks. I got him to do it from the balcony so my dog was in the yard. He started to see that my dog was fun. As that relationship grew he started to trust my dog, and thus started to trust other dogs." Finding a trusted dog for your child to interact with can be a great place to start when introducing kids and dogs.
For more tips on helping kids and dogs coexist peacefully, head to the workshop on November 6, 2013 from 4:00 – 6:30 pm at The Bone & Bowl at 1610 Salt Street in the Olympic Village. The event is free for Modern Mama members, and $10 for non-members. To find out more about Georgina, head to dogstars.ca. To find out more about Mamas, Munchkins and Mutts go here. To find out more about The Bone & Bowl visit www.boneandbowl.com.
Amber Strocel
Amber Strocel is a writer, aspiring math teacher, suburbanite, wife and mom of two. She believes in the power of the Internet to connect people, and she believes that numbers are the poetry of the universe. You can often find her knitting, sewing, volunteering, working in her garden, and sneaking chocolate when no one's looking. She blogs at Strocel.com and shares her photos on Instagram as @AmberStrocel.