Kid-Friendly Vancouver: Telus Day of Giving
To say that it rained today would be the understatement of the year. But when I left home on my bike with my nearly three year old son, I, like many Vancouverites, just hoped for the best. We were on a mission and nearly prepared for the rain as we cycled to the West End of Vancouver to join the eighth annual Telus Day of Giving on Saturday, May 25, 2013. I was in search of a kid-friendly Vancouver way to teach the value of volunteering.
Telus Day of Giving: Give Where We Live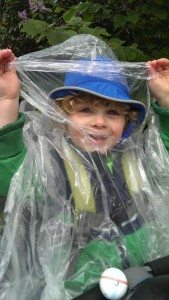 Before you start to think that I'm an amazing mom and all, let me just say that I almost cancelled due to inclement weather. But when you are modeling volunteering, sometimes you just have to suck it up. It's here that teachable moments lie.
We arrived to find a large group of people, donned in lime green Telus T-shirts ready to brave the elements, 'picker-uppers' and buckets in one hand, coffee in the other. It was a bit chilly but that didn't stop us from participating in the #GiveWhereWeLive campaign, a country-wide effort to bring people together to help in some way to clean up or help improve the lives of others. It was fun to watch my little guy get so involved. He quickly mastered 'his' picker-upper and helped our efforts to pick up trash along the sidewalks.
Although my son is a bit young to understand what volunteering means he's at that age where he wants to help all the time. He already knows how to separate the garbage from the recycling and has always been keen to help his dad in that department. I want him to know that every effort to keep our city clean is worth it. So it seems a natural fit that he would join me to help pick up garbage around town at a kid-friendly Vancouver event.
Kid-Friendly Vancouver: Teaching Volunteering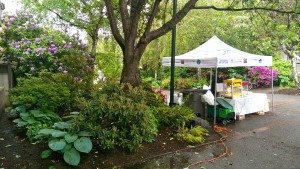 I haven't done a lot of volunteer work myself lately. Today reminded me how important it is to stay connected to our community by extending a helping hand. He may not know it now but my son will learn the value of volunteering by participating in kid-friendly Vancouver events like this.
We met many wonderful people today. Although the weather kept some away we still managed to pick up a lot of garbage. And when we were finished, there was hot chocolate, popcorn and hot dogs for everyone. Thanks so much, Telus, for a great experience!
Connect with Volunteers in Vancouver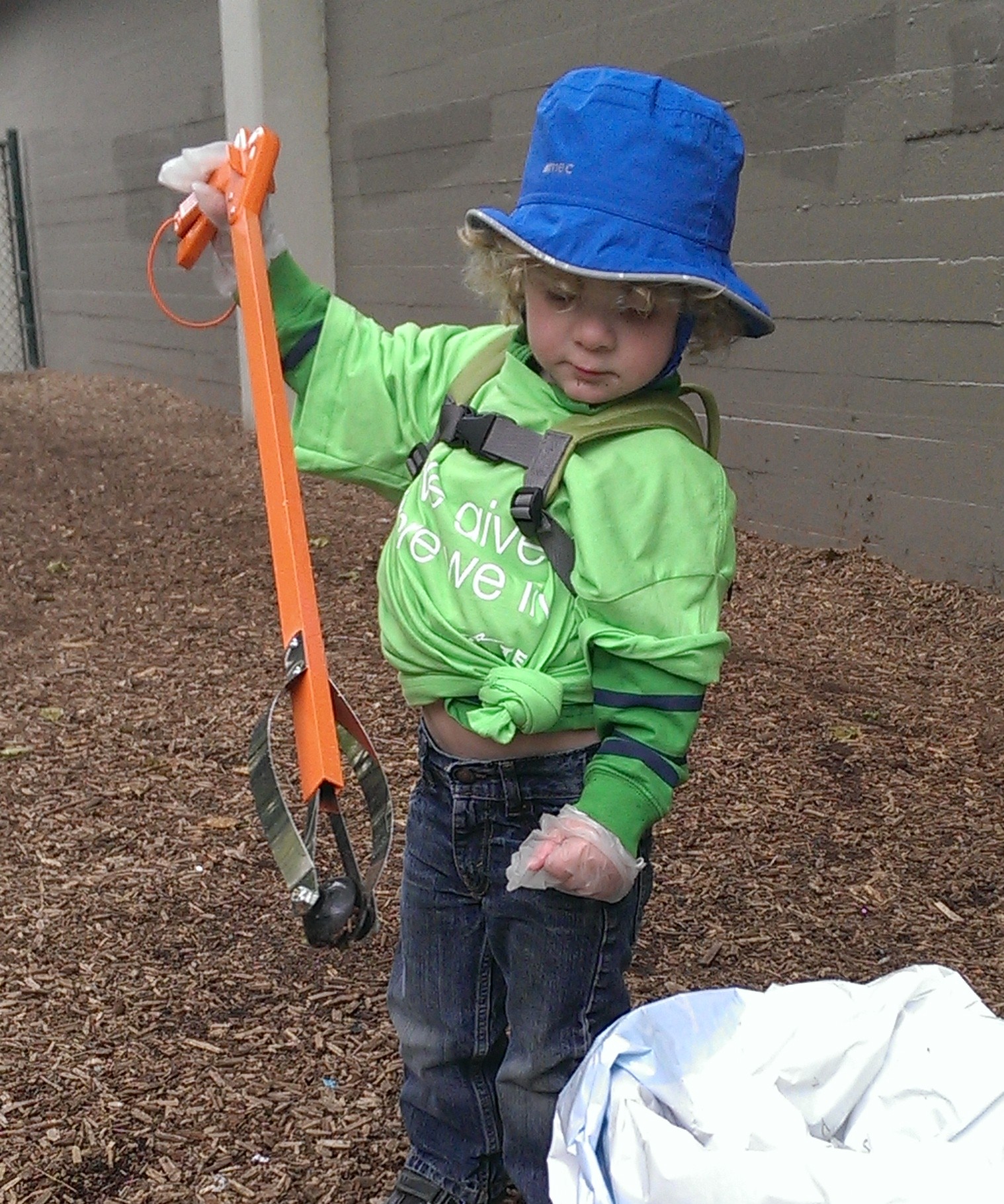 Even though the Telus #GiveWhereWeLive effort has past, you can still get involved in clean up efforts and other kid-friendly Vancouver volunteering opportunities around town.
Keep Vancouver Spectacular brings together individuals, business and neighbourhood groups to participate in cleanup projects. Community volunteer cleanups are also supported year round.which organizes thousands of Vancouver volunteers take to the streets in their annual city-wide cleanup campaign.
Adopt-a-Block In Collingwood Program
Green Streets is volunteer gardening to help beautify and calm streets.
Go Volunteer is a community connector for a variety of volunteering options.
For more information on the Telus Day of Giving and to find out how Telus has made a difference in your community already, please go to their website.
Lee-Anne Ekland
Leeanne Ekland is a stay-at-home mom of one, who's on a mission to rediscover love, wellness, and neighbourhood happenings and to have a ton of fun. She's also a lover of wine and yoga and believes that sharing her experiences at www.MomParadigm.com brings her closer to living her best life. Having started the parenting experience much later than most, she offers a unique perspective on the challenges and all that is amazing about being a mom over 40.