Thule's Cargo Box: tried and tested!
Photo credit: 2Loops
Whether you are introducing your kids to the world or just headed out for a weekend camping trip, Thules' cargo box is essential to creating a great trip. We had Vancouver mom, Allison Pettit of Mom of Threegio, partner with Thule for tried and tested review!
If you're new to the Thule Brand, they offer a wide range of products for families to enjoy outdoor adventures together, no matter the age or stage of your child. 
Take a trip with Allison and her family!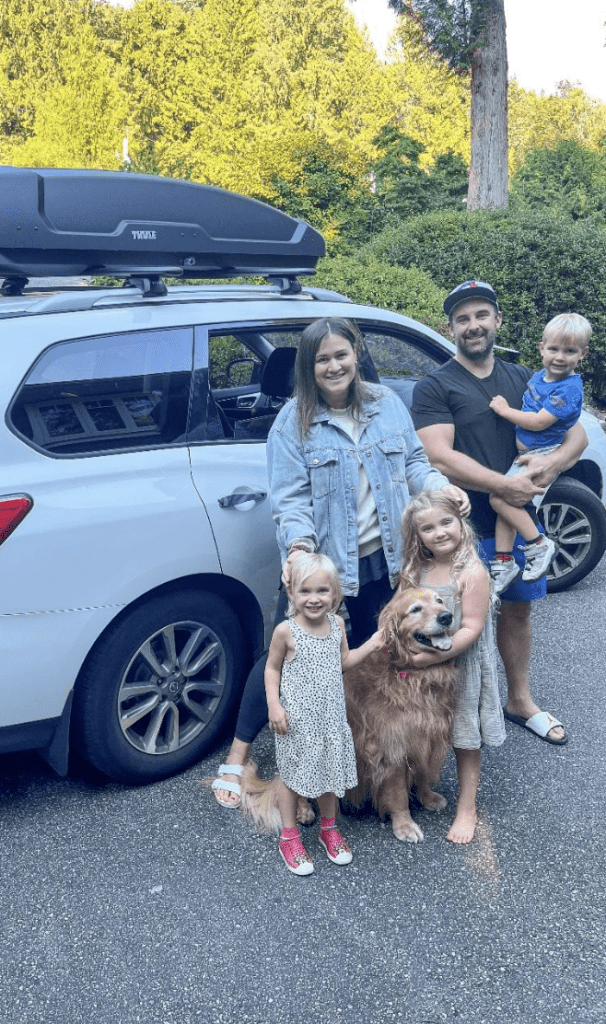 Road trips with kids, road trips with dogs, road trips of any kind… We always find ourselves needing more space or trying to pack less. 
As a family, we tend to take several of these road trips a year. We are usually only driving for 1-6 hours because children and sitting for long periods of time is not a great combination, but no matter where we go, packing is always a bit of a struggle due to the size of our car. And the funny part about it is that our car isn't even small!
Trips before Thule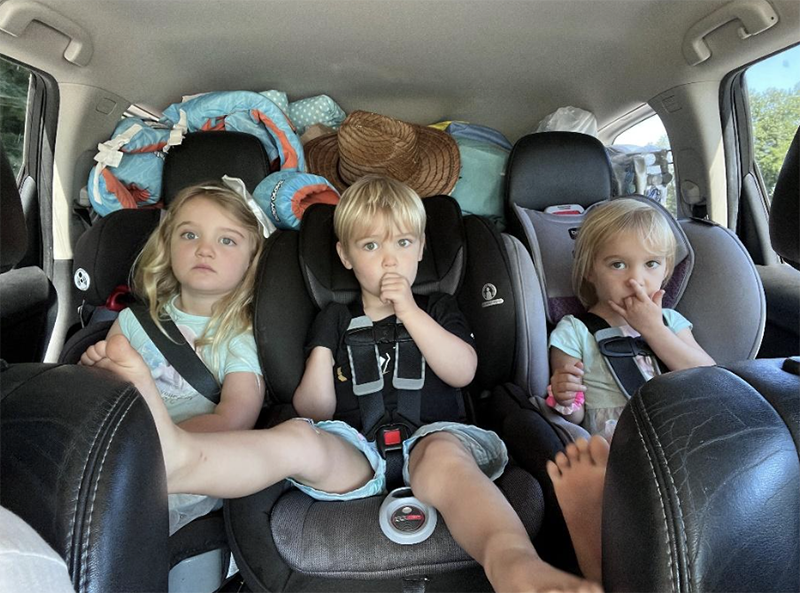 We are a family of five, plus an 80-pound Golden Retriever. My husband and I have three children: a five-year-old and twin three-year old's who are all in car seats. We drive a Nissan Pathfinder which has been a great option for most of our regular day-to-day activities.
Our three car seats rest across the middle row of seats and when they were younger, we could easily fit the stroller in the trunk or pop up one of the seats in the back row if we had an extra person in the car. We have zero complaints about the car.
However, I would be lying if I said that we hadn't had several conversations about getting a larger SUV because of all the gear we need to pack when taking a road trip to the Okanagan, Whistler or anywhere else around BC. We would often need to pack two (or three at one point) travel cribs, suitcases for us and the kids, a wagon because children are terrible at walking anywhere for more than two minutes, swim floaties, a cooler, and if we were lucky, at least one set of golf clubs.
This would leave zero room for our beloved chunky Golden Retriever, Hank. The poor man would have to stay back with our family and miss out on all the good times.
When we packed for Osoyoos this summer, we couldn't bring him and even had to put some of our luggage in my parent's car as we weren't able to fit everything for a 10-day trip. If you ask my husband, he will say I packed too much but the reality is that our kids require a lot of "stuff" no matter which way you look at it, and we hadn't even thought about packing bikes or scooters at this point.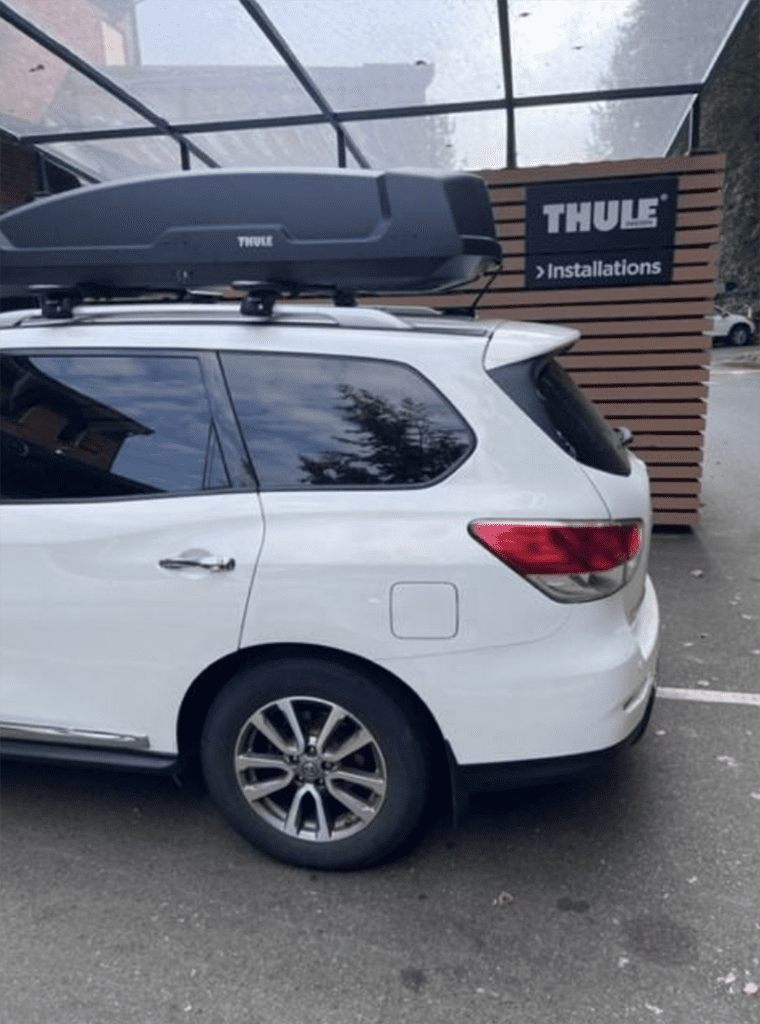 So once again, my husband brought up the alternative of trading in the ol' Pathfinder and getting something humungous. I didn't think that was necessary and I also didn't want to drive that sort of beast downtown to the office not to mention the insanity of Vancouver's gas prices. I was determined to make our already large SUV work for us.
And so, we started an exciting new relationship with our good pal, the Thule rooftop cargo box – the thing that dreams are made of. Regardless of if you have 100 children or are just super active, it's a game changer. And the best part?
We have a Thule store at Park Royal which makes it even easier to select what size or item you need for your car. In store, the staff were extremely knowledgeable and helpful. They selected the cargo box that made the most sense for our Pathfinder and lifestyle, along with the roof racks that were needed to attach said cargo box, and then off they went to start the installation, which was a very easy process.
You park at the back of the store, and they bring everything out to pop onto your car. The entire process from start to finish was about 25 minutes and I was so excited about it that I stayed and watched the whole show. After they finished, they gave me a lesson on how to use it, along with some tips on best practices like how placing the cargo box on one side is the way to go because it will require less reaching and make your life easier to remove the box all together. I was shocked at how easy it was and how much space was in there!
Fitted with Thule's cargo box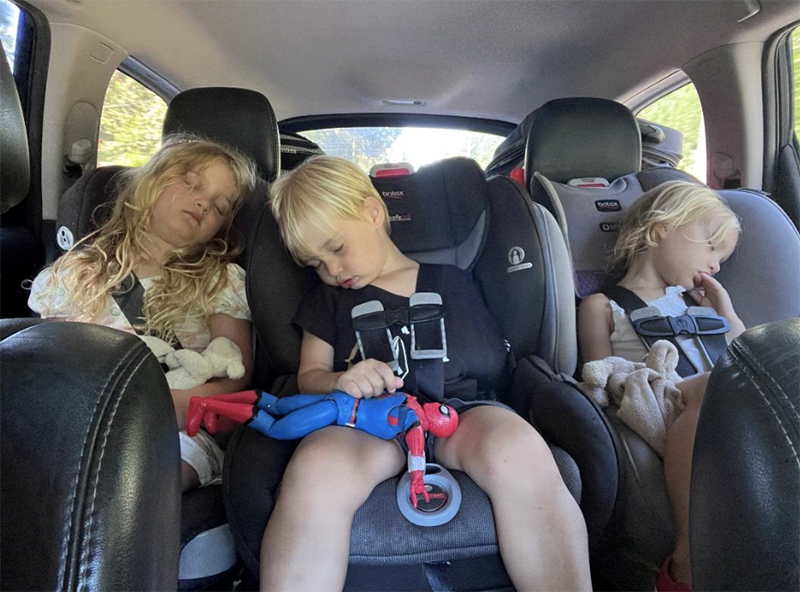 So naturally, we needed to start planning our next road trip to test out this new beauty. We immediately started packing everything into the car (and by "we", I mean my husband) and watched as all our luggage quickly filled the trunk. Then we started piling things into the Thule and let me tell you, this thing fits a ton! We threw in two sets of golf clubs, three bags of luggage, and could have fit more. We were both stunned. The amount of space we suddenly had in the car was dream worthy. I had leg room for the first time ever. Hank could fit comfortably in the back without worrying about luggage falling on top of him. Everyone was happy which is a huge win in our family.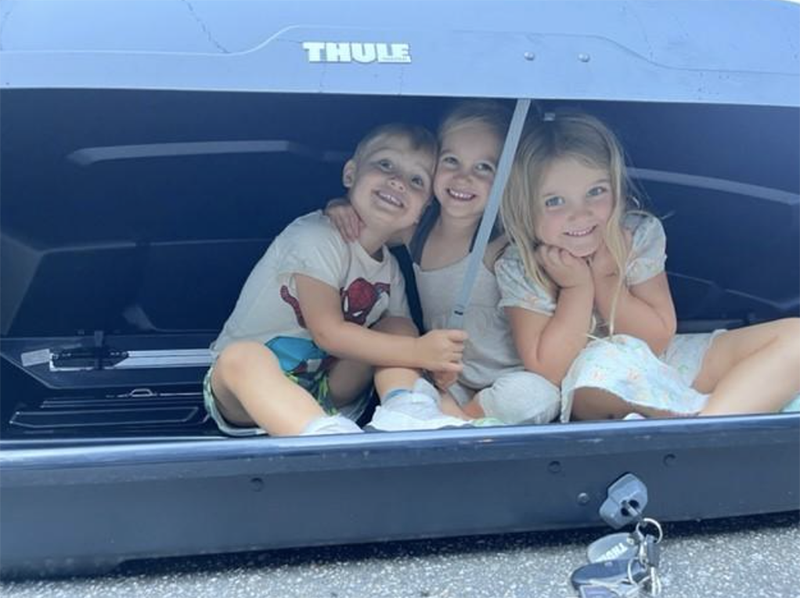 With three toddlers, no matter where you go, you tend to come with a lot of gear. The arguments that would arise around packing were never fun, but always expected as we would try our hardest to pack light, only to realize that it's impossible at times. Now when we pack up to go somewhere, there are zero issues. Everything fits and we still have room to spare. 
Thule… saving marriages and road trips since the beginning of time. To see a full video of our entire process from installation to road trip, take a look at my Instagram reel here.

This post is sponsored by Thule
Thule offers a wide range of premium products for active families. Their products allow you to safely, easily bring what you care about most along in style. Thule designs and manufactures sport and cargo carriers, backpacks and child-related products such as baby joggers, child bike seats and bike trailers.
Vancouver Mom
Would you like to write for us? We welcome well-written guest submissions with a local interest slant. Share your tips, review local businesses and highlight hot trends for Vancouver moms. Get all the info on our Contributor Page!