Five Favourites: Vancouver Playgrounds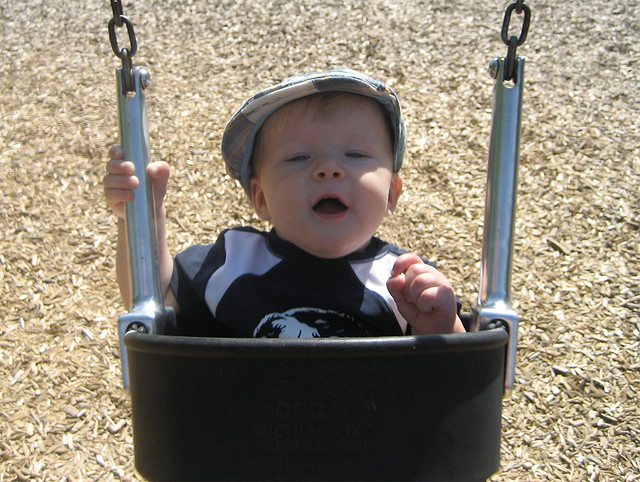 The first day of summer is just over a week away on June 21, and we've all been enjoying the warmer days and brighter evenings. Factor in the teacher's job action, which may result in an early start to summer vacation, and we think the time is right to visit some Vancouver playgrounds. Of course we all have our local go-to playspaces where all the neighbourhood kids congregate. Today, though, we're sharing our five favourite Vancouver playgrounds. If you're looking for a new place to take the kids this summer, check them out!
Five Fabulous Vancouver Playgrounds
Granville Island
Granville Island is a fabulous place to visit anytime of year, but it really shines in summer. It has a well-appointed playground adjacent to a great water park, allowing water babies and those who hate getting wet to enjoy the same playspace. With all of the amenities of Granville Island just steps away, you can absolutely make a day of it. And of course the little ones will want to stop by the Kids Market while you're there.
Trout Lake (John Hendry Park)
This Vancouver jewel boasts concession, walking trails, a beautiful lake, wildlife, an off-leash dog area and two (count them, two) playgrounds. On Saturdays in the summer it also plays host to the Trout Lake Farmers' Market, making it a great place to visit for local food and family-friendly adventures. There are also washroom facilities in the park, playing fields and picnic facilities, making it a great place to spend the day.
Second Beach
There are four Vancouver playgrounds in Stanley Park, and this one is our favourite. It has great equipment, plus picnic facilities, concession, washroom facilities and the outdoor pool. Located right on the beach, your little ones will have a good time exploring the waterfront and peeking under rocks. It does get busy, though, so you might want to play your visit for a weekday or evening.
Confederation Park
If you're willing to head to Burnaby, you'll want to visit Confederation Park just north of Hastings on Willingdon. The playground is big with lots of equipment, and it's right adjacent to washrooms and a splash pool. There's also a skateboarding park, a walking track, lots of treed areas to play in, lacrosse boxes and playing fields. You're immediately adjacent to Eileen Dailly Pool as well, if you fancy a dip. Finally, on weekends in summer you'll want to check out the Confederation Park Miniature Railway, which your little train lovers will adore.
Queens Park
Proving that great Metro Vancouver playgrounds can be found in the more distant suburbs as well, Queens Park in New Westminster is a must-see. The play structures are amazing, the spray park is top-notch, and there's even a petting zoo. You'll also find picnic facilities, washrooms, concession, walking trails and wildlife. It's definitely worth a drive, and your kids will absolutely want to come back for more.
We know that we missed dozens of fabulous Vancouver playgrounds – which ones are your favourites?
Vancouver Mom
Would you like to write for us? We welcome well-written guest submissions with a local interest slant. Share your tips, review local businesses and highlight hot trends for Vancouver moms. Get all the info on our Contributor Page!