Trending: Healthy Family Expo
Looking to kick off Spring Break with a bang, then head down the Healthy Family Expo at the Vancouver Convention Centre. There are tons of kids activities from live performances to wall climbing to bouncy castles and even indoor gardening! Even better, kids up to 16 years old are FREE!
What to do at the Healthy Family Expo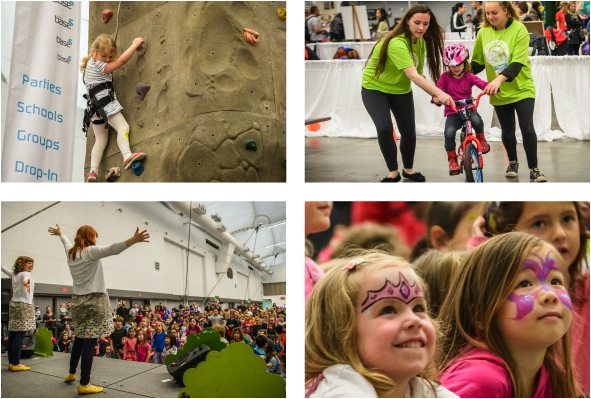 Active Kids Zone
There's lots of active fun on at the show this year. Watch your kids scale the Climb Base5 climbing wall, test drive some bikes and agility courses in the Pedalheads area, and let the kids have a go at some sports in the Sportball in the Active Kids Zone. A-Star Art Parlour brings their Superstar Bounce for the little ones and a 5-in-1 Clubhouse Bounce for the bigger kids! Tumbletown and the FunGymBus ensure that no child goes home with energy to burn! And of course there's face painting, which is so popular that The World Of Kidtropolis is presenting a dedicated face painting area.
On Stage

On the main stage, Bobs and Lolo will be making an appearance at 10 am so superfans better get here early! Then at 11:30, kids can learn how to grow veggies with EnviroKids. Jessie Farrell is excited to perform at 12:30 and 2:30 pm with her friends Daniel Tiger, SuperWHY, Scout & Daisy. Later kids can get their yayas out with DancePl3Yt at 3:30; see inspiring young performers on the Vancouver Performing Stars at 4:00 pm and cap the day off with a Squamish Flow Ninja demo at 4:30 pm.
Drop by Booth #909!
Drop by the Vancouver Mom Booth #909 and meet the gang! Spin our magic wheel for prizes from some of our faves: Sea to Sky Gondola, Wesbrook Village, Kidtropolis  HR Macmillan Space Centre and Locomotive Clothing
There are loads of exhibitors to visit and samples to collect, with lots of brands you know like Active Baby,Hippie Snacks, Love Child Organics, SportBall, Tot 2 Teen Dental, Whole Foods Markets, and of course us! Be sure to come by and say hi.
See you Sunday, March 18th!
PS: Kids up to 16-years-old are FREE. Get tix!
Harriet Fancott
Harriet Fancott is the Editor and Social Media Manager for Vancouver Mom. She has over 20 years experience in the arts, tech and mom-based blogging arenas. She lives in East Vancouver with her husband and son where they enjoy exploring all that Vancouver has to offer from festivals and events to playgrounds and beaches to sushi and ice cream (although not together).