Where to Eat in Vancouver: The Flying Pig
Wondering where to eat in Vancouver for a great brunch? Katie Smith checks out The Flying Pig.
Okay, so a quiet brunch with my husband isn't always on the weekend 'to do' list but it should be! On a recent anniversary my husband and I stole away to the downtown core for a couple of nights. Even though we already live in the city, the idea of a get away downtown was a great way to maximize our time together and still enjoy a change of scenery.
Make Brunch a Priority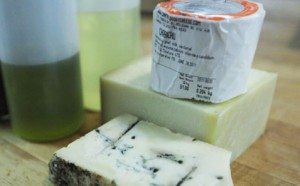 As any good thirthysomethings would agree, brunch was definitely a priority. Now, having the luxury of time on our hands we wandered the streets of Gastown looking for just the right spot. The rain was drizzling down but our appetites wouldn't be dampened and we found ourselves stumbling into The Flying Pig.
First impressions were solid. It had the right vibe so we asked for a table for two. The space is light and airy, and was already bustling with customers, always a good sign. Nice solid wood tables of different sizes were throughout and their were parties of 1 seated in company with table of varying degree, even a large table of girlfriends who seemed to be having the time of their lives. The staff was friendly and professional, they were adults who clearly worked hard and cared about their surroundings.
Where to Eat in Vancouver for Brunch
We were quickly seated and once we settled in we took on the menu. It had the right amount of options, it was clear that food was the main attraction here. Dishes prepared fresh, that majored on taste and experience. My husband and I have polar opposite taste buds. We usually order something very different from one another, however this time was different. We both raved about our choices and ended up eating off each others' plates. The meal was too good not to share.
We were already relaxed, dining kid free, but the experience here made me realize that if we had the kids with us, brunch would have been just as lovely. Sometimes a restaurant like this can feel good, look good and taste good but the service leaves something missing. That is not the case here, The Flying Pigs had our order on the table so quickly that I almost wondered if there was someone in the kitchen waiting to serve it up fresh, just for us.
You Had me at the Banana Bread
The little extra that really impressed me was the fresh baked banana bread brought to the table right after we ordered. With hot coffee in hand how could we not dig into the basket, and ohh and ahh at the warm freshness? What a great touch.
The Flying Pigs hit all the right notes from taste, atmosphere and price. We both had brunch with all the trimmings and our bill was very reasonable, we left feeling like it was money well spent. We were definitely thrilled to add The Flying Pig to our list of where to eat in Vancouver.
Two Locations to Choose From
The Flying Pig has two locations Gastown 102 Water Street and Yaletown 1168 Hamilton Street. The history bheind the operation is even more endearing as you read on their website. This hometown spot is the product of a lot of hard work and experience and from the proprietors. They serve breakfast, brunch, lunch and dinner, as well as  a full list of wine and beverages. The only thing I am left wondering is how am I going to make sure I get back there next weekend!
The Flying Pig
Katie Smith
Katie is a lover of all things Vancouver. She lives in the city (yes, in an apartment!) with her husband and two kids. She takes her coffee seriously and like any mama declares blogging to be the new therapy and Instagram the new scrapbooking. You can find her at www.worldbysmith.com and on Twitter where she's @worldbysmith.