Where to Eat in Vancouver: Lunch at Tacofino
Anyone who's visited Tofino is likely familiar with Tacofino. Their original taco truck does a booming business – so booming, in fact, that they now have trucks in both Vancouver and Victoria. In late 2012 they took things one step further, and opened up the Tacofino Commissary in the East Village neighbourhood, not far from Hastings and Nanaimo. While they are open for dinner, for me Tacofino is one of my go-to answers for where to eat in Vancouver for lunch.
Food Worth Searching For
The Tacofino Commissary is surprisingly hard to find, given its location on a main thoroughfare. The only real sign out front is a sandwich board, and the frame for the awning is bare, making the storefront very easy to miss. In fact, it's so easy to miss that even though I've been there several times myself, I still find myself having to really look for it. Clearly, their food speaks for itself, though, as it's a bustling spot even without big, eye-catching signage.
The Tacofino Commissary has different dinner and lunch menus. Their dinner menu features a wider variety of tacos (eight in total), as well as sides like nachos and burnt jalapeno hummus, and four dessert selections. Tacos clock in at $6 a piece for most selections, and I always order two, although one taco plus some sides would also likely be enough food for the typical Vancouver mom. The lunch menu features only five tacos, but also offers four burritos, three desserts, and several side dishes including soup. Burritos are $10 each, and at lunch tacos are two for $10, so I always opt for the tacos. They also carry Mexican pop, and are licensed to serve alcoholic beverages.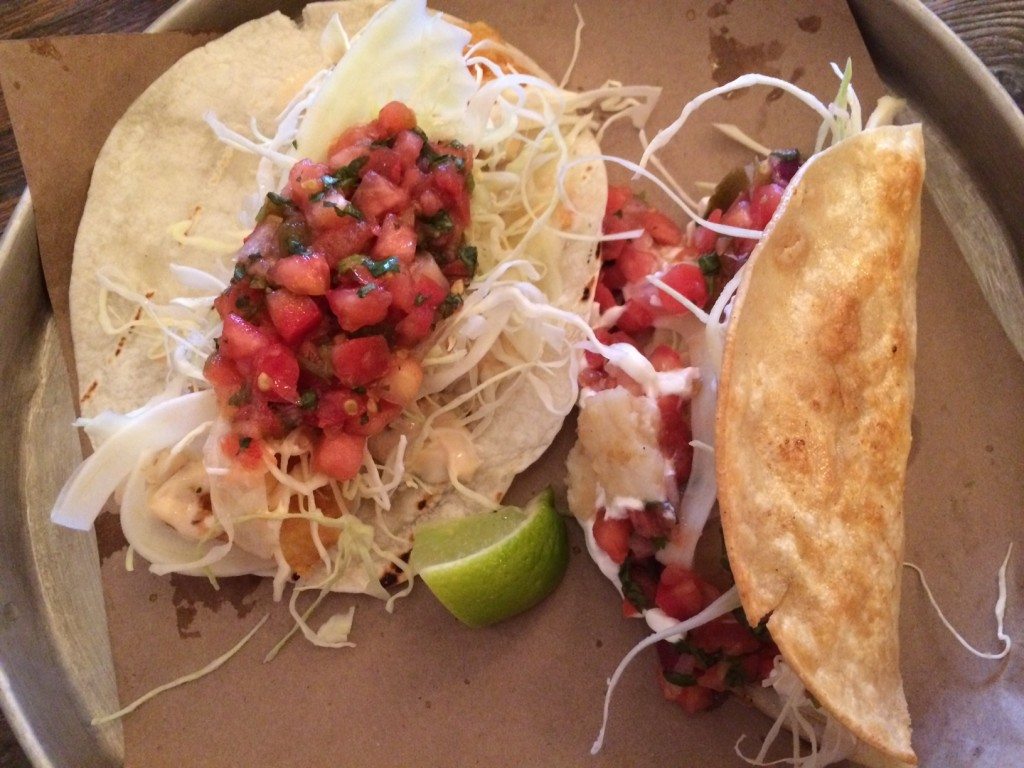 Where to Eat in Vancouver for Tacos
Really, Tacofino is all about the tacos. My husband's favourite is the fish taco, hands down. I like the fish taco, but for me the real standouts are the tuna and the crispy potato. I've eaten each and every type of Tacofino taco, however, and you really can't go wrong. They offer meat, seafood and vegetarian options, so there's something for pretty much everyone – or, at least, everyone who enjoys tacos. Plus, with a commitment to sustainable seafood, it's food you can feel good about eating.
The seating at Tacofino is a mix of a handful of smaller tables seating two to four people, and a number of long tables where you can grab an empty seat. If you had a stroller you'd want to opt for one of the smaller tables to allow for space. There are also high chairs available, but no change table is in evidence. There also isn't a children's menu, although a single taco would probably work well for most kids, portion-wise. The real question would be whether your kids enjoy tacos. My kids are pretty picky, so I probably wouldn't waste Tacofino on them. If your kids are a little more adventurous, you may have better luck.
If you're wondering where to eat in Vancouver for tacos any time of year, the Tacofino Commissary is where it's at. Just don't blink or you'll miss it!
Tacofino Commissary
tacofinocommissary.com | Twitter | Facebook
2327 East Hastings, Vancouver

Amber Strocel
Amber Strocel is a writer, aspiring math teacher, suburbanite, wife and mom of two. She believes in the power of the Internet to connect people, and she believes that numbers are the poetry of the universe. You can often find her knitting, sewing, volunteering, working in her garden, and sneaking chocolate when no one's looking. She blogs at Strocel.com and shares her photos on Instagram as @AmberStrocel.