What to do in Vancouver: Explore the Secret World of Sharks and Rays
Did you know that BC Coastal waters are shark-infested? Fourteen species of shark have been found and seven of them actually call our part of the world home. Feeling a bit terrified at that? Before you freak out and ban your kids from ever taking a dip in the ocean again, visit the Vancouver Aquarium and learn more the Secret World of Sharks and Rays. It's what to do in Vancouver to educate your kids (and yourself), and marvel in the beauty of these wonderful creatures at the Secret World of Sharks and Rays at the Vancouver Aquarium.
Learn About Marine Life: It's What to do in Vancouver!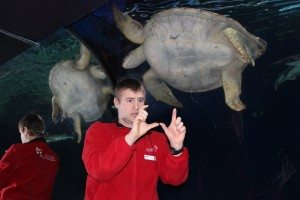 Watch as divers interact with marine wildlife, watch the shark feed, and marvel in the diversity of shark life. From the whale shark to the great white to the tassled wobblegong, sharks come in a variety of shapes, sizes and temperaments. And most, if not all, would prefer to stay away from the likes of us humans.
After a visit to the Aquarium you and your kids are bound to develop a mutual respect and fascination for one of the most-feared and yet most misunderstood creatures of the deep.
Fun for Kids: Learning Activities
If you're wondering what to do in Vancouver on a rainy March day, a visit to the aquarium is a popular answer. It's especially fun for kids. There are some special kids' activities happening until April 30, 2013, for The Secret World of Sharks and Rays. For example, you can get a shark mouth painted on your kids' faces, or you can visit the craft table to decorate a stingray in a colourful tie-dye fashion. While you're waiting for it to dry, decorate a beautiful seascape where your child's rendition of a stingray can live.
Sleep Alongside the Sharks: After Hours at the Aquarium
Bring your family and your sleeping bags along to a special after hours event on March 23
rd
, 2013. Learn about the fascinating secret world and habitats of sharks and rays through special activities and tours lined up just for you. Snuggle up alongside the sharks and their lesser known cousins, rays and ratfish, and see how many species you can find in the spectacular marine worlds at the Aquarium. In the morning, enjoy a continental breakfast and tour the Wild Coast exhibit and the Graham Amazon Gallery as the animals who inhabit them wake up for a new day. If you're wondering what to do in Vancouver over Spring Break, it's a great idea.
Conservation and Kids
Are you interested in joining to clean-up and conservation efforts for our shorelines? Registration is now open for schools and youth groups to participate in the Great Canadian Shoreline Cleanup, running from April 1st -June 30th, 2013.
When you need some family fun, VancouverMom.ca has the goods on what to do in Vancouver to keep everyone happy – and learning, at the same time.
Lee-Anne Ekland
Leeanne Ekland is a stay-at-home mom of one, who's on a mission to rediscover love, wellness, and neighbourhood happenings and to have a ton of fun. She's also a lover of wine and yoga and believes that sharing her experiences at www.MomParadigm.com brings her closer to living her best life. Having started the parenting experience much later than most, she offers a unique perspective on the challenges and all that is amazing about being a mom over 40.