Mom to Follow: Valerie Braacx
Mom to Follow: Valerie Braacx
Valerie started veespoke as a means to express  her passion for sewing and love for infinity scarves. As a mom to son, Eli, she says her job has also becomes a means to support her family as well as pursue her passion. Get to know more about Valerie in our interview with her below.
What neighbourhood do you live in, and how long have you lived there?
West End/Coal Harbour 3 years now – previous to that 2 years in Coal Harbour and 3 years previous in the West End.
What is your favourite thing to do with your son in your neighbourhood?
Walk to any of the nearby parks, rec centres, beaches – we walk everywhere.
What is your favourite place to eat out with your son in your neighbourhood?
It would have to be Sweet Salt Bakery on Fraser – delicious pastries, and the most kid friendly place. Ideal destination for moms and kids! I went there with a few girlfriends (plus all of our toddler children). There aren't many opportunities to go anywhere with your mom friends and not worry about your kids causing a ruckus.
Where is your favourite local coffee shop?
JJ Bean / Greenhorn in the West End.
What is the best thing in your neighbourhood that the rest of Metro Vancouver doesn't know about?
Greenhorn Espresso Bar in the West End. There aren't many places like it, and I love that it is a one off and in the heart of the residential West End.
What is your favourite local playground?
Probably the playground at 2nd beach – it has everything!
What inspired you to start your own business?
I've always wanted to start a business that shared something I made with the world. After becoming a mom, I have been inspired by other mom-trepeneurs – especially creatives whose passion is evident in their product. The flexibility that this business affords is huge! I am able to generate income for my family on my schedule and I'm doing something I love.
How does the community/city that you live in inspire your designs?
The diversity of the city translates to the diversity in my scarves. Not everyone wants the same style scarf, and not everyone wants the same scarf as everyone else. My vision for Veespoke is to provide individuals with unique, handmade pieces that fit their personality. It's all about variety and small runs!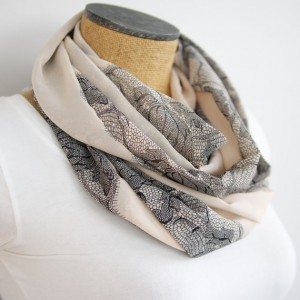 What is your favourite thing about doing what you do?
Sharing my creations with the public and seeing their reaction when they find the perfect scarf for themselves or a loved one.
As a gift to our readers, Valerie has provided a coupon for 15% off! The coupon is VANMOM15 which you can enter at checkout when purchasing from her website. It expires Feb 14th 2015.
Veespoke
Vancouver Mom
Would you like to write for us? We welcome well-written guest submissions with a local interest slant. Share your tips, review local businesses and highlight hot trends for Vancouver moms. Get all the info on our Contributor Page!