Beauty and the Beast and Inner Beauty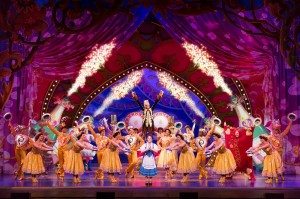 Broadway Across Canada is bringing Disney's Beauty and the Beast back to Vancouver this winter, running February 3 to 8, 2015 at Queen Elizabeth Theatre. The smash hit musical, based on the Academy Award-winning animated feature film, is an eye-popping spectacle has won the hearts of over 35 million people worldwide. This classic musical love story is filled with unforgettable characters, lavish sets and costumes, and dazzling production numbers including "Be Our Guest" and the beloved title song. It's a very popular show, so be sure to get your tickets ASAP at ticketmaster.ca
Valuing Inner Beauty
Earlier this month we ran a giveaway for four tickets to opening night on February 3rd. Congratulations to Kelly, who won! As part of the contest we asked you how you're teaching your children to value inner beauty instead of outside appearances. Today we're sharing some of our favourite answers. Here's what you had to say:
My son is only 2, but we make sure always tell him what a wonderful kind heart he has. We also let him sing as loud as he wants and pick his own clothes out, not matter how much I don't like sweat pants and button up dress shirt with orange socks. He can express himself and be himself. ~ Lorrie 
Every night as I tuck my kids into bed, I tell each one something good they did that day. Whether it was helping a sibling, learning a new task, or overcoming something that challenged them. It's a quiet moment with the kids and a way to make sure they go to sleep with a positive feeling. ~ Gretchen 
It all begins in your home. Parents are the number one teachers in their children's lives. We model vs "teach" our old daughter the value of inner beauty. Being humble, appreciative and kind are virtues that can be learned through experience and observation. We demonstrate the value of inner beauty by how my husband and I interact with one another and how we appreciate the world around us whole heartedly. As an exercise we often put covers on some of our bedtime stories and she can pick blindly which book. Our bedtime story will be- don't judge a book by its cover! ~ Abbi
My 7 year old is beginning to notice when people look "different" – the child at school who has a birthmark on her face, the woman in the store who is a little overweight, the man who lives on the street and wears unwashed clothing. All of these draw stares, questions, curiosity. My answer to each is, "Everyone is unique and special in different ways." I hope I am reinforcing that just because someone looks different, doesn't make them any less of a good person! ~ Tracey 
I teach my children to love, give, share, help and spend time with all of those around them. Despite others differences, it is what makes the world a beautifully diverse place. ~ Michelle
I have 3 beautiful children and I like to remind them of that every single day. I point how beautiful my 10 year old son is when he helps his younger siblings read a storybook. I remind my 6 year old daughter how beautiful she is when she patiently tried to helps her brothers understand the importance and beauty of her dance practices. I remind my 5 year old son how beautiful he is when he shares his candy with his older siblings and friends. I try to teach them that we are all different on the outside, and that the one thing we all do have in common is our heart; and that beauty radiates outward from the heart. ~ Froozan
Be true to yourself. ~ Grace 
I tell my boys to look at the positive in the people around them and that "beauty is in the eye of the beholder". We talk about beautiful things like how it's beautiful when someone offers you a seat in a bus, or a simple gesture like when someone opens a door for you. ~ Lesley
I really try to have my daughter be friendly and say hi to people of all walks of life. Different ages, cultures, economic stations. And so far, I think I'm doing a great job. I think if children are taught to respect everyone, they'll also respect themselves. ~ Erin 
We constantly tell our daughter that she is kind, funny, silly, has a good heart. We try to focus less on appearances with compliments and shine light on her attributes and accomplishments. She is a beautiful child, but she is SO MUCH more than that. She is silly and makes us laugh everyday, she is smart and surprises us with something new each day. ~ Tara 
Beauty and the Beast in Vancouver
ticketmaster.ca
February 3-8, 2015, Queen Elizabeth Theatre
Vancouver Mom
Would you like to write for us? We welcome well-written guest submissions with a local interest slant. Share your tips, review local businesses and highlight hot trends for Vancouver moms. Get all the info on our Contributor Page!