Where to Eat in Vancouver: The Juicery Co
I made a miscalculation in my search for a new spot to add to my list of where to eat in Vancouver. I assumed The Juicery Co. would be closer to Lonsdale Ave, and so I parked without checking. Fooled by the sunshine and sick of my winter coat, I foolishly left that behind in my car. That was when I realized I was three long blocks from this new North Vancouver juice bar.
Where to Eat in Vancouver for Organic Juice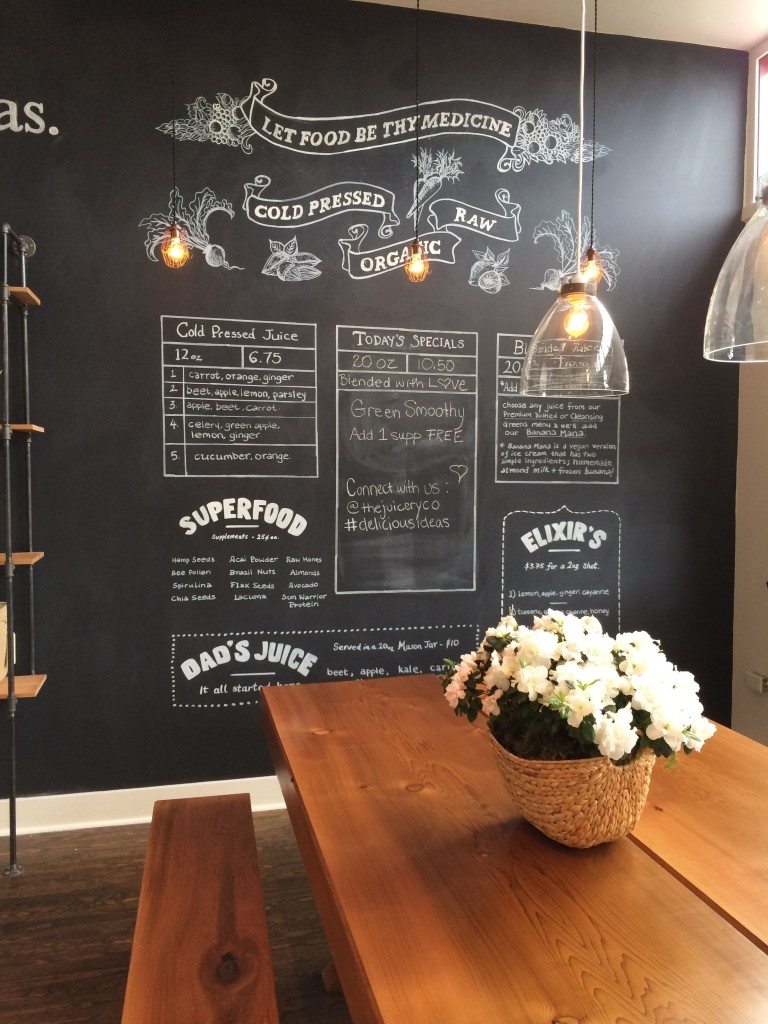 So no, The Juicery Co. is not right next to Lonsdale, but tucked in the light industrial near St Andrews. A short walk away is a little playground, and the Lonsdale Neighbourhood House. Clean lines, fresh white flowers and chalkboards greeted me when I stepped in. I was really wavering over a cold juice. But ended up with a 20oz green smoothie with a free shot of raw honey (a Thursday special). I felt a bit apprehensive paying $10.50, but watching Alex Troll, co-owner, scooping some serious amounts of honey and all-organic ingredients into the blender, I felt a bit less squirrelly. This would definitely be a special treat, however, rather than an everyday occurrence.
They make unpasteurized, organic juices here – which means ultra fresh and clean. Alex also has a real talent for blending the flavours. Anyone can throw six things in a blender or a juicer, but making it taste properly good is something else entirely. This brand new shop is getting a real reputation for their nut 'mylks' as well. Sprouted almonds are milked, and combined with cinnamon, pear juice, sea salt and vanilla bean. Come down early if you want to get one of those though – Alex says they sell out every day and she can barely keep them in the fridge. There are no baked goods, so if your small person needs a snack you'd best bring it with you.
Wellness on the Go
If you're keen, they offer juice cleanse programs through their website, that comes with a little cooler bag to keep your juices cool on the go.
A children's menu is in the works, with raw cocoa-flavoured almond milk, as well as raw and cold-pressed apple and orange juices in smaller sizes. The big communal reclaimed wood table with benches, surrounded by lots of space, would make parking a stroller easy. It's worth noting there's no washroom on site. The proximity of a playground and easy parking makes me think this could be a great morning playdate stop in the warmer months. It's definitely worth adding to your list of where to eat in Vancouver if you're in the area and in need of refreshment.
The Juicery Co.
www.thejuiceryco.ca | Facebook | Twitter
254 East 1st Avenue, North Vancouver
Erin McGann
Erin McGann is the former Managing Editor for Vancouver Mom and Toronto Mom Now. She drinks just a bit too much coffee, is a bit obsessed about sourcing local food, plays the cello moderately well, spends too much time on Twitter, keeps honeybees on a rooftop, and has a thing for single-malt whisky. Erin is working on a novel set in turn-of-the-century Vancouver, which her husband, son and dog have to hear about all the time, and also blogs at Erin at Large.