Where to Eat in Vancouver: Kid-Friendly Dining at Professor and the Pigeon
You know the moment you stumble on something spectacular because it takes your breath away. I had dropped my five year old at his 4Cats art class and I was heading to a coffee shop to kill time with my younger two. I wasn't looking forward to trying to entertain them in cramped corners when I discovered a new cafe. We pushed/tripped/fell through the door into a cavernous space with high ceilings, a variety of seating options and – be still my heart – a children's play area. Professor and the Pigeon is your new rainy day best friend when you're deciding where to eat in Vancouver with kids; think coffee, comfort and cars.
Where to Eat in Vancouver With Kids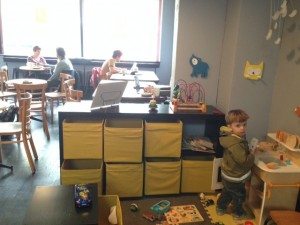 The coffee could have tasted like cigarettes and I wouldn't have cared. The play area was equipped with enough toys, puzzles, a play kitchen and soon a train table, enabling me to drink my coffee at a luxurious rate while the kids played. It was the opportunity to slow down and not have to herd my kids through the cafe that I was thankful for. The plain coffee was on drip and better than cigarettes but next time I'll order a flat white.  The owner is Australian and I haven't had a flat white since my backpacking days. As for snacks and meals there is a kid's menu but we opted for one of their delicious, nut-encrusted blueberry muffins.
More Than Just A Coffee Shop
There's more to Professor and the Pigeon then just coffee, food, free wi-fi and entertainment for the kids. The cafe also offers macaron cooking classes at the back of the shop on Wednesday and Fridays at 6:30 and Sundays at 1:30 and 4:00. Once you master the macaron you can also purchase all the necessary supplies at the shop. In the future they plan to offer choux pastry, chocolate truffle and kids cooking classes.
The Only Downside
The one thing missing at Professor and the Pigeon is a diaper change table in the bathroom and let's just say we needed one. I did the unthinkable and changed my son directly on the play mats in the kid's area. Unfortunately the other customers were treated to a whiff of something unsavoury and it wasn't the food. The owner told me they are building a second bathroom and I put the word in for a change table so keep your fingers crossed! If they add that, this really will be the perfect answer for where to eat in Vancouver with kids.
Professor and the Pigeon
www.professorandthepigeon.com | Facebook
3742 West 10th Avenue, 604-558-1665
Michelle Gadd
Michelle Gadd is an urban dwelling, Vancouver housewife and mother of two rambunctious boys. She has a passion for discovering, and writing about, ways to engage kids in city culture. Michelle created www.elasticpantcity.com as an outlet to write about life, from parenting to city living, fashion to frugality, food to faith, no subject is off the table. Michelle invites readers to take a glimpse inside her life and be inspired by the beauty of art in the every day.