Where to Eat in Vancouver: Up-and-Coming Chinatown
With the influx of young families into Strathcona, it is now common to see strollers weaving their way through the bustling sidewalks of neighbouring Chinatown. Pop-up shops in Chinatown, like the Beggar's Banquet last month, create a vibrant social scene and up the cool quotient of the neighbourhood. New cafes can be found between the more traditional, artisanal Chinese markets, making Chinatown a great starting point for a cultural adventure. If you are a Vancouver mom, looking for a new area of town to explore, we recommend Chinatown. And when it comes to where to eat in Vancouver we've got you covered, wherever you are.
Where to Eat in Vancouver: Chinatown Edition
The Pie Shoppe
Stroll along Gore Street and stop in at The Pie Shoppe for a freshly baked slice of pie and a cup of coffee from Panoramic Roasters (single origin, roasted on a rooftop in Kitsilano). The Pie Shoppe opens at 11:00am and closes when the pies run out.
thepieshoppe.ca | Twitter | Facebook
721 Gore Street, 604-338-6646
Caffe Brixton
Turn down East Georgia to pick up some fresh produce from the markets and then take a pit stop at Caffe Brixton for an amazing brunch. We recommend The Salmon Benedict with roasted potatoes. The potatoes are cooked with onions creating a tater-tot, onion ring flavour that's sure to be a hit with the kids.  As well, the menu is full of vegan and vegetarian meal options.
www.caffebrixton.com | Facebook
212 E. Georgia Street, 604-568-8200
East of Main
* Edited 9/23/2014 this cafe has since closed
Also on East Georgia is East of Main, a gorgeous, high-ceilinged Chinatown cafe specializing in tapas with a Mediterranean flavour. Custom designed tapas, and family-style menus are available. As an added bonus for socially conscious consumers, all profits generated by East of Main are donated to Project Limelight Society, a free performing arts program for young people living in Vancouver's Downtown Eastside.
www.eastofmaincafe.com | Twitter | Facebook
223 E. Georgia Street, 604-899-2777
Everything Cafe
* Edited 9/23/2014 this cafe has since closed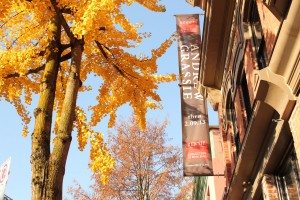 If you are planning to visit the Dr. Sun Yat-Sen Gardens make a pit stop across the street at Everything Cafe. The Euro style cafe serves breakfast, lunch and baked goods. The menu features items from sibling restaurants like goat's cheese cheesecake from Judas Goat, pastries from Salty Tongue and quiche from the Irish Heather. We guarantee you'll want to try a little bit of everything.
www.everythingcafe.ca | Twitter | Facebook
75 E. Pender Street, 604-681-3115
Chinatown is a fantastic neighbourhood for an urban hike with your family. You can now enjoy all the traditional elements like the markets, souvenir shops and other cultural events that happen throughout the year while also experiencing some of the best new cafes and restaurants Vancouver has to offer. If you're wondering where to eat in Vancouver, these eateries are a great place to start.
Michelle Gadd
Michelle Gadd is an urban dwelling, Vancouver housewife and mother of two rambunctious boys. She has a passion for discovering, and writing about, ways to engage kids in city culture. Michelle created www.elasticpantcity.com as an outlet to write about life, from parenting to city living, fashion to frugality, food to faith, no subject is off the table. Michelle invites readers to take a glimpse inside her life and be inspired by the beauty of art in the every day.