Where to Eat in Vancouver: Make Currywurst Your New Bestie
It was a rainy Friday night when Spouse and I found ourselves in the window booth at Bestie, a little German-ish joint in Chinatown where the beer is big and the sausages are everything you never knew you always wanted. Spouse claimed he hadn't heard of it before, even though I have mentioned it at least 30 times since it opened last year, but was quite delighted to be there and discover the menu. Local, sustainably raised meats. Sauerkraut. Beer. Fresh baked pretzels. But is it where to eat in Vancouver?
Currywurst – So Wrong It's Right
Hold on, step back. Do you know about currywurst? If not, it's time you found out. Currywurst is a German dish of sausage (preferably pork) slathered in curried ketchup and served over French fries, the kind of thing that's so wrong it's right. It hits every note – sweet, salty, porky – and goes perfectly with a 24 oz. stein of cold, cold beer.
Bestie's version takes currywurst slightly upscale – the meat is excellent quality, and the sausage is moist and rich. The sauce is the kind of brilliant concoction you'd come up with when you're drunk and hungry late at night, and I suspect that's how the dish was invented in the first place. It's good. Spouse had the sausage/sauerkraut entrée with the beef sausage and it was also delicious – his little Dutch heart was tickled when they brought a side of mayonnaise to go with his fries.
Where to Eat in Vancouver for Fun and Casual Food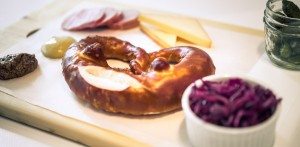 If you don't dig on swine, don't despair. You can still add Bestie to your list of where to eat in Vancouver with their chicken, beef and vegetarian sausages. If you don't dig on curried ketchup (we have to talk), there's sausage and sauerkraut, or a whole bunch of tasty sides and small plates. The beer comes in 24 oz. steins, or smaller servings but I didn't really look at those because steins. There is also wine on tap, a range of fancy pops, and even kombucha if that's what you're into.
You could bring your kids here; when we went it was after dinnertime but there was the world's cutest toddler just hanging out, being adorable nearby. They have booster seats, and while there's no high chair at the moment they will be getting one at some point. If you've got a picky eater, chances are good that something on the menu will appeal.
A Great Late Night Bite
The place is open until 3:00am on Fridays and Saturdays, so it's a great option for a late date night. It's a small place, and they don't take reservations, but we were there at 8:30 or so and there was space for us. If you can get it, the table by the window is the best spot.
You can grab lunch there during the day, on your way into or out of downtown, perhaps. For us it's the ideal answer for where to eat at the Vancouver as a starting point – the movie theatre at International Village is nearby – or to end up at in the late evening, for a pretzel with a bit of mustard and a little (big) beer.
I'm currently looking for any excuse to go back. Sausage party, anyone?
Bestie
bestie.ca | Twitter | Facebook
105 East Pender, Vancouver, British Columbia
Photo credits – Wayne Webb
Emily Wight
How about: Emily Wight is a working mom, science communicator, author, and the blogger behind Well Fed, Flat Broke. Her best-selling cookbook, Well fed, flat broke: Recipes for modest budgets & messy kitchens, from Arsenal Pulp Press, is available in local bookstores and online