Where to eat in Vancouver: Hard Choices at Beaucoup Bakery
Choices, Choices
It was hard, standing in front of the counter at Beaucoup Bakery. How am I supposed to make a choice between Marcona Almond Bars, Salted Caramel Brownies and Bostock, which is brioche soaked in orange flower syrup and topped with frangipane almond cream? I mean really. In an unassuming white dish on top of the glass cabinet was a pile of golden peanut butter sandwich cookies, looking just a bit too big and a bit too good to pass up. I couldn't not have one.
It was the right choice. The balance of saltiness to sweet was perfect, the cookies had just enough give and the peanut butter cream in the middle was heaven. I couldn't finish it, and I really really wanted to, so I brought the final chunk home in a box for my husband. I heard him rustling around in that box later, searching for crumbs after he finished it.
Where to Eat in Vancouver for Pastry Lovers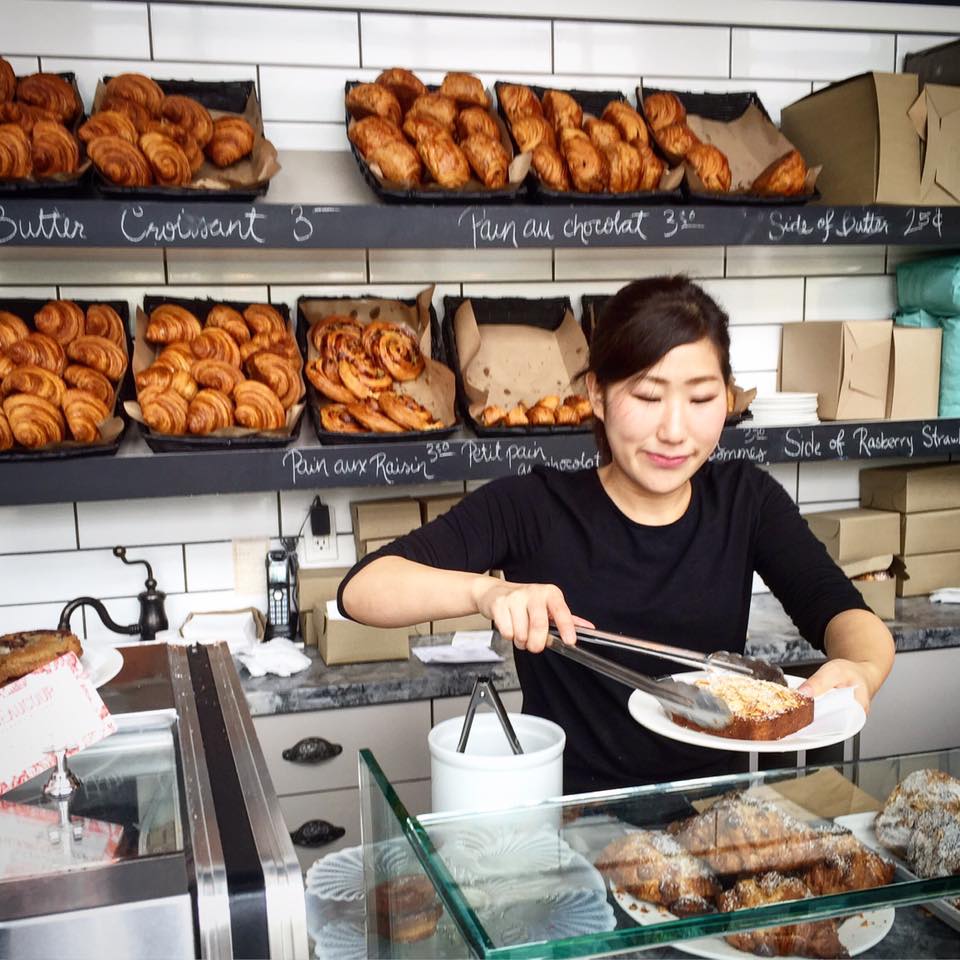 The pastry lovers have discovered Beaucoup already, adding it to their list of where to eat in Vancouver. It was full when I arrived with my mum at 2:00pm on a Wednesday. The space is high and lofty, with exposed steel building beams and a big front window. However, inside the space feels a bit awkward and cramped. The table we managed to get was between the chairs along with window and the counter, meaning we were presented with everyone's backsides at eye-level when there were more than three people waiting to order.
On a return visit with my three-year-old, I noticed the tables had been rearranged, adding a couple around the corner of the L-shaped space and removing the one we occupied on our previous visit. Again, the place was very busy, and this time at 10:30am on a Tuesday. I wanted to try their croissants, as that's a benchmark for any French bakery. The photos I was seeing floating around Twitter and Instagram made them look quite dark, and indeed, mine was a deep caramel colour. My son's petit pain au chocolat was also quite dark, and I resigned myself to a dry pastry.
So Much Butter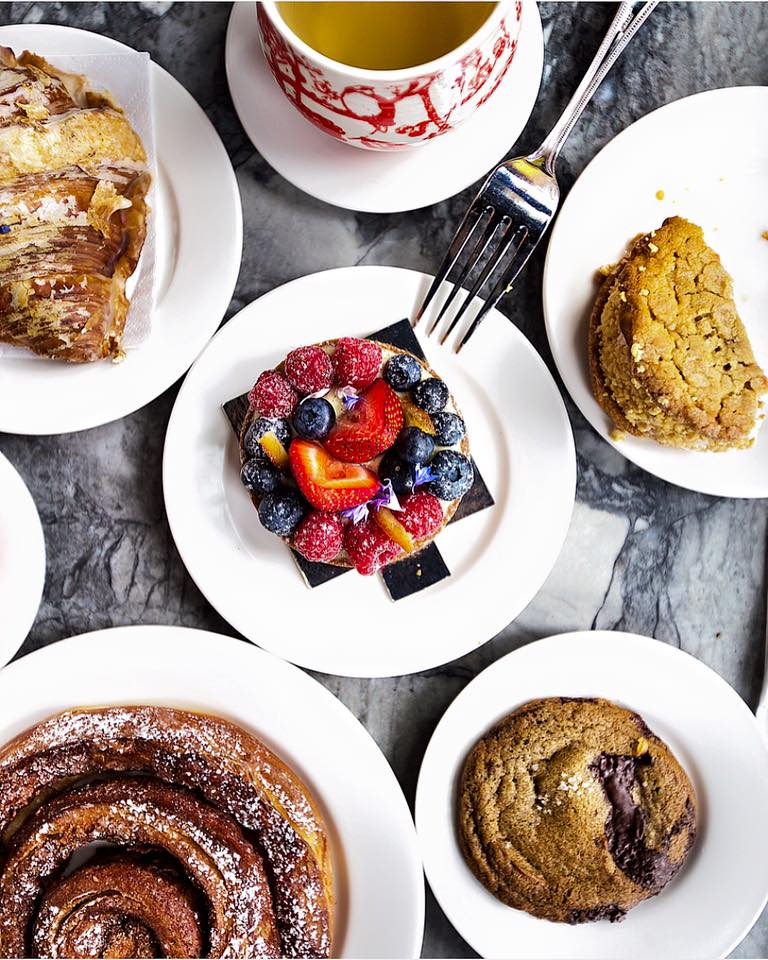 I needn't have worried. Elliot managed to cram his into his mouth as soon as we settled down to our table – and was rewarded with a shower of pastry flakes. I couldn't even get a taste of it, it disappeared so quickly. My croissant also exploded into golden flakes, but inside there was none of the arid inside I had feared. Butter, oh so much butter. It tasted just as it should, with a confounding lightness despite the amount of fat involved. It definitely rivalled any pastry I've had in Paris or London. Beaucoup Bakery is where to eat in Vancouver for perfect pastry.
That's not surprising, as owner and Vancouverite Jackie Ellis went off to study pastry making in Paris before returning to open Beaucoup. Their Acts of Kindness Initiative also sets them apart: you collect points with every purchase, which you can redeem for a special treat for yourself, for the person next in line, or donate to the More Than Me organization that pays for girls in Liberia to go to school. It's a fascinating project to take on straight out of the gate with a new shop.
Elliot's heartbroken wail when he learned there wasn't any more of his croissant should give you a hint as to how good it was. "But," he blubbered, "I want lots."
Oh I know, little guy, so do I.
Beaucoup Bakery
www.beaucoupbakery.com | Twitter | Facebook
2150 Fir St, Vancouver, 604-732-4222
Looking for more great restaurant ideas? Check out our Top 50 kid-friendly restaurants list! 
Erin McGann
Erin McGann is the former Managing Editor for Vancouver Mom and Toronto Mom Now. She drinks just a bit too much coffee, is a bit obsessed about sourcing local food, plays the cello moderately well, spends too much time on Twitter, keeps honeybees on a rooftop, and has a thing for single-malt whisky. Erin is working on a novel set in turn-of-the-century Vancouver, which her husband, son and dog have to hear about all the time, and also blogs at Erin at Large.