Celebrate Christmas with the Bach Choir
If you're looking for a great way to kick off the festive season, you might want to mark your calendar. Vancouver Bach Choir is back with its annual tradition – Christmas with the Bach Choir – on December 7, 2014 at 2:00pm at the Orpheum. This is the only time all year that all levels of the Bach Choir family join together, from the tiny Piccolo Choir featuring children aged five to seven to the celebrated Adult Choir. It's a spectacular opportunity to hear the full trajectory of over voices joined together. Plus, with this being the 30th anniversary of the Vancouver Bach Children's Chorus and Youth Program this will be a very celebratory concert indeed!
Treasured Carols and Time for Reflection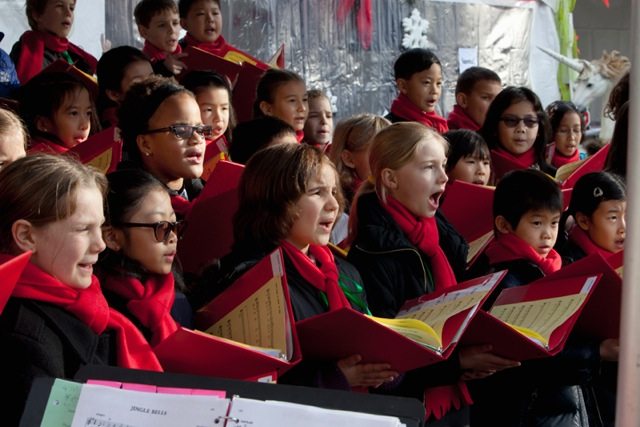 Christmas with the Bach Choir promises to be a heartwarming afternoon of treasured carols and captivating seasonal works. Rousing audience sing-alongs of all-time favourite carols such as Hark! The Herald Angels Sing, are sprinkled throughout the performance. The program features works that span early song and modern song, including some brilliant new arrangements such as Shane Raman's Do You Hear What I Hear? In honour of the 30th anniversary a newly commissioned work written by former VBCC/YC conductor Kathleen Allan will be premiered. Founding VBCC/YC Music Director, Bruce Pullan, will make a special guest appearance to lead the singer's through the new piece.
"Christmas with the Bach Choir … suitably inspires reflection – both through the rare chance to hear and see the impressive, full spectrum of VBC choral talent – as well as through the naturally contemplative spirit of this special time of year," said Leslie Dala, Music Director of the Vancouver Bach Choir. Audiences will be delighted by the sounds of more than 400 glorious voices filling the breathtaking Orpheum Theatre.
Christmas with the Bach Choir is a great show for the whole family. Make it a part of your family's holiday tradition, and enjoy the spirit of the season.
Christmas with the Bach Choir
www.vancouverbachchoir.com/tickets | 604-696-4290
Amber Strocel
Amber Strocel is a writer, aspiring math teacher, suburbanite, wife and mom of two. She believes in the power of the Internet to connect people, and she believes that numbers are the poetry of the universe. You can often find her knitting, sewing, volunteering, working in her garden, and sneaking chocolate when no one's looking. She blogs at Strocel.com and shares her photos on Instagram as @AmberStrocel.