Shopping and Eating in Langley: Wendel's Bookstore Café
Tucked away in the birthplace of BC you'll find Fort Langley's well-known shop for books and yummy food. Wendel's Bookstore & Café has friendly staff to help you decide on a tasty treat or a delightful read. There are many reasons to visit this cozy establishment located just a hop and a skip from The Fort and the Langley Centennial Museum. We recommend shopping in the bookstore first, then enjoying a special beverage and a treat from their sizeable menu while perusing your book selections.
Wendel's Bookstore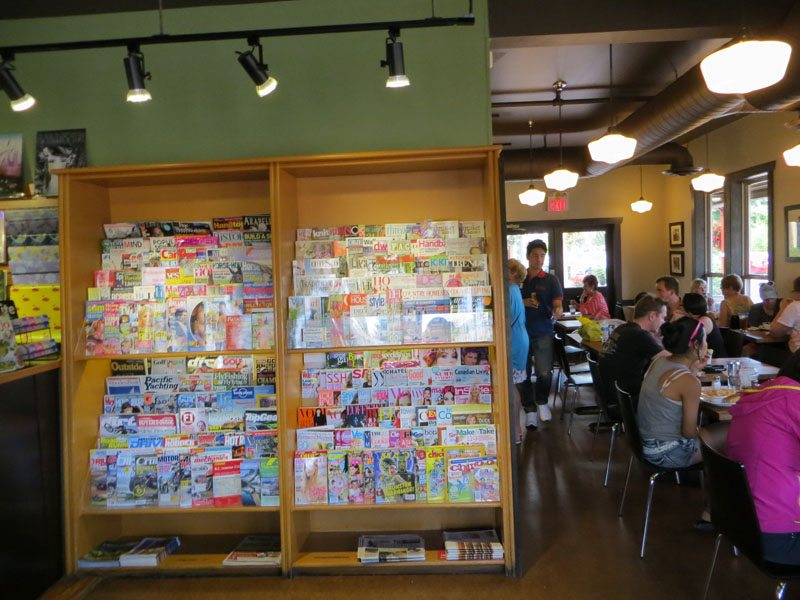 This booklover's gem is a one-stop shop. Not only can you find the popular fiction novels and kids books, you can also buy books from local authors. There is a large selection of journals, cards and gifts to check out also. You can park your stroller by the magazine rack, if you have one, right in front by the cashier.
Be sure to sign up for the Buyer Rewards Program. It doesn't involve a stamp card, membership card or trying to keep track of points. Staff will let you know when you have reached the level to have cash credit available to put towards your purchases.
You can order a book from their large catalogue and have it delivered to the store for no extra charge within 4-10 business days. If you need it delivered sooner directly to you, there is a small delivery fee depending where you live.
If you are looking for a gift from Wendel's and can't decide from their selection, they have a gift card perfect for every budget. And if you have been looking for a local book club, you're in luck. Members can get 20% off that month's selection. For more information call 604-513-2238 or email [email protected].
Wendel's Café
Newly renovated, the café portion has many places to sit and enjoy your new book purchase, chat with friends and have a date with your kid.  They have an expansive menu to chose from: yummy breakfasts, fresh made salads, and sandwiches to full plate entrees. It might be hard to choose between a roasted beet salad or a wild salmon wrap or the Wendel's Mac & Cheese. Choose from the extensive hot and cold beverage menu to satisfy your taste buds. Wendel's offers many gluten free options as well.
Prices are very reasonable. There are highchairs for your convenience. However, please note, that since their recent renovation there are NO change tables. The large counter tops in the bathrooms may help in a pinch.
The coffee they use is from Moja Coffee, a local roaster who uses beans sourced from organic estate farms and co-ops from around the world. They are open from 7:30am-10:00pm daily. Wendel's Bookstore & Café are busy, however the wait time is short. You can pick a table inside, or enjoy the sights from their wrap around outside patio.  Parking is available throughout the area. Wendel's Café also offers catering options. Phone 604-513-2238 or email [email protected] to find out more.
Wendel's Bookstore & Café
www.wendelsonline.com | Facebook
103-9233 Glover Road, Fort Langley
Danielle Christopher
Danielle moved to Langley with her husband when she was expecting their first child. It was a move of convenience eight years ago, and they can't imagine living anywhere else. They fell in love with the neighborhood and the community around it. Danielle's personal blog (MotherlessMoments.com) was nominated for Vancouver Mom Top Blogger 2013. She writes about being motherless and raising a child with autism. Find her on Twitter: @DanielleASigne