Natalie Langston: Tips to making Super Bowl a touchdown for your family
Natalie Langston
Touchdown! It's football lovers' favourite time of the year! This year, Super Bowl LVI will be played at SoFi Stadium in Los Angeles Sunday, February 13th, and kickoff is at 3.30pm. Additionally, the Cincinnati Bengals and the Los Angeles Rams will compete for the Vince Lombardi Trophy and bragging rights.
Family-friendly Super Bowl activities with Natalie Langston
So, whether you're a Football fan or otherwise, the Super Bowl is a fun thing to celebrate and get the whole family excited about. In fact, here's what lifestyle blogger Natalie Langston has to say: "Our favourite Super Bowl family tradition is putting our money on a few novelty prop bets while wearing some fun hats and themed beaded necklaces," shares Natalie Langston, a lifestyle blogger, mom to two and fan of football as well as entertaining friends and family.
In addition she ads, "We pick our team and make our best bets. For example, how long the national anthem will be or who will get the first touchdown. We have a lot of fun with it…These little bets mean we're invested and watch to see if we are right. It's a great way to get into the game if you're not a big sports fan or just there for the halftime show,"
Natalie Langston and tips for making the big game fun and tasty for everyone in the family.
1. Dress the part – Natalie suggests picking a team, orange and black for the Bengals tiger mascot or Rampage, the Rams mascot in blue and white. Then, let kids dress themselves in the colours of the team they're cheering for. You can even divide up the seating arrangement and make your own "teams."
2. Play Games – Who doesn't love a family game? If you're looking for something fun, try Super Bowl Bingo. Simply print or create some cards with football plays, things to spot in the stadium, food to eat etc and give the kids some stickers to mark off their achievements. First one with a full card yells TOUCHDOWN! Additionally, if you've got the space indoor or out, you can set up some accuracy games with a football and targets. Finally, a fun game for the whole family is, 'Don't say football' – who can go the longest without using the forbidden word?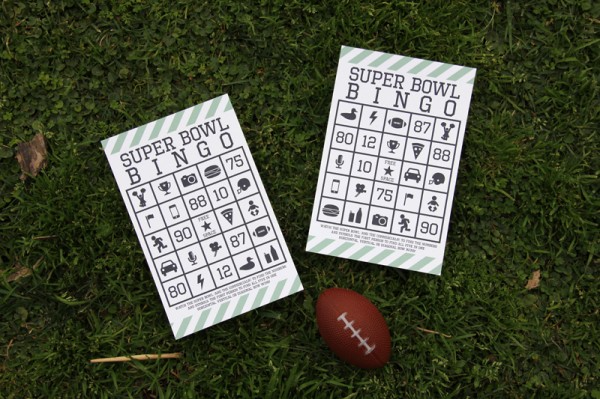 Decorations and snacks
3. Decorate – a few touches can transform the space and make the experience special. Firstly, label your cups with your favourite team. Secondly, use chalkboards to let "the fans" know where the stands are, decorated mason jars, themed coasters and table cloths are easy touches. Additionally, there are lots of printables and other games at Play Party Plan.
4. Snacks – Food is a huge part of football all season long, so the Super Bowl is a chance to step up the game. Similarly, finger foods are best and if you've got littles around, lots of napkins or a tablecloth on the couch can be helpful. In addition, Nutella Rice Krispie Treat Footballs are another hit with the kids. I love this recipe from Whitney Bond. Lastly, fancy popcorn. Finally, add fresh sea salt, caramel, chopped walnuts and melted chocolate to fresh popped popcorn to create an easy sweet snack, best eaten on the couch.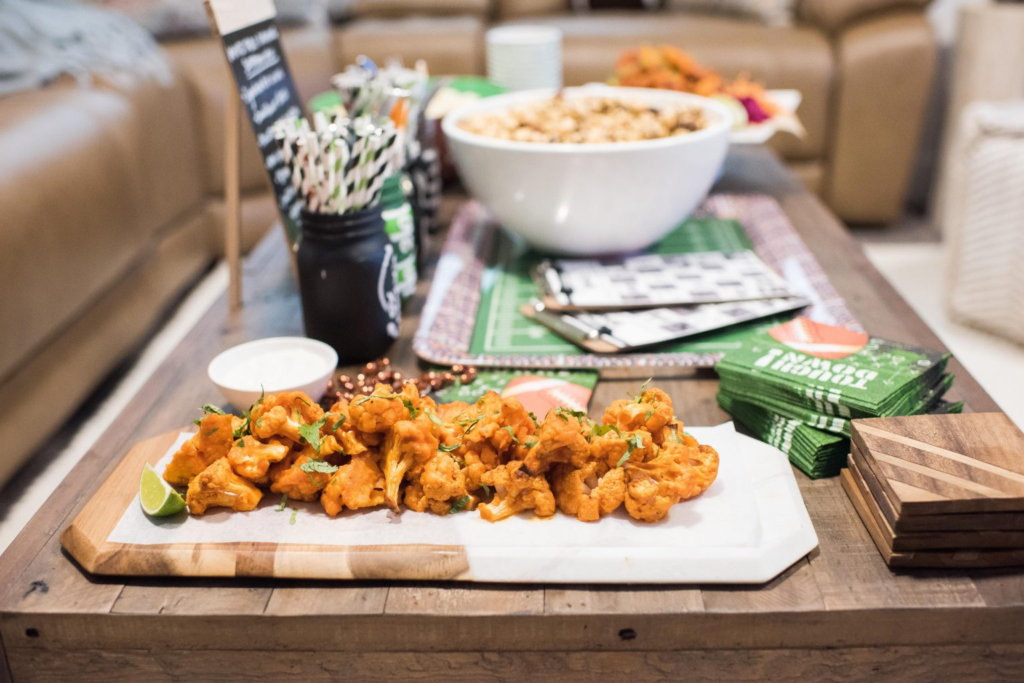 We've included some great recipes below that everyone in the family will love
5. Dance – hype the kids up for the halftime show spectacular. This year's performers include Dr. Dre, Snoop Dogg, Eminem, Mary J. Blige, and Kendrick Lamar. These nostalgic artists will be fun! In fact, there's no doubt the performances will be high energy, visually impressive and bring up lots of memories. Finally, let the kids know it's time to dance out some energy, and show them your moves!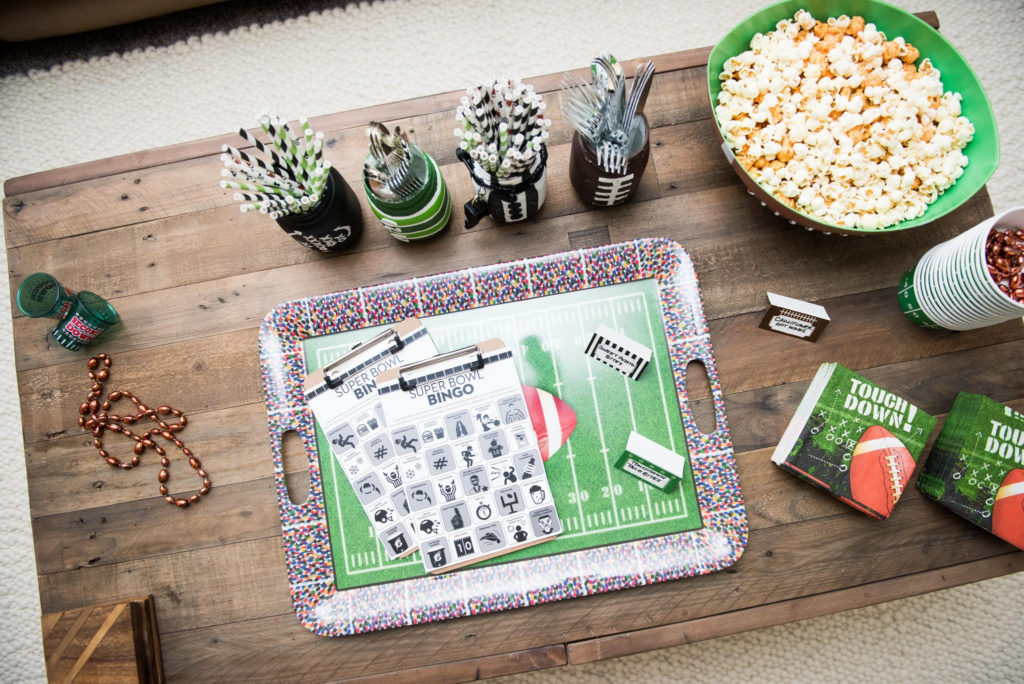 Lastly, one thing to keep in mind is the Super Bowl is a looooong event. Which means, for kids, it's a lifetime. Getting them outside pre-game for some fresh air and running around will give parents a better chance at some quiet while they watch the big game. Finally, manage your expectations and your guests expectations, you may have to pause the game to engage with, or entertain the little fans. So, whether the kids watch the football or not it's a good opportunity to show them how exciting sports spectating can be!
Check out Natalie's blog for other Super Bowl recipes and party ideas. Follow her on game-day @langstonnatalie
Natalie's Game day recipe: Hot Wings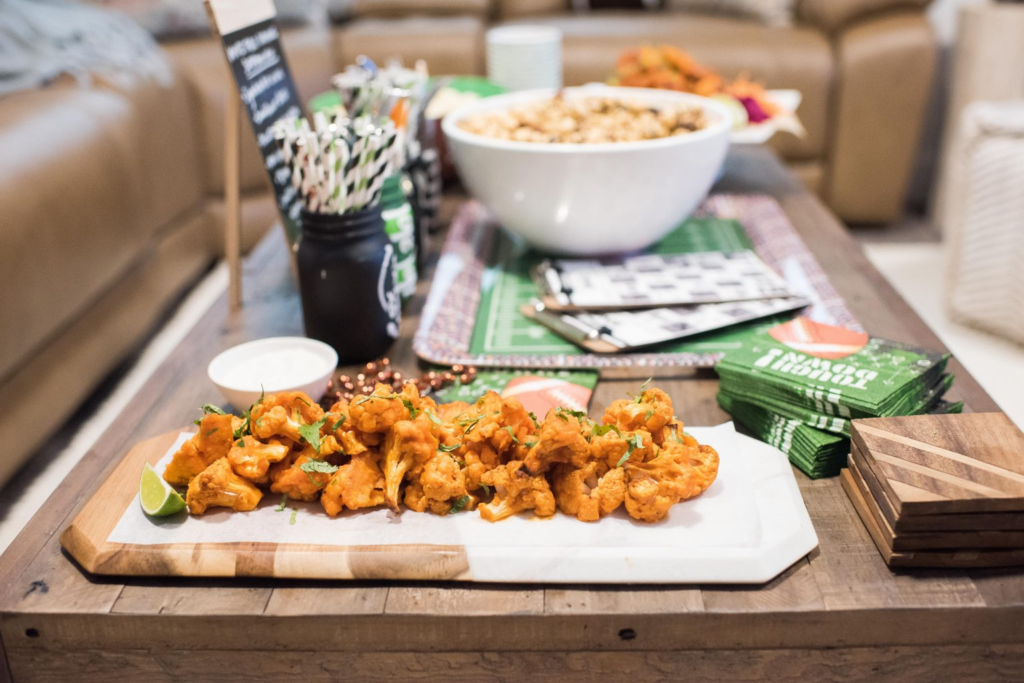 Ingredients:
2 pounds free range chicken wings (tips removed)
½ cup corn starch
½ tablespoon salt
½ tablespoon paprika
½ teaspoon black pepper
½ teaspoon garlic powder
Hot Sauce
1½ cups Franks hot sauce (less for the kiddies)
1 tablespoon white vinegar
¼ cup butter
salt and pepper
Roquefort Yoghurt Dip
1 cup plain yogurt
¼ cup mayonnaise
2 cloves minced garlic
1 tablespoon lemon juice
½ cup chopped Roquefort Cheese
salt and pepper
Method
Pre-heat oven to 400 degrees F.
In a bowl mix dry ingredients. Secondly, add wings and toss to coat. Spread wings onto a baking sheet lined with non-stick parchment paper. Thirdly, bake for 40-50 minutes or until crispy, flipping over halfway through. In a bowl heat Franks and vinegar. Turn off heat and whisk in butter slowly. Finally, add to wings and toss to coat. In addition, serve with Roquefort yogurt dip.
Nutella Rice Krispie Treats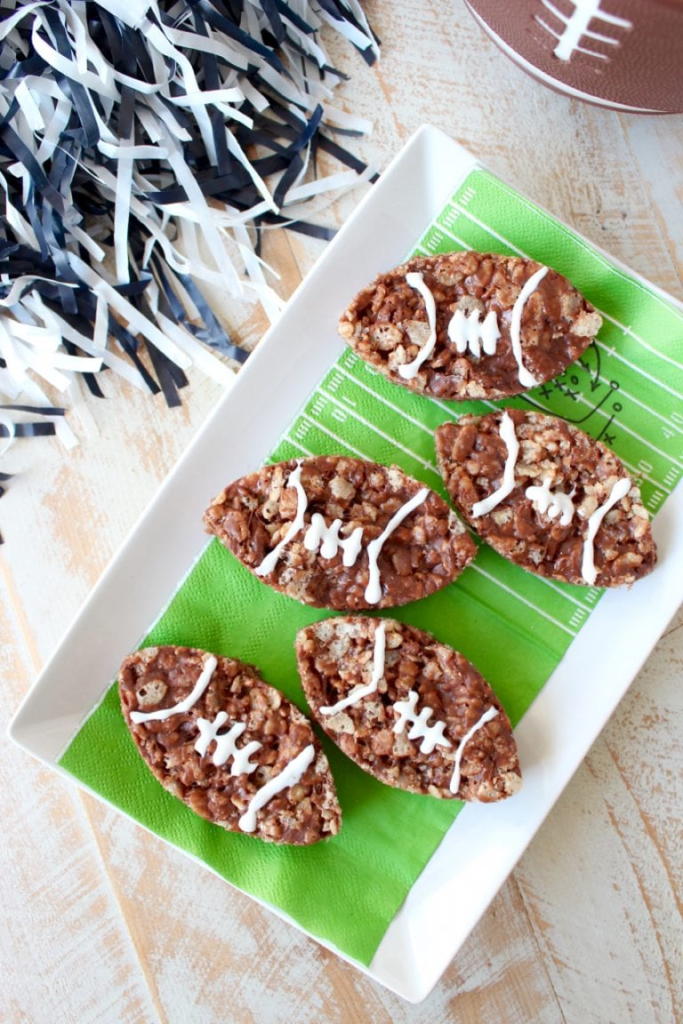 Ingredients:
6 cups rice krispies cereal
1 (10 oz) bag mini marshmallows
¼ cup butter
1 cup Nutella
White decorating icing
Method
Step 1: Line a 9" x 13" baking dish with parchment paper and lightly coat with cooking spray.
Step two: Firstly, add the butter to a large pot over low-medium heat. Secondly, once the butter is melted, add the marshmallows and continuously stir until melted. Lastly, remove from the heat and stir in the Nutella until smooth. Finally, add the rice krispies and stir until coated.
Step 3: Use a buttered spatula to press the mixture into the parchment paper lined baking dish.
Decorate and Serve
Step 4: Cool for 30 minutes – 1 hour. In addition, grab the parchment paper and remove the rice krispie treats from the baking dish. Lastly, use a football shaped cookie cutter to cut the rice krispie treats into football shapes.
Step 5: Finally, use the white decorating icing to draw the laces on the footballs.
Serve immediately, or cover tightly until ready to serve.
Jenn Wint
Jenn Wint is a writer, communications strategist and a public relations specialist. She is passionate about storytelling and community. Jenn lives in East Vancouver with her husband, 3yo son and 1yo daughter. You'll find them hanging around Vancouver's playgrounds, water parks, coffee shops and anywhere that bakes fresh cookies in-house!