Kid-Friendly Vancouver: Family Guide to the Food Cart Fest
The Food Cart Fest is a great Vancouver summer experience, and for 2013 it's back for an even longer run. While it's obvious the organizers are not really tuned in to what makes an event great for families, don't let that stop you from going. It can still be good, kid-friendly Vancouver fun. Here are our tips for having a good time.
Bring Hats and Lots of Sunscreen
The Food Cart Fest essentially a bunch of trucks in a parking lot, so with the weather as glorious as it's been this summer, it can be overwhelmingly hot there. There are tents to sit under, but by 12:30pm these are all full. Seek out the 'mister station' people wandering around with water sprinklers, they will cool you off.
Bring Water
Predictably, the drinks are expensive here. By all means, grab a blueberry lemonade or a mango lassi – but bring a couple of big water bottles for family hydration, that way you don't blow the budget on drinks alone.
Divide and Conquer
There's a small bouncy castle at the back, so let one adult take the children for a tumble while the other lines up for food. By the time the food is ready, you can collect everyone together to eat. You can always switch off for a second round.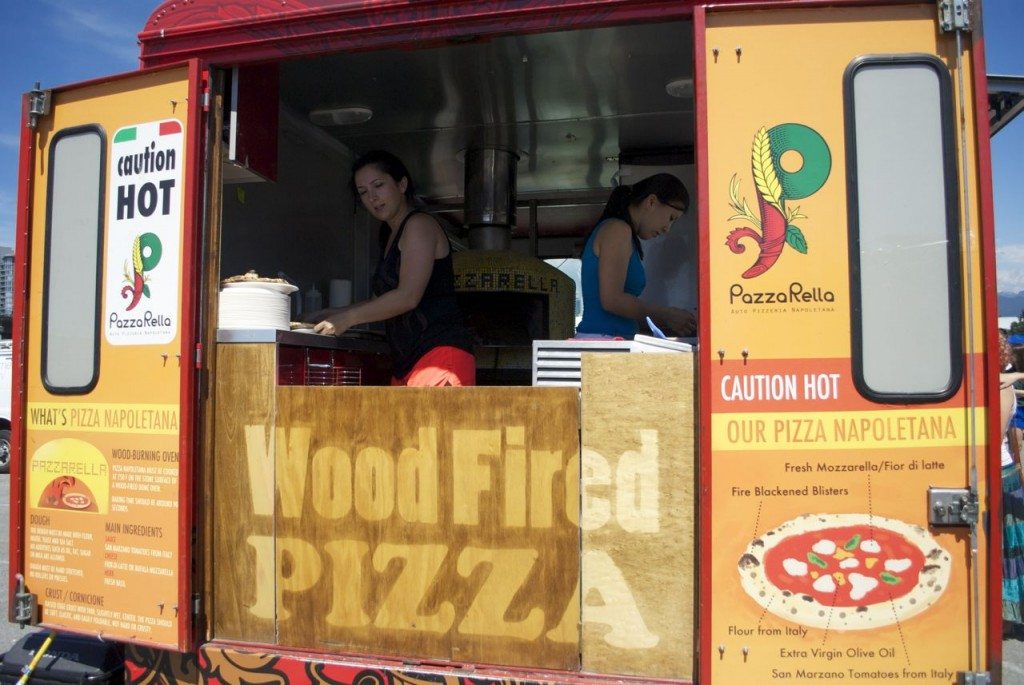 Look for Short Lines
This seems like a simple concept, but I had a scout around the trucks and PazzaRella had two people in front of it, and Tacofino was surrounded by people 10 deep. Tacofino is great, but I had never tried the wood-fired pizza oven in a truck before, so we went with that. Ten minutes later I was balancing two pizzas and getting envious looks from everyone around me. One exception to this rule: Johnny's Pops, a kid-friendly Vancouver favourite, often has a long line but it moves quickly as he's just dipping into his freezer for pops and making change. That banana cream pop… yum.
Make an Early Exit for More Kid-Friendly Vancouver Fun
There is a bouncy castle, and one tent with some old-school kids' games laid out, but there really isn't enough here to entertain kids for long. Thankfully, Hinge Park, Habitat Island, and Olympic Village are just down the seawall, so there's loads to explore after eating your fill.
Handy things to know for a kid-friendly Vancouver outing: the Bike Valet is on site, so you can bring your bikes and trailers without worrying about where to lock them up. There are ATMs on site. VanCity members get in without having to pay the $2 entrance fee.
Vancouver Food Cart Fest
www.foodcartfest.com | Twitter | Facebook
215 W 1st Avenue (enter from the seawall side), 12:00-5:00pm every Sunday until September 22, 2013
Erin McGann
Erin McGann is the former Managing Editor for Vancouver Mom and Toronto Mom Now. She drinks just a bit too much coffee, is a bit obsessed about sourcing local food, plays the cello moderately well, spends too much time on Twitter, keeps honeybees on a rooftop, and has a thing for single-malt whisky. Erin is working on a novel set in turn-of-the-century Vancouver, which her husband, son and dog have to hear about all the time, and also blogs at Erin at Large.