One Friday night at the end of May my husband and I had a perfect confluence of events. The grandparents were babysitting, we had a hotel reservation, and we had scored a gift certificate for dinner at Forage. The cozy little space on Robson Street features local, sustainable food, prepared with panache. I had heard good things. As luck would have it we happened to be visiting during spot prawn season and I was particularly stoked about that.
Date Night at Forage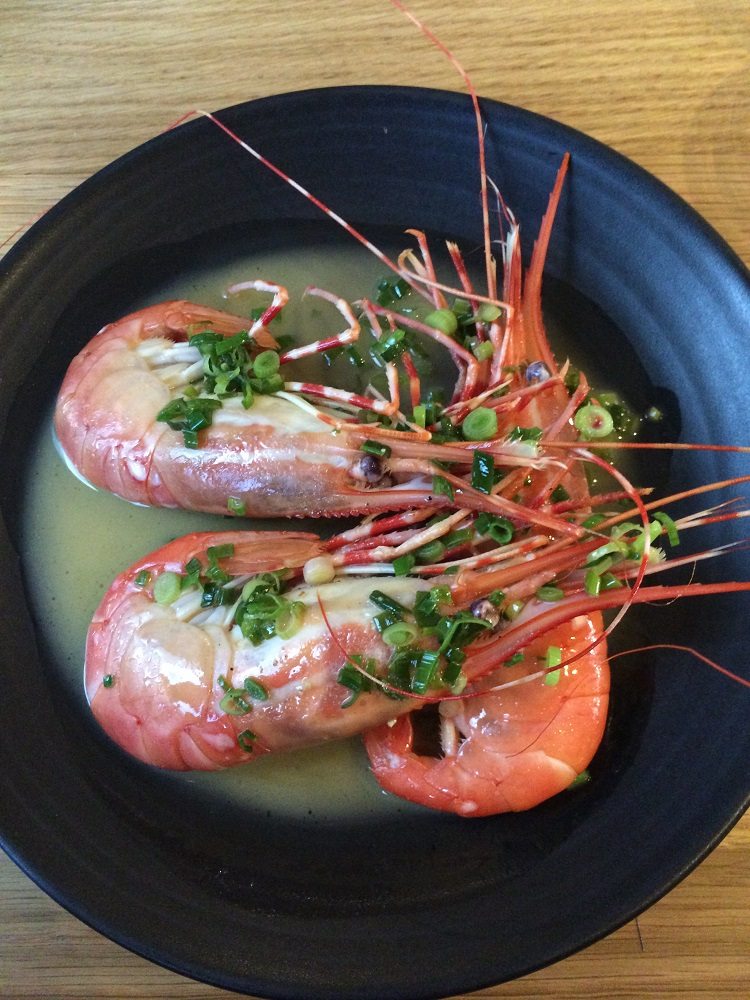 Forage is definitely a date night destination, rather than a place to head for a kid-friendly family meal. I didn't spot any families, and there wasn't a children's menu anywhere that I could see. The one upside if you're dining with kids is that the menu leans heavily on tasting plates, so you could share a little bit of everything with a little one. This is adventurous cuisine, though, so any picky eaters might struggle to find something to please them. Really, leave the little ones at home and enjoy a romantic evening with your sweetie.
As I mentioned, dinner at Forage is all about the tasting plates. You basically just order whatever tickles your fancy, and slowly eat your way through the menu. My husband and I ended up ordering five plates in total: the popcorn and crackling, the grilled kale salad, the Rangeland game burger, the foraged and cultivated mushrooms, and a special item featuring spot prawns. It was all delicious. My husband is not a kale lover … not even a little. He actually said, "I can't believe how good this kale is."
Local and Sustainable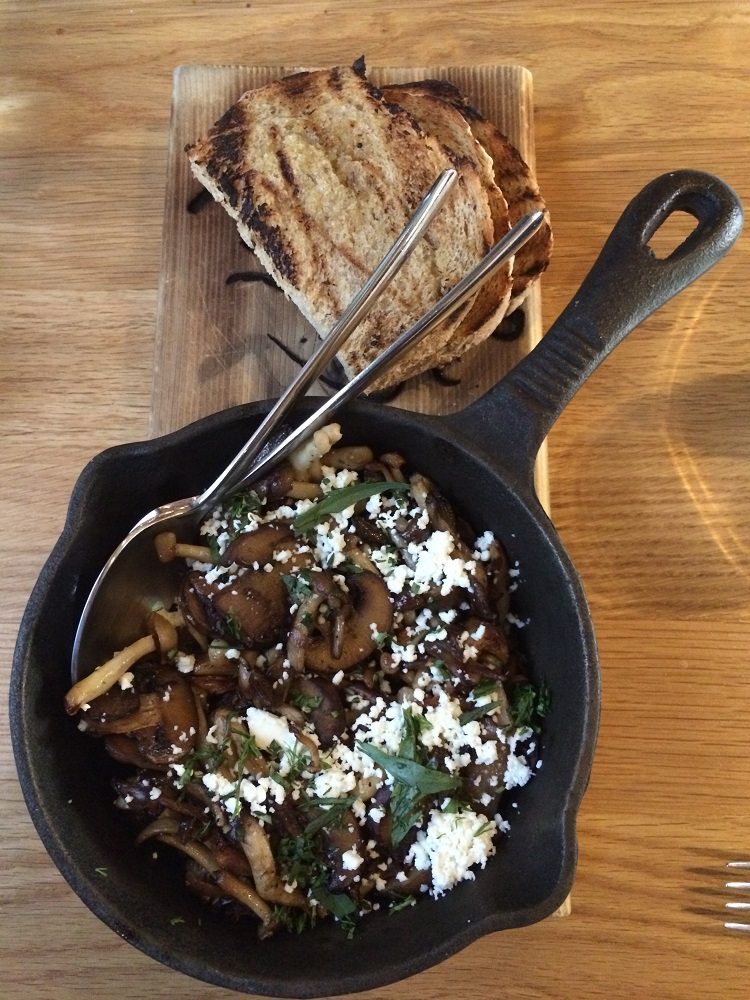 The real highlight of a meal at Forage is that the restaurant is all about local and seasonal. If you've ever wanted to sample stinging nettle or foraged mushrooms, this is the place to do it. If you like knowing exactly where the food comes from, they can tell you. Even the wine, beer, cider and cocktails have a local bent. This really is a taste of the area surrounding Vancouver. The staff take pride in that, and are more than ready to answer any questions you have about the menu.
The restaurant itself is an open and relatively bright space. They have a patio, as well, in an inner courtyard, featuring picnic tables and artificial grass. The tables are lit by small electric lights hidden inside moss inside tiny Weck jars. It all has a very back-to-nature feel without being hokey.
The final bill for all of our food, one cocktail and two glasses of wine was about $90 + tip. Cheap? Definitely not. It's worth nothing, though, that we would have been full on three or four plates instead of five, and that we splurged on drinks because we had a gift certificate, so your mileage may vary. Nonetheless, this is a place to go all-out on an anniversary, not to stop by for a quick bite.
Forage
www.foragevancouver.com | Twitter | Facebook
1300 Robson Street, Vancouver

Amber Strocel
Amber Strocel is a writer, aspiring math teacher, suburbanite, wife and mom of two. She believes in the power of the Internet to connect people, and she believes that numbers are the poetry of the universe. You can often find her knitting, sewing, volunteering, working in her garden, and sneaking chocolate when no one's looking. She blogs at Strocel.com and shares her photos on Instagram as @AmberStrocel.