Where to Eat: Cedarbrook Bakery, Deli and Bistro
We asked where your favourite local bakery was in Langley. The top answer was Cedarbrook Bakery, Deli and Bistro. They are located just a short walk from Brookswood Park. It is a great place to unwind with the kids after a run around the park and get some yummy treats to take home. From fresh veggies, sandwiches and soups, it might be hard to pick just one or two to eat.
Bistro
Take a long look at all the selections from the bakery and deli before you make your choice of what to eat there. There are many yummy choices for kids too! There are over 19 different types of soup to choose from, chili and stew to take home. You are guaranteed to choose from 2 types of fresh, hot soup daily ready for you to enjoy right away. Sandwiches range from Ham and Cheese to Egg Salad croissants, with much more to choose from. Side dishes include fresh cut veggie dippers and fresh pasta dishes.
Deli
You can pick up deli meats to gourmet cheeses and take home what you may have missed. Selections like: Tiroler to Maple Side Bacon, and smoked cured sausages – including their famous Mennonite sausage (with or without garlic), metwurst, blood ring, wine chorizo, Swiss farmers sausage, landjagger, kolbassa, rotola (prosciutto wrapped in mozzarella Cheese.) Trying to choose from the 45 cheeses, like Canadian bries to French bries, Dutch gouda cheeses to Danish tilsit, asiago to German butter, provolone to Canada's own Oka Cheese, might be tough. Also, the deli offers fresh salads and salsas, tasty tortilla chips, spinach pies, dips, crackers, humus, tzaziki, flat breads and more. Ask about their party trays, great for easy entertaining.
Bakery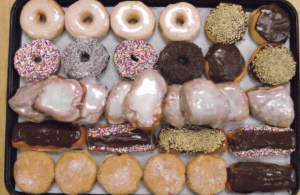 Before you leave Cedarbrook Bakery, your sense of smell will direct you to the over 45 types of baked goods: cookies, bagels, muffins, pizza pretzels and loaves of bread to make your sandwiches complete. They also have a wonderful pastry showcase with over 25 different types of cakes, from birthday cakes, traditional Italian cakes to Black Forest Cakes. This comes in handy for when you need a celebratory cake for birthdays and special occasions.
If you are looking for gluten-free options, be sure to come in on Tuesdays when they are made fresh. They offer many delicious gluten-free brownies, breads and more. Check out their site for more information.
We love this one stop shopping for everything fresh and locally made! If time is short, you can place your order online. Check out the Cedarbrook Bakery website for weekly deals and coupons. There is no need to make another stop for milk on the way home, they carry many types of milk too.
Cedarbrook Bakery, Deli and Bistro
cedarbrookbakerydeli.com | Facebook
4123- 200th Street, Langley
Danielle Christopher
Danielle moved to Langley with her husband when she was expecting their first child. It was a move of convenience eight years ago, and they can't imagine living anywhere else. They fell in love with the neighborhood and the community around it. Danielle's personal blog (MotherlessMoments.com) was nominated for Vancouver Mom Top Blogger 2013. She writes about being motherless and raising a child with autism. Find her on Twitter: @DanielleASigne