Free, virtual Teddy Bear Picnic features first-rate children's performers: June 12 & 13 and a parade on June 26 & 27
We can't meet in person this year for the Teddy Bear Picnic so they're going virtual, and boy have they got a rockin' lineup for you and your kids! Superstars to the little ones include Charlotte Diamond, Janina Russell, Will's Jams, Penny Pom Pom, Tony Prophet, Storyteller Kung Jaadee, Kellie Haines, Karima Essa – Bollywood Star ,Mr. I as well as kids groups Club Aviva, Tri City Dance, Mellado Dance Elite and Yuen's Family Martial Arts. It all takes place on June 12 (at 4 pm) & June 13 (at Noon) – on the Festival Coquitlam Facebook page.
>> www.facebook.com/festivalcoquitlam.ca
Teddy Bear Picnic Virtual Concert Performances
The virtual Teddy Bear Picnic concerts featuring the very best in children's entertainment will go live online on June 12 & 13. Entertainer extraordinaire Tony Prophet will act as MC for the 34th annual event with the help of Coquitlam's very own Mr. I. Watch them banter!
Highlights include: Charlotte Diamond, ventriloquist Kelly Haines and Bollywood dancer Karima Essa will perform on Saturday, June 12 along with Haida story-teller, Kung Jaadee. Will's Jams, Music with Marnie, Janina Russell, Mr. I and Penny Pom Pom perform on Sunday, June 13. Local groups will showcase performances and demonstrations by their talented students including Club Aviva, Yuen's Martial Arts, Tri-City Dance and Mellado Dance. Mayor Richard Stewart will give an opening speech on Sunday, June 13.
How to watch
Visit Festival Coquitlam's Facebook page or FestivalCoquitlam.ca for more details on the Teddy Bear Picnic virtual concerts.
There will be two video concert releases:
VIDEO 1: SATURDAY, JUNE 12th – Released at 4pm
VIDEO 2: SUNDAY, JUNE 13th – Released at 12 noon.
Virtual Teddy Bears @ Home Parade
Saturday, June 26, 2021 – 9:00 am to Sunday, June 27, 2021 – 5:00 pm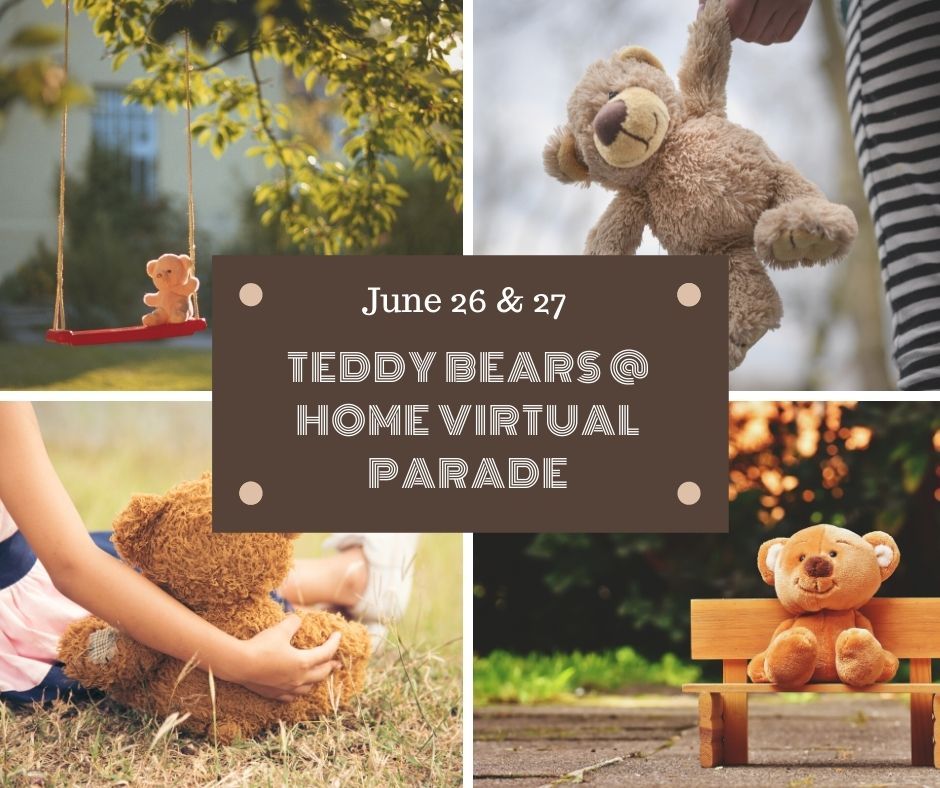 Festival Coquitlam is holding an "At Home Teddy Bear Virtual Parade" with in the Tri-Cites (Coquitlam, Port Moody and Port Coquitlam). They are looking for participants to decorate their front porches to be a part of a video that will be uploaded to our Facebook page. All you have to do is fill out this form to register your home and they will come by on either June 26th or 27th and take a picture. Your family can be in the photo if you like. There is no cost to participate we just want the Tri-Cities to have some fun and celebrate our families.
Learn more: For more information, visit FestivalCoquitlam.ca.
About Festival Coquitlam
The Festival Coquitlam Society is a non-profit registered society and an active member of the B.C. Association of Festivals and Events. Festival Coquitlam is managed and co-ordinated by a dedicated group of community minded volunteers, who are supported by many corporate citizens, community services groups, and individuals. The mission of Festival Coquitlam is to host quality family entertainment experiences which will reflect the spirit and pride of the community.
Harriet Fancott
Harriet Fancott is the Editor and Social Media Manager for Vancouver Mom. She has over 20 years experience in the arts, tech and mom-based blogging arenas. She lives in East Vancouver with her husband and son where they enjoy exploring all that Vancouver has to offer from festivals and events to playgrounds and beaches to sushi and ice cream (although not together).