Where to Eat in Vancouver: A View to Devour at Horizons
Vancouver is a truly beautiful city. Therefore it's no surprise that many local eateries seek to combine great food with a great view. On a clear day, few places do this quite as well as Horizons on Burnaby Mountain. Its position overlooking the whole city makes it worth adding to your list of where to eat in Vancouver, even with the drive.
Where to Eat in Vancouver for Great Views and Fabulous Food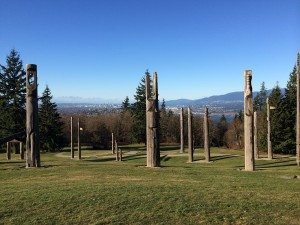 Over the holidays the Vancouver Mom team met up at Horizons for a celebratory lunch. The day was beautifully sunny but very cold, so we only paused briefly to take in the view of the park before heading inside to warm up. While we had reservations, the restaurant was quiet, leaving us free to take in the sweeping scenery from pretty much every angle. Our server was attentive without being overbearing, answering our questions and leaving us to enjoy our food.
The lunch menu features 12 different entrees, ranging in price from $14 – $24. While there are vegetarian and carnivorous options, seafood is featured heavily. The three of us sampled gnocchetti, egg noodle tagliatelle and coho salmon, and we all enjoyed our meals, although the gnocchetti and tagliatelle were bigger hits. The portion sizes were generous, and bread was served with the meal. We also shared fresh mozzarella and tomato, as well as the calamari, to start. To finish our meal we shared the creme brulee, which was delicious. All in all, it was a relaxing and delicious meal, in a beautiful setting.
What About the Kids?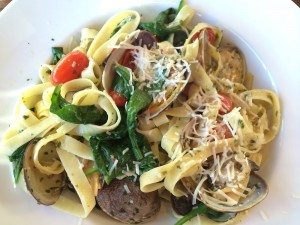 As moms, however, the real question is whether Horizons fits the bill for where to eat in Vancouver with kids. They have high chairs and a change table. The dining room is roomy and uncrowded, so there's lots of room for strollers. While they don't have a children's menu, our server told us that there are a number of items they often prepare on special request, such as grilled cheese sandwiches. Their Sunday brunch menu offers several kid size options including pancakes, and our server told us that it's very popular with families.
See Also
Our verdict is that Horizons is a great answer to where to eat in Vancouver for a nice date night, or a family lunch or brunch with your children. And while the views are something, if possible do try to visit on a clear day. As anyone who's ever attended SFU can tell you, Burnaby Mountain is a little bit less breathtaking in the rain – although we're sure the food at Horizons would be every bit as tasty.
Horizons Restaurant
www.horizonsrestaurant.com | Twitter | Facebook
100 Centennial Way, Burnaby, 604-299-1155

Amber Strocel
Amber Strocel is a writer, aspiring math teacher, suburbanite, wife and mom of two. She believes in the power of the Internet to connect people, and she believes that numbers are the poetry of the universe. You can often find her knitting, sewing, volunteering, working in her garden, and sneaking chocolate when no one's looking. She blogs at Strocel.com and shares her photos on Instagram as @AmberStrocel.