Visiting Osoyoos: Food and Shelter
It's summer in Vancouver, and for many families that means taking the chance to escape from the city for a few days. But where to go? My family recently had the chance to experience a mid-week getaway to Osoyoos thanks to the fabulous people at Destination Osoyoos. It's just four and a half hours from Vancouver by car, but it's a world away. While we live in a rainforest, Osoyoos is Canada's only true desert, with a hot, dry climate and the nation's warmest lake. Today we're sharing some of our experiences on where to stay and eat if you'll be visiting Osoyoos this summer.
Shelter Me
If you're planning a vacation with kids, choosing the right hotel is critical. We were hosted by the Walnut Beach Resort, and we were not disappointed. We had a one-bedroom suite, with a separate master bedroom and a pull-out couch for the kids. There was also a fully-stocked kitchen with a fridge, stove, microwave and dishwasher, plus a proper kitchen table. Having your own kitchen is a major plus if you have a picky eater, you want to save a bit on food, or your kids get antsy eating in restaurants all the time. The separate master bedroom (with its own TV) also allowed my husband and I to retreat to our own space after the kids were asleep, instead of stumbling around in the dark in a shared space for fear of turning on the light.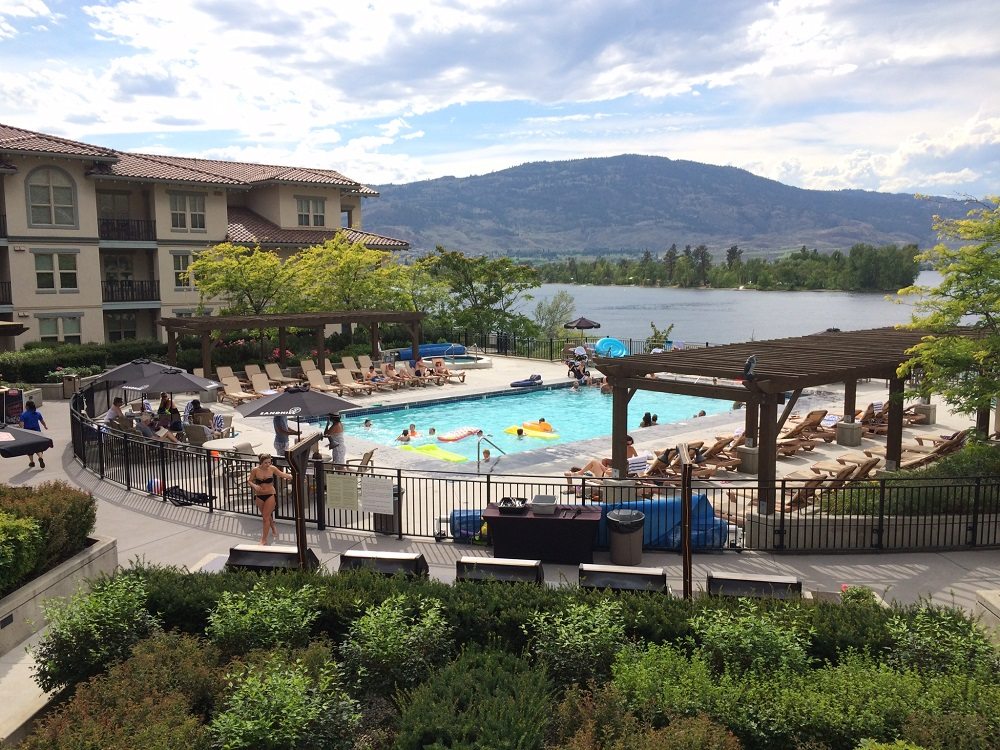 When you're visiting Osoyoos, the major perk is the water. Walnut Beach has its own private beach, as well as a fabulous swimming pool. If you have a boat they also have complimentary moorage on their own dock for guests. As an extra perk the pool and beach aren't just kid-friendly, they're also adult-friendly, since they're licensed and offer beverage service. You can sip a cocktail on the sand while your kids build a sandcastle nearby. Sweet, right?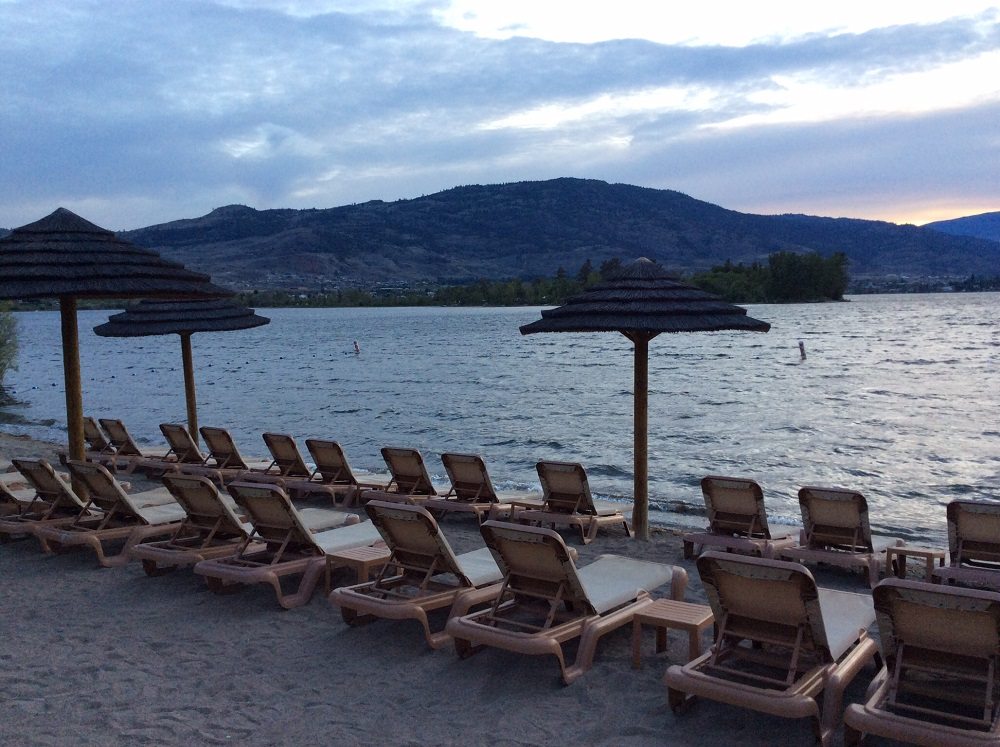 What to Eat?
The second thing to square away after shelter is food. We enjoyed our first meal in Osoyoos right at Promenade Wine Bar on the patio at Walnut Beach for dinner. I had the lamb special, with tabouli, zucchini and a cherry reduction. My husband enjoyed the steak. Both were cooked to perfection. My kids chose mac and cheese from the kids menu, which was a slightly upscale twist on the classic. The children's menu also included natural hot dogs, mini cheeseburgers, and honey garlic ribs.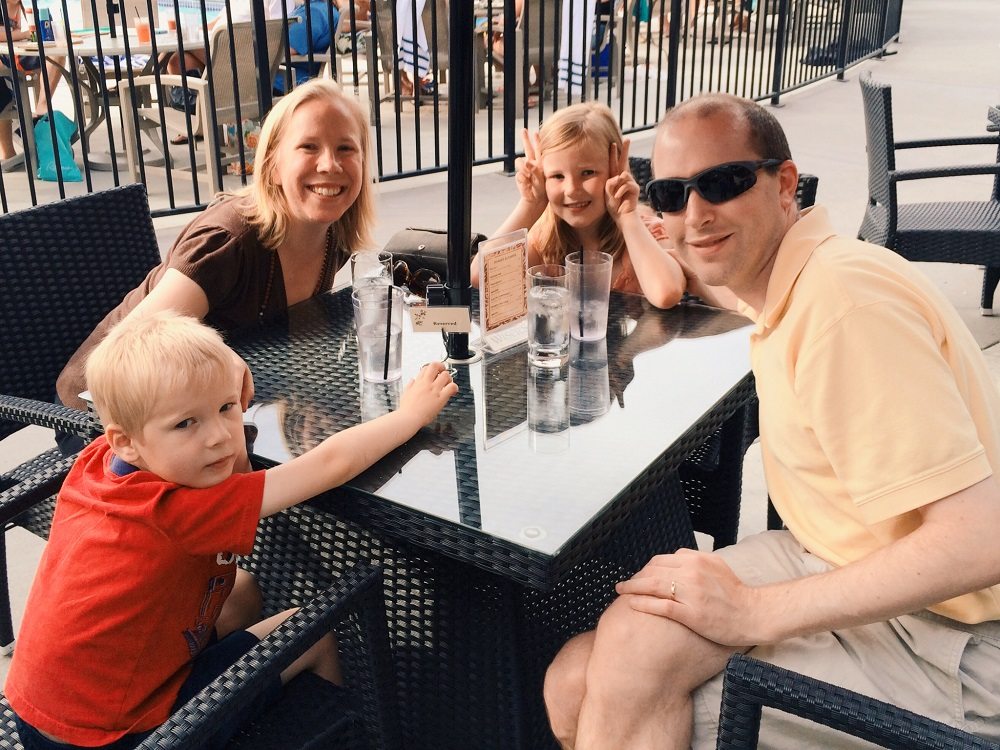 For breakfast the next morning we stopped off at Good Karma Kitchen, a brand new cafe on Main Street. The food is made from scratch, and there are gluten-free and vegetarian options. They split up an order of waffles for my kids (each of which was accompanied by a bowl of fresh cherries from the owner's neighbour), and my husband and I each had an omelette. The food was good, but the service was what really set it apart. When my kids were delighted by the round ice in their drinks our server brought them new glasses filled with even more ice. There were colouring books and crayons, and they brought my husband and I special tea cakes made of deep-fried pita bread to go with our tea. If you're visiting Osoyoos you may also want to stop by in the afternoon for ice cream and pie.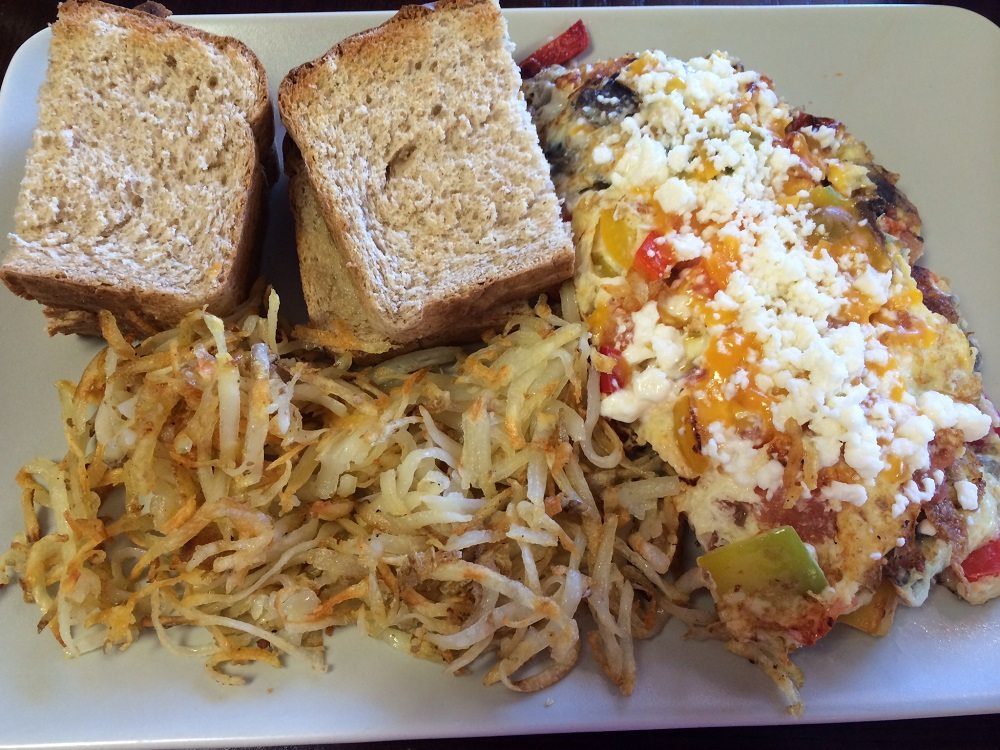 Visiting Osoyoos for the Food
Our second dinner was hosted at Watermark Resort's wine bar and patio. The patio is tucked away at the back of the resort right beside a wide grassy space. The grassy area played host to a number of children during our dinner, and offers a great place for kids to stretch their legs. Watermark offers a tapas menu, and they pulled together some special selections for our kids, including some excellent mac and cheese and pulled pork sliders. My husband and I enjoyed house made charcuterie, baked Pacific ling cod and pan roasted smoked sausages, each accompanied by a special wine. Watermark has teamed up with Okanagan winery Orofino to create special vintages, and each was very good. My kids also enjoyed lemon sorbet, and my husband and I shared a dessert selection.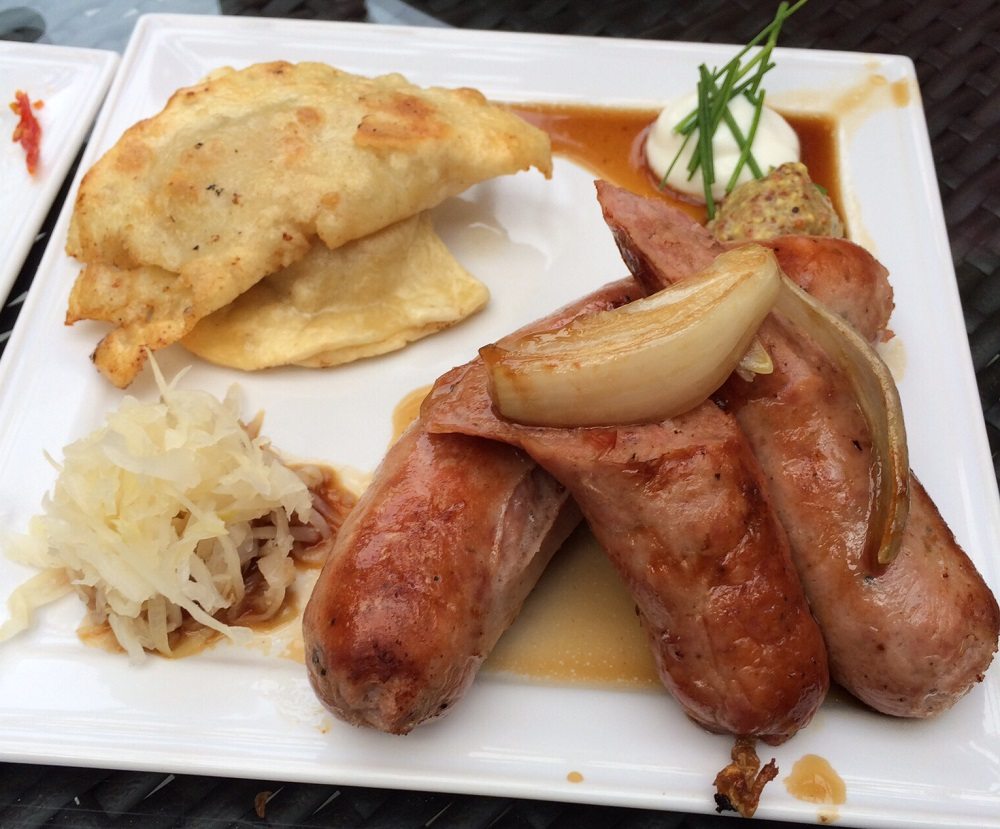 The Watermark is also a waterfront resort, and we had a peek-a-boo view of the waterslide as we were eating dinner. My son was very disappointed that he didn't get to play on it. If you're visiting Osoyoos, you might want to consider staying here. An extra kid-friendly touch came when my daughter asked our server about the fruit trees ringing the patio and he picked fresh, ripe kumquats for my children to try. I sampled a little myself, and discovered it was somewhere between a lime and a grapefruit – sour, but not overly so.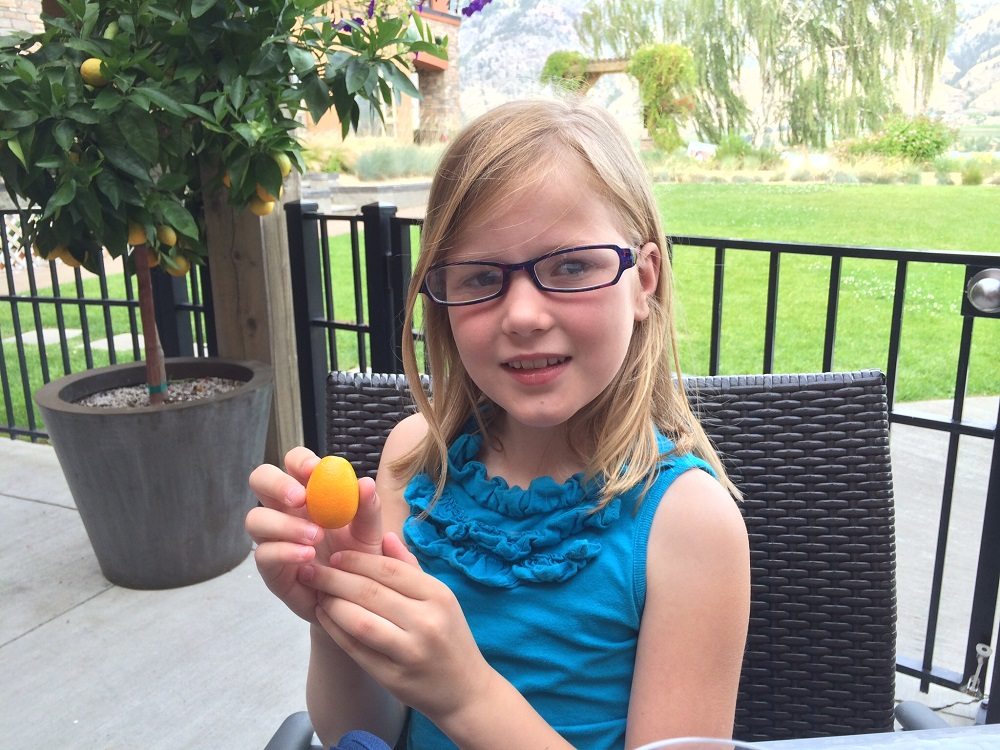 One Last Meal
We enjoyed our last meal in Osoyoos at the Smitty's on Main Street. I have fond memories of eating at Smitty's on family vacations in my childhood, and this meal brought them all back. There's a great children's menu, our server brought games for the kids to play, service was fast, and there was that familiar syrup caddy with three flavours to choose from. There was even a selection of trivia cards on the table, which my husband and I enjoyed quizzing each other with during our meal. If you're looking for kid-friendly service and familiar food while you're visiting Osoyoos, stop by.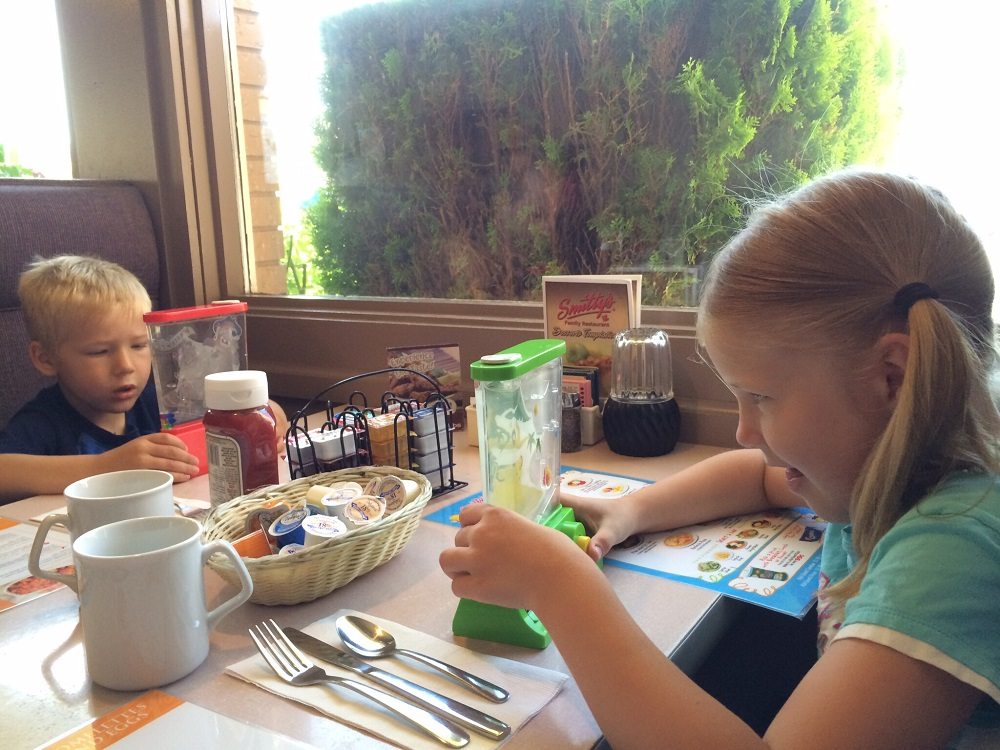 Tomorrow we'll be sharing some ideas for kid-friendly fun when you're visiting Osoyoos. Until then, if you'd like to plan your own visit, stop by Destination Osoyoos where you'll find lots of ideas for your own Okanagan escape this summer.
Destination Osoyoos
Amber Strocel
Amber Strocel is a writer, aspiring math teacher, suburbanite, wife and mom of two. She believes in the power of the Internet to connect people, and she believes that numbers are the poetry of the universe. You can often find her knitting, sewing, volunteering, working in her garden, and sneaking chocolate when no one's looking. She blogs at Strocel.com and shares her photos on Instagram as @AmberStrocel.