Visiting Osoyoos: Five Things to Do
It's summer in Vancouver, and for many families that means taking the chance to escape from the city for a few days. My family recently had the chance to experience a mid-week getaway to Osoyoos thanks to the fabulous people at Destination Osoyoos. Yesterday we shared some of our experiences choosing where to stay and eat with kids. Today we're sharing five ideas for a fun-filled family getaway to Osoyoos.
Five Ideas for Family-Friendly Fun When Visiting Osoyoos
Outside of swimming in Osoyoos Lake – which is Canada's warmest lake, according to Destination Osoyoos – what can you do with the kids when visiting Osoyoos?
Rattlesnake Canyon
Located at Main Street and Lakeshore Drive, Rattlesnake Canyon is an amusement park with a western mining town theme. My kids are nine and five and so of course they loved it. We enjoyed the well-laid-out and maintained 18-hole mini golf course, took a ride on the Tumble Whirl and Tornado, raced each other on the Go Kart track, watched the kids on the Bungee Trampoline, and got soaking wet on the Bumper Boats. There's also an ice cream parlour, arcade and rock climbing wall, which we missed. If you go with kids, I suggest arriving as early as possible when the park is quieter and the weather is cooler.
Osoyoos Desert Model Railroad
My husband and five-year-old son paid a visit to the "biggest little European railroad in Canada", located on 115th Street on the way into town off the Crowsnest Highway. The detail is incredible, with over 1800 houses and more than 18,000 hand painted little people spread out over 4000 square feet. The railroad is laid out behind glass, so you don't have to worry about your little one messing with the intricate display. My son's favourite part? They turn the lights down and convert the tableau into a nighttime scene. "And mom, it was nighttime inside but it was still daytime outside!" If you have a train buff (or three) on your hands, add it to your itinerary when visiting Osoyoos.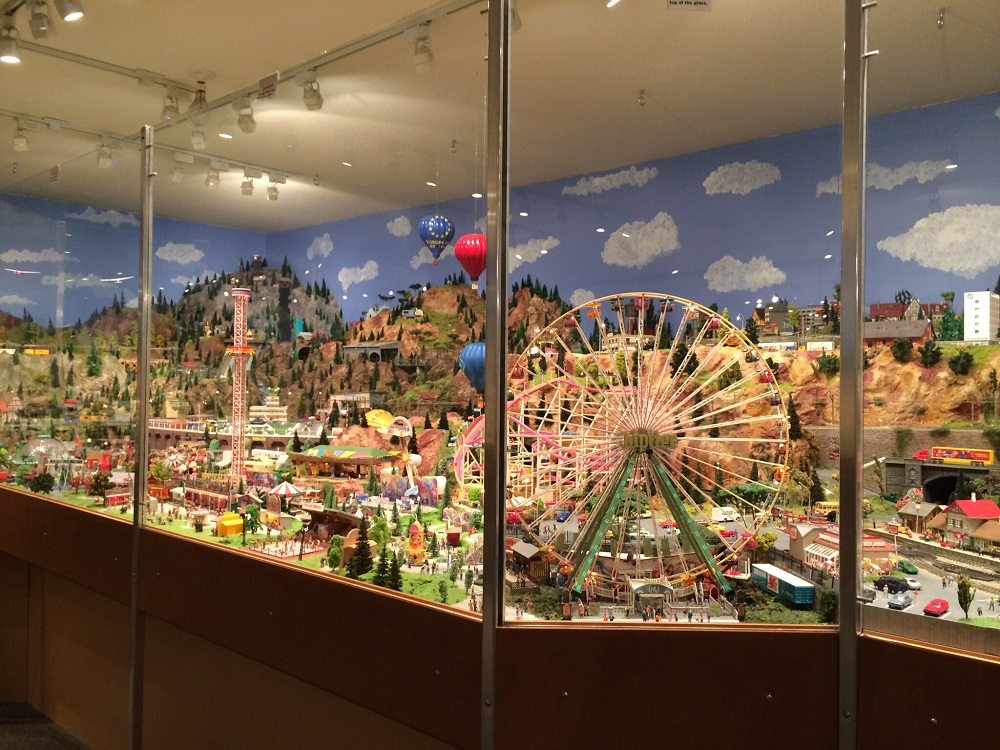 Wakeboarding with Wakepilot
While my husband and son enjoyed the model railroad, my nine-year-old daughter and I tried wakeboarding with Wakepilot. The instructor met us on the dock at our hotel and took us out on the lake for our 90 minute lesson. Neither of us had wakeboarded before, and both of us managed to stand up and ride during our session. Our instructor, Rob, was incredibly patient with both of us, as we took turns behind the boat. All equipment was provided, including a helmet with speakers in the ears so that he could coach us while we were being towed out behind the boat. It was hard – my arms are still feeling it four days later – but incredibly exhilarating. Rob said he's taught people from three to 83 to wakeboard, so it's a surprisingly kid-friendly activity that adults will enjoy, too.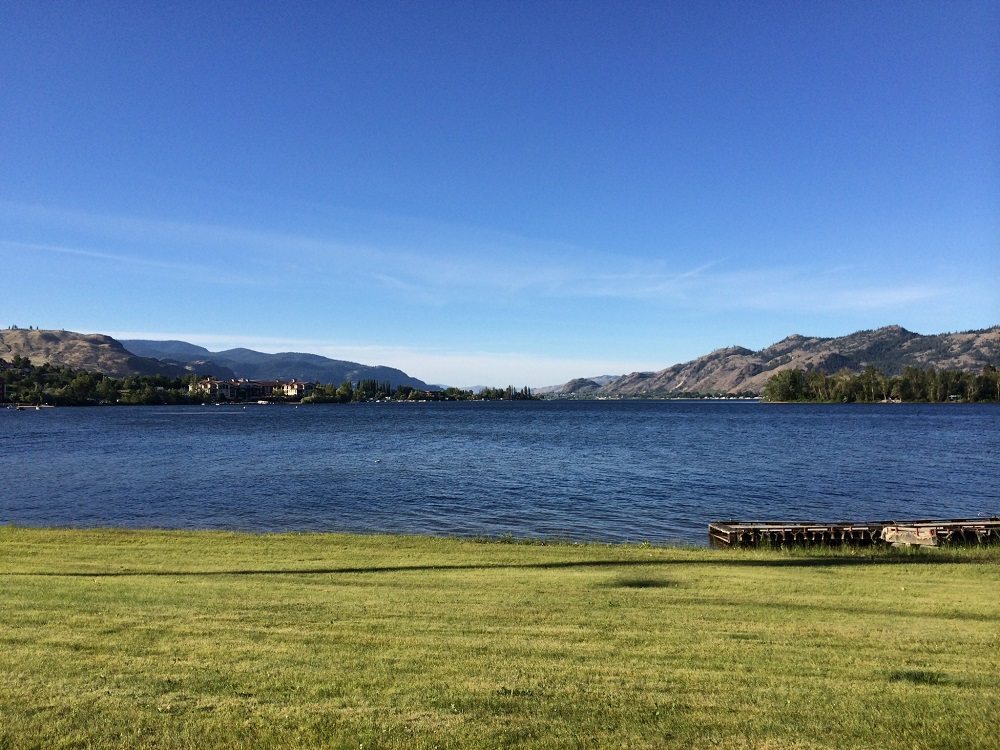 Nk'Mip Desert Cultural Centre
Osoyoos has exploded over the past decade or so, with new hotels, attractions and wineries springing up all over the place. One of the new tourist draws, Nk'Mip Desert Cultural Centre, points out that the region has a much longer history with much deeper roots. Owned and operated by the Osoyoos Indian Band, the centre highlights the unique (and threatened) desert environment in and around Osoyoos, and shares the history of the First Peoples, through interactive exhibits, nature trails, guided tours and shows. I learned about endangered plant and animal species and how the centre is working to protect them, and I also learned about the thriving culture of the Okanagan Nation. My kids enjoyed the shows and exhibits – they got to bang on drums, feel animal skins, see snakes and more. Bring water, a hat and sunscreen when you go. Also keep in mind that the centre is on the same property as Spirit Ridge Vineyard, Resort and Spa, if you're looking for somewhere to stay in Osoyoos.
Fruit and Wine
One of the best parts of visiting Osoyoos in the summer is the delicious fresh fruit. When we were there cherries were in full flourish, and apricots were just starting. There will also be peaches, apples, grapes and a whole lot more, all summer long. And those grapes? Most of them are made into wine. Be sure to stop off and visit a fruit stand or two with your kids while you're there. You'll have some of the freshest produce you can find, and your kids may discover something new they like. While wine tasting isn't exactly kid-friendly, stopping off at a winery for a quick peek is worth fitting in. There are a number all around Osoyoos. One great winery to visit is Nk'Mip Cellars, located on the same property as Nk'Mip Desert Cultural Centre. Maybe you can swing by to pick up a bottle or three while your partner and kids take in one of the cultural exhibits.
Tomorrow we'll be sharing some tips for taking long car rides with kids, whether you're visiting Osoyoos or another part of BC this summer. Because getting there should be half the fun … or at least not hours of agony.
Destination Osoyoos
Amber Strocel
Amber Strocel is a writer, aspiring math teacher, suburbanite, wife and mom of two. She believes in the power of the Internet to connect people, and she believes that numbers are the poetry of the universe. You can often find her knitting, sewing, volunteering, working in her garden, and sneaking chocolate when no one's looking. She blogs at Strocel.com and shares her photos on Instagram as @AmberStrocel.