Get your Craft on with the Vancouver Modern Quilt Guild
If you're a crafty mama with an interest in sewing – and specifically quilting – you should check out the Vancouver Modern Quilt Guild. Founded just two years ago, this group of women (and a few men) meets monthly, as well as hosting a number of other events like workshops and get-togethers during the month. The members are more diverse than you'd expect, with a wide age range, including many moms. There were even several babies attending with their mothers at the meeting I visited in November.
Take Up the Challenge
Once you become a member, you're eligible to participate in the monthly Scrap Bag Challenge. This is like a secret Santa draw with a twist. Everyone wishing to participate brings a small bag of assorted fabric scraps. Each sewist takes a different bag home to make something with. At the next guild meeting, they return their completed creations to the person who originally brought the scraps.
At the meeting I attended, many of the quilters were participating in an international pincushion swap. Each person made a gorgeous pincushion, tagged with a little about where it came from. They'll be sent off to several other participating guilds in the United States, who'll be sending a batch of pincushions northward.
Vancouver Modern Quilt Guild members don't just make gifts for each other, however. Many members participate in charity projects as well: they are currently creating quilts for the Austin Children's Shelter to be brought to QuiltCon in Texas this February.
Show and Tell
Most Vancouver Modern Quilt Guild meetings feature a speaker, but a significant portion of the evening is devoted to showing off just-completed or works-in-progress. Proud guild members unfurl quilts, tool organizers, purses and bags of all sorts, pillows, sewing machine covers, you name it. If it can be quilted, you'll probably see it shown off at a guild meeting. Before you start thinking that you'll come away intimidated, it's not like that. Seeing the work of sewists from beginners to published designers, hearing about their challenges and triumphs was inspiring: it made me want to start quilting immediately. When asked questions about materials and technique guild members were always glad to share knowledge.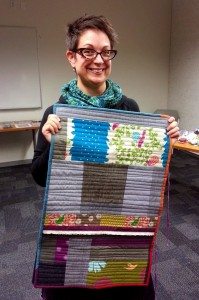 I spoke to long-time guild member Felicity Ronaghan, mom to a five-year-old daughter, who works full-time at Vancity. When asked where she finds the time, Felicity says she sews in the evenings. Felicity had brought a sewing machine cover to show off at the meeting and also contributed a painstakingly intricate quilted pincushion to the swap.
Membership Perks
Membership to the Vancouver Modern Quilt Guild is $50 per year, which includes access to members-only sew-ins, retreats, participation in the monthly challenges and discounts at fabric stores. It also makes you eligible for the door prizes given away at the end of every meeting. You can join the guild at a meeting or on their website. Also check out the Vancouver Modern Quilt Guild Flickr stream for photos of members' beautiful creations.
Meet some of the sewists from the Vancouver Modern Quilt Guild at Got Craft? Vancouver at the Croatian Cultural Centre on December 8 and 9, 2012. They'll be selling some of their gorgeous creations.
Vancouver Modern Quilt Guild
Lisa Corriveau
Lisa Corriveau is our East Side Contributor. When not writing, she can often be found at the park chasing her little boy, sewing clothing, cycling, reading just about anything, performing on stilts, eating chocolate or drinking craft beer. (Sometimes several of the above simultaneously.) Lisa lives car-free in East Van, with toddler, husband and a few bikes. You can also find her on her blog, The Sprog.