Mom on the Street: Kylie Mattu
We say it time and time again: Vancouver moms are the best. In our new Mom on the Street series we're talking to many of you to find out what makes you awesome, and what you love about the neighbourhood you call home. Today we meet Vancouver mom and entreprenuer Kylie Mattu.
Mom on the Street
Kylie shares, "I'm a local Vancouver entrepreneur, wife, and mother to three amazing kids, aged ten, eight and fourteen months. My husband and I run ourcompany STAGE LAB, together. It's a slow motion booth company that has now just expanded to Edmonton. If I'm not baking, cooking or looking after other people's children then I'm working on my business and meeting potential clients. When I have some downtime we make plans for date nights, downtime=datenight."
What do you love about living in Vancouver with your family?
I have lived in Vancouver since before I had children. We just stayed, mostly because there's so much to do all in one area and this is where careers have kept us.
What are your favourite places to eat with your family?
Well if you asked my kids and asked us parents the same question you'd get a completely different answer. My kids love White Spot. Whenever it's a night to eat out that's where they want to go. That's usually what happens. We sometimes will do a Cactus Club, maybe the Keg. We've taken them to Kobes, which they liked. Our favorite place with kids or without is Calabash Bistro.
What does Vancouver life mean to your family?
Vancouver life means traffic to children's activities, beautiful beaches at your fingertips, snowy mountains all at the same time and plenty of opportunity.
What neighborhood based events does your family always participate in and enjoy?
At Christmas time its always the Van Dusen Gardens light show. Summer time you'll always catch us at the farmers' markets, or food cart nights!
What do you love to do together as a family?
Two things we love to do and always do is eat dinner together and Friday nights are usually spent with a family game of Dance Central on the Kinect. We also do a lot of traveling. Road trips are kind of our thing. Whether its for two weeks or just a weekend, we get in the truck and go.
If you could change one thing about your neighborhood what would it be and why?
I would stop the construction! When the SkyTrain was put in that was fine but now houses all around us have been torn down for high rises, movie theatres and malls. I'm pretty sure we're next!
What things do you, and your family, do to give back to your community?
We donate.  Big Brothers and Big Sisters gets a lot of our donations. We go through our kids clothes and toys every six months actually. It helps us out by getting rid of clutter and helps other children out with new clothes and toys.
As a Vancouver mom on the street, what do you feel this city has that the rest of BC doesn't?
One stop shop. If you live in the core of downtown, you don't really need to leave downtown.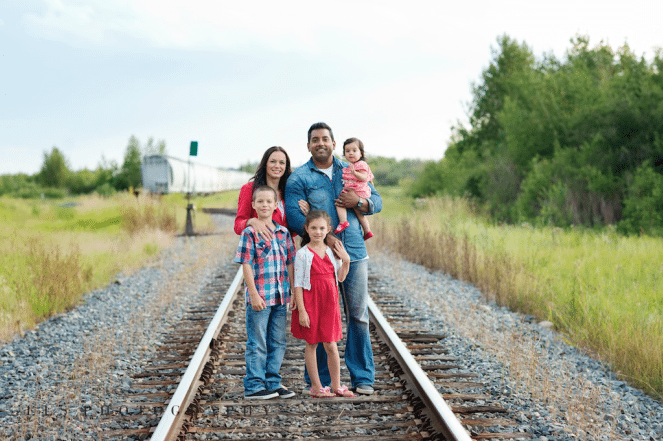 What is the best part, in your opinion, about having your kids grow up in Vancouver?
The best part is that they have so much at their disposal. Schools, universities, any sporting or activity they want is right here. They get to choose who they want to be.
Thanks so much, Kylie, for sharing your viewpoint as a Vancouver mom on the street! If you'd like to share the high points of your neighbourhood with us in an upcoming mom on the street feature, drop us a line at vancouvermom.ca/contact.
STAGE LAB
www.stagelab.ca | Twitter | Facebook
Vancouver, 778-871-4892
Eschelle Westwood
Eschelle Westwood is the writer of Mumfection and is a dedicated young mother to two wonderful (though mischievous at times) boys. In between school drop offs, scraped knees, and milk spills you can usually find her on Twitter or on her hilarious Facebook page.