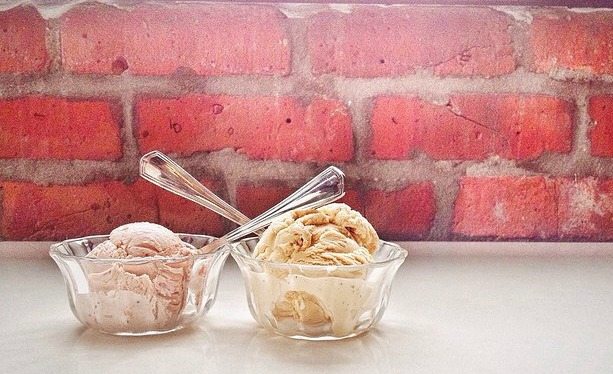 Sure, you could go to Dairy Queen, but why when there's Gastown cool organic soft serve ice cream. Or durian gelato. Or a really good vanilla with a shot of Matchstick espresso poured over the top.
Earnest Ice Cream
The salted caramel is stuff of legend for good reason.
3992 Fraser Street, Vancouver, (604) 428-0697
1829 Quebec Street, Vancouver, (778) 379-0697

Bella Gelateria
Winner of several worldwide gelato competitions, and everything is made from scratch on site.
1001 West Cordova Street & 1089 Marinaside Crescent, (604) 569-1010

Amato Gelato
Chocolate chocolate chip is a universal kid-pleaser. Beware, they charge for extra cups.
88 East 1st Ave, Vancouver, (604) 879-9011

La Casa Gelato
Rice gelato! Durian! They literally have 500 flavours.
1033 Venables, Vancouver, (604) 251-3211

Rain or Shine Ice Cream
Unique toppings like lemon olive oil, fig balsamic reduction, and toffee brittle. Super milkshakes.
#102-1926 West 4th Avenue, Vancouver, (604) 428-7246

Soft Peaks
Soft serve made with organic local Avalon milk … and topped with Oreos if you want. Mmmm.
25 Alexander Street, Vancouver, (604) 559-2071

Johnny's Pops (summer only)
Artisan Popsicles from a bicycle cart – strawberry balsamic is our favourite. Okay, blueberry mojito a close second.
Find more great places for moms just like you. Download JellyBeen, the social mobile app to find the best places to shop, eat and play with kids.
Image Credits: Soft Peaks & @isshamarie Earnest Ice Cream

Erin McGann
Erin McGann is the former Managing Editor for Vancouver Mom and Toronto Mom Now. She drinks just a bit too much coffee, is a bit obsessed about sourcing local food, plays the cello moderately well, spends too much time on Twitter, keeps honeybees on a rooftop, and has a thing for single-malt whisky. Erin is working on a novel set in turn-of-the-century Vancouver, which her husband, son and dog have to hear about all the time, and also blogs at Erin at Large.