What to do in Vancouver: Summertime Rainy-Day Activities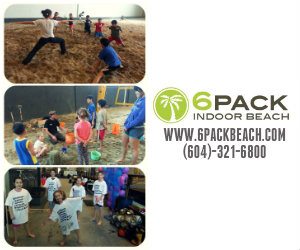 If you've lived in Vancouver long enough you know that there is no better place to be in summertime. When the sun is shining people come out of the woodwork to take advantage of the warmer weather. But when it's raining, it gets quiet. Aside from traffic that often comes to a standstill, the sound of the quiet and rain is a wonderful thing. But it may leave you wondering what to do in your Vancouver to stay active.
We had a spectacularly wet May. While it's tempting to take up crafts as a full-time gig when it rains in Vancouver, lack of activity takes a toll on our physical selves. It's time to put the glitter glue and construction paper scraps aside and get active, indoors.
What to do in Vancouver: Get Active Indoors
When the rain threatens to keep you inside your home day after day, it can get tiresome doing laps up and down the stairs and hallway. Rather than dream of warm sunny days on the beach, check out one of the two Vancouver YMCAs and do some laps in their pool instead.
Become a member at the YMCA of Greater Vancouver and get FREE access to all drop in classes and programs, including swimming. Some of their offerings include:
[unordered_list style="bullet"]
Child and youth programs
Freak Out Friday
Saturday Sizzler
Tumble Time
Family Night
Group fitness classes (non-registered)
Open swim and open gym
Free squash and racquetball court access – with 24 hour pre-booking privilege
[/unordered_list]
Membership also gets you a discount on all day camps and other perks, like towel service and access to child care for the teeny ones. If you prefer you can pay drop-in fees. For more information go to YMCA memberships.
Drop-in Play Gym and Open Gym
Check out Vancouver.ca for community centres that offer drop-in open gym times and show your kids your high school basketball star moves or have them show you. Play a bit of floor hockey, or family badminton if that's more your style.
For the younger crowd there's Playgym which caters to kids up to about age eight (and their parents) to run and jump and kick balls. Some community centres offer gymnastics style equipment like balance beam and thick mats for doing tumbles and freestyle play.
Go to the Beach, Inside!
If beach volleyball is more your style but you're tired of waiting for the rain to pass, check out 6pack Indoor Beach. They bring the beach and you bring your moves! 6Pack also offers beach tennis and soccer, two hot new sports to play indoors when the weather in Vancouver threatens to sock us in with anything other than hot sunny days. Plus, they have some great summer day camps. If you're looking for a unique answer to what to do in Vancouver on a rainy day, check them out.
So there you have it, three summertime rainy-day activities to make a cooler-than-normal June more bearable in Vancouver. Although we'll still be keeping our fingers crossed for warm weather.
What about you? What tops your list of what to do in Vancouver on a rainy day?

This article was sponsored by 6Pack Indoor Beach. With over 700 metric tons of sand covering five full sized volleyball courts, 6Pack caters to just about every type of beach-themed idea possible! No rain, no sunburns, no glass or bottle caps; just top quality sand and tons of great times for people of all ages. It's the perfect, kid-friendly Vancouver solution no matter the weather. Plus they offer day camps!
Lee-Anne Ekland
Leeanne Ekland is a stay-at-home mom of one, who's on a mission to rediscover love, wellness, and neighbourhood happenings and to have a ton of fun. She's also a lover of wine and yoga and believes that sharing her experiences at www.MomParadigm.com brings her closer to living her best life. Having started the parenting experience much later than most, she offers a unique perspective on the challenges and all that is amazing about being a mom over 40.