Trending: Family FUSE Weekend at Vancouver Art Gallery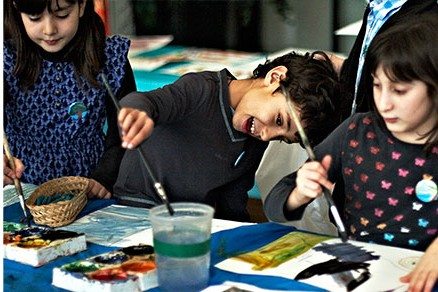 Looking for something warm to do this weekend? The VAG has one of its Family FUSE weekends tomorrow and Sunday.
Object, Action, Perception!
Drawing on elements from the Between Object and Action: Transforming Media in the 1960s and 1970s show, this FUSE weekend will include dancers, musicians, artists, and performers spread out across the gallery. Between Object and Action explores the work of Vancouver artists that pushed and prodded at the line between what is art and what is not, and the lines between art forms like sculpture, painting, and performance art.
> Check it out
Visiting the Vancouver Art Gallery
Dancers from Arts Umbrella join Angela Brown in costumes by artist Evelyn Roth for several performances, make buttons, take inspiration from Jerry Pethick's work and join a drawing workshop, check out the Making Place, or watch a screening by Reel 2 Reel International Film Festival for Youth in the Film Lounge.
How to do Family FUSE
Drop off all your coats and unnecessary bits at the coat check when you come in. Put your need to see every work on hold, and explore the gallery at a child's pace. There are usually stations scattered all over, so don't worry about going through things methodically.
Have a snack
The Gallery Café is a lovely space, however a bit of a challenge if you're pushing a stroller. Check in with gallery staff and they will show you the secret back elevator to get up there. They have sandwiches, soups, salads, and lots of little desserts.
It's worth noting that kids under 12 are free when accompanied by an adult, and adults pay regular admission. Members are free.
Family FUSE Weekend at the Vancouver Art Gallery, 21-22 November, 10am-5pm
750 Hornby St, Vancouver
Find more great places for moms just like you. Download JellyBeen, the social mobile app to find the best places to shop, eat and play with kids.
Image credit: Vancouver Art Gallery
Erin McGann
Erin McGann is the former Managing Editor for Vancouver Mom and Toronto Mom Now. She drinks just a bit too much coffee, is a bit obsessed about sourcing local food, plays the cello moderately well, spends too much time on Twitter, keeps honeybees on a rooftop, and has a thing for single-malt whisky. Erin is working on a novel set in turn-of-the-century Vancouver, which her husband, son and dog have to hear about all the time, and also blogs at Erin at Large.