Funtopia: A new place to play!
We spend all this time planning camping trips, beach trips, and outdoor summer camps, blithely ignoring the possibility of rain. Which is, in Vancouver, a bit of serious wishful thinking. This incredible sunshine can't go on forever! And even is it does, we all need to escape the heat sometimes too!

New place to play
There's a new place to check out when those rainy days arrive, or when you're all burnt out on sun. Funtopia is a European company that has opened their first indoor playspace in Surrey, and it's a big one. Combining bouldering, climbing walls, slides, and traditional soft play structures to make one giant place to explore. Possibly the coolest feature is the freefall slide: hang from a t-bar and then let go to slide down this super slick metal slide onto a cushioned landing. Cue the joyful screaming.
Climbing the walls
The major attraction at Funtopia are the many, many climbing challenges. Climb inside a dark chimney, up the outside of buildings, through moving gears, and through timed obstacles and mazes. Each structure has varying levels of difficulty – younger kids can do it, and older kids can go higher and through different obstacles to make it harder.

Brand new
All the equipment is shiny and new, and they're open for birthday party bookings. If those sticky floors and scuffed-up furniture bothers you about older indoor play places, get in there now.
So keep those kids active and burning off steam, even when it's pouring outside.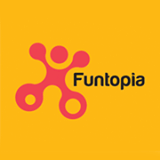 This post was sponsored by Funtopia. We strongly believe that staying fit and healthy is important for having a high quality of life. Climbing, stretching, jumping… these are all great sports activities we turn them into a great way of having fun while keeping fit.
Image Credits: Funtopia
Find more great places for moms just like you. Download JellyBeen, the social mobile app to find the best places to shop, eat and play with kids.
Erin McGann
Erin McGann is the former Managing Editor for Vancouver Mom and Toronto Mom Now. She drinks just a bit too much coffee, is a bit obsessed about sourcing local food, plays the cello moderately well, spends too much time on Twitter, keeps honeybees on a rooftop, and has a thing for single-malt whisky. Erin is working on a novel set in turn-of-the-century Vancouver, which her husband, son and dog have to hear about all the time, and also blogs at Erin at Large.