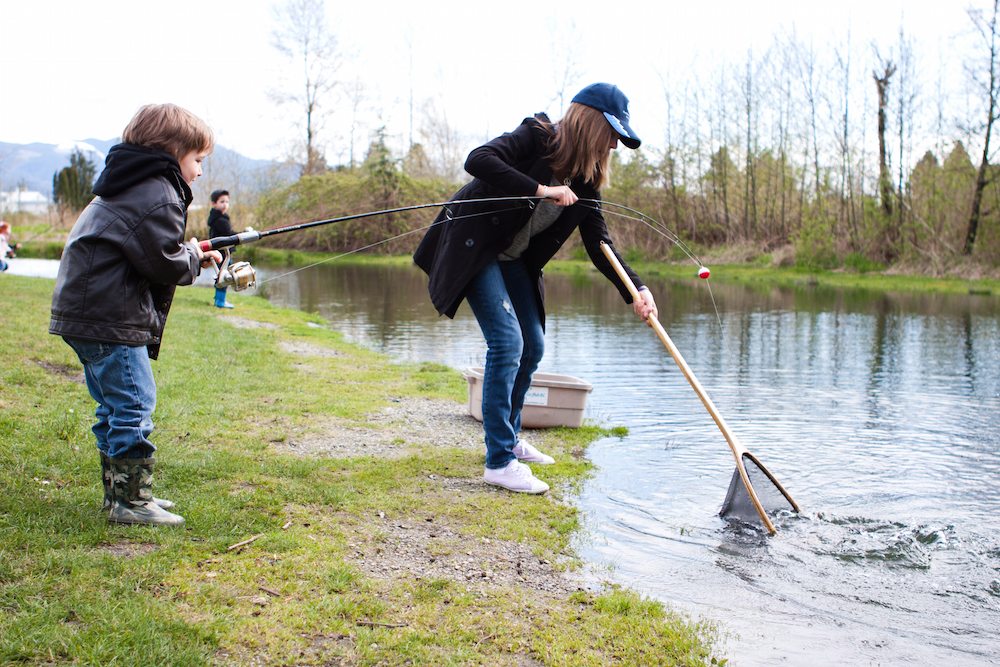 No really, go catch some fish for real, or learn about our local fish populations.
Freshwater Fisheries Society of BC
This local organization holds Learn to Fish workshops throughout the Lower Mainland, just for kids from 5 – 15. You don't even need to have fishing gears, rods will be provided for the lesson. Check this PDF for details. It's worth noting nearly all the classes require pre-registration, and you absolutely need to be there for the beginning of the class where they go over ethics and fish stocks, or you won't be able to participate in the hands-on fishing part.
Pacific Angler
Great resource for people new to fishing. They offer courses, trips, and lots of friendly advice.
78 East Broadway, Vancouver
Fraser Valley Trout Hatchery
Stocked ponds to fish from year-round, fishy birthday parties with full tackle provided.
34345 Vye Road, Abbotsford
Como Lake
Lots of good spots for fishing, lake is stocked with catchable-size rainbow trout.
700 Gatensbury Street, Coquitlam
Hastings Park
The Sanctuary now has a fishing dock, and the little lake has been stocked with catchable-sized rainbow trout. Fishing is allowed in the spring and the autumn.
 188 N Renfrew St, Vancouver
Rice Lake
Rice Lake is stocked with rainbow trout of fishing, and there's a dock to stand on. You have to walk in for a bit on a trail, so be prepared to haul your gear.
Seymour Demonstration Forest, Lynn Valley
Fraser River Discovery Centre
People living in this area have been fishing in the Fraser for generations. Learn about what lives in our river – and meet George the Sturgeon.
788 Quayside Drive, New Westminster
> Check it out
What to do at New West's River Market
Capilano River Hatchery
When the fish are running, this is an incredible place to be – leaping fish everywhere! Check website for best times to visit.
4500 Capilano Road, North Vancouver
Find more great places for moms just like you. Download JellyBeen, the social mobile app to find the best places to shop, eat and play with kids.
Image credits: Fraser Valley Trout Hatchery
Erin McGann
Erin McGann is the former Managing Editor for Vancouver Mom and Toronto Mom Now. She drinks just a bit too much coffee, is a bit obsessed about sourcing local food, plays the cello moderately well, spends too much time on Twitter, keeps honeybees on a rooftop, and has a thing for single-malt whisky. Erin is working on a novel set in turn-of-the-century Vancouver, which her husband, son and dog have to hear about all the time, and also blogs at Erin at Large.