Calling all dinosaur lovers!
Did you know it's 313 days since the start of our global pandemic (but, who's counting?)
With stay in bubble orders still in place, days have been short and slow, but are now filled with a tinge of growing excitement for Valentines Day and Chinese New Year as February approaches.
Special thanks to my friend Sandra or this great recommendation, the next time you drive by the Burnaby Lake area, consider stopping by this wacky locale.
Homeowner Manual Fernandes, a Burnaby residence has created a topiary masterpiece! For the last 20 years, he has slowly transformed his residential home into a delightful community garden filled with animal-inspired topiaries, fruit bearing trees and flowers.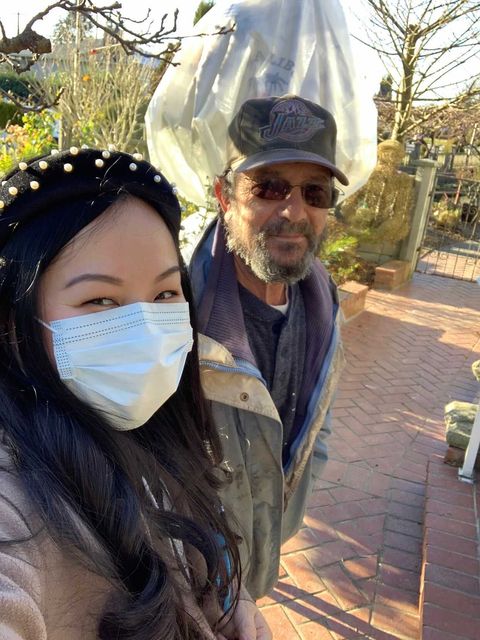 He first started his horticultural practice as he was looking for a challenge and since retiring he has gone full force in creating a garden full with over 50+ animals ranging from bears, rhinos, elephant, ducks, pigs, dinosaurs to a 12-foot brachiosaurus and even a replica of himself that's found inside at the front gate.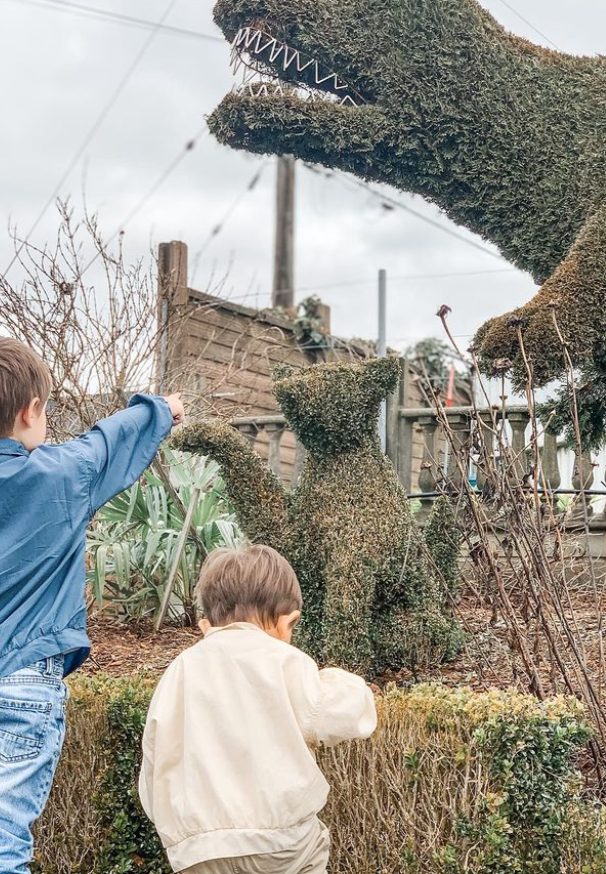 Every spring & summer, he would attract many visitors and can be found out there pruning away on his boxwood & cedar hedges shrubbery, as maintenance is key in keeping the shape of all his friendly creatures.
We made a visit to Mr Fernandes and he shares that his topiaries are in need of a good pruning, however due to the cold climate, he will need to wait until the warm weather to not compromise the health of the plant. It anyone knows horticulture well, it would be Mr Fernandes!
How to plan your visit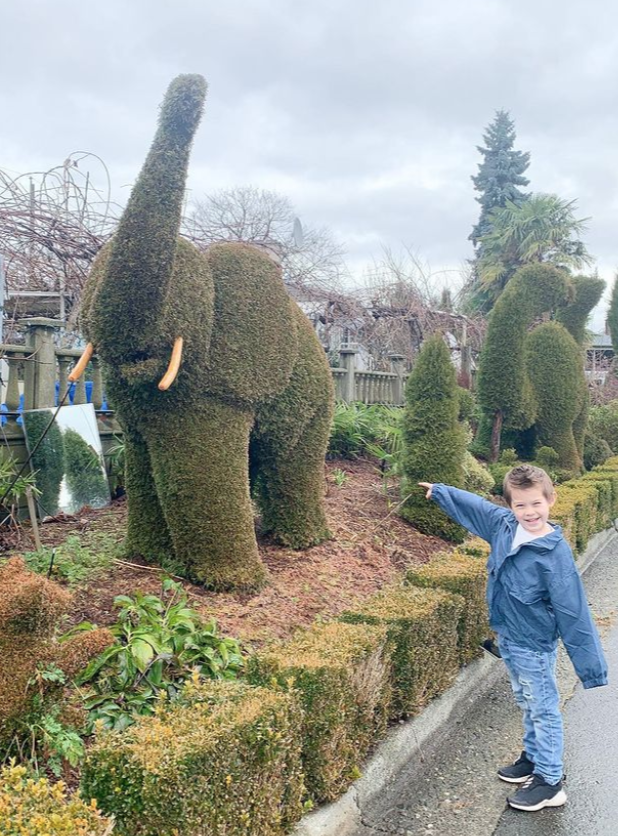 Admission and hours
FREE
Please visit in daylight hours & be respectful as this is a quiet residential cul-de-sac street
Time spent at location
5-10 minutes
Parking
****PLEASE DO NOT PARK IN FRONT OF HOUSE OR IN THE STREET***
Instead, please park on ARMSTRONG AVENUE, which is a 30 second walk in to view the masterpieces.
Main Attractions
Topiaries bears, rhinos, elephant, ducks, pigs, dinosaurs to a 12-foot brachiosaurus      
Where to find the garden
The Fernandes Residence (a quiet residential cul-de-sac)
7726 Taylor Place, Burnaby
NB: As per homeowners, DO NOT PARK in front of house or the cul-de-sac. Instead, park on ARMSTRONG AVE… 30 seconds stroll in to view the topiaries
*PLEASE only travel by foot or walk-in to the area to view as this is a residential cul-de-sac, we want to maintain be respectful and maintain the peace, but at the same time find enjoyment for the little ones.*
Connie Hobbis
The author behind @buddycons, Connie writes about her detailed adventures with her kids around BC (& beyond), believer of 'presence over presents' in motherhood & literacy development in children. She shares tips on traveling with ease with kids, home organization & gentle minimalism with having less. She lives in the Metro Vancouver area with her husband & two kiddos. Before becoming a mom, she worked in the Financial Industry and is a two-time award winning People Leader. Follow her adventures & updates on Instagram @buddycons.