FlyOver Canada: Celebrate Christmas in Vancouver
Ohhhhh… Whoa mommy!  I love this soooooo much!! Oh that smells so good! Is the water real? Are those real clouds? Are the mountains real!? That's not the real Santa, is it?  Look mommy the moooon! Weeeee! This is amazing! I can't believe my eyes!
Kid-Friendly Holiday Fun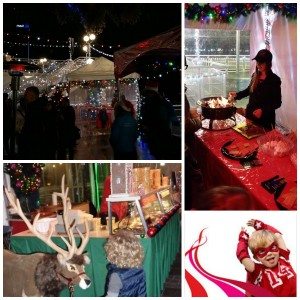 Anytime we can find a fun activity in Vancouver to do with our son that not only gets him excited but also has him willingly stay put in his seat is a win for us. Dinner before the show? Not so much. But we got there and it was worth the potential meltdowns. We just had to keep reminding him we'd be there soon. And he knew what he was in for as we had gone to Chinese New Year at FlyOver Canada. He still talks about the Dragon who flew with us over China, an added bonus.
When the ride started both his dad and I reached over to hold our boy's hand at the same time (probably to comfort us more than him) but he quickly brushed them away. We shared a knowing look — he was going to seriously enjoy this adventure and wanted nothing to stop him from experiencing every bit of it. He's a pretty fearless creature. And of course he had a job to do, according to Mrs. Claus. The elves had played hooky and it was his job to spot the little Christmas clad devils. I'm sure if he could he'd be right alongside those silly elves who were hang gliding and performing dangerous arial stunts.
Join Santa on a Magical Flight to the North Pole
FlyOver Canada transforms into a winter wonderland this holiday season as you and your family go on a magical journey with Santa across Canada and on to the North Pole. The complete Christmas at FlyOver Canada experience will last between 20 – 25 minutes with photo opportunities available in the pre-flight area and a special message from both Santa and Mrs. Claus. The Christmas edition will include FlyOver Canada, the thrilling 8 minute flight ride experience and a surprise extended final scene with Santa to his secret workshop at the magical North Pole!
This incredible journey of discovery covers over 6000 kilometres from coast to coast, all the while never leaving Vancouver! It is unlike any ride experience you will find anywhere in Canada. For a full listing of events, click here to plan your visit.
Even More Fun at FlyOver Canada
In addition to the special Christmas edition of the ride, the FREE event plaza is decked out with Christmas decorations and lights, a nightly tree lighting ceremony, holiday music, live performances, ice sculpture displays, festive food and more!
When the ride was over, our little boy refused to take off his seatbelt. He wanted to go again! I can't blame him really. It was spectacular and such a nice thing to do to celebrate Christmas in Vancouver.
Insider Tips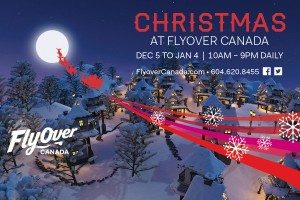 Dress for the weather! The queueing area is partially exposed to the elements so dress accordingly as there may be wait times. If you prefer you can purchase Priority Boarding tickets ahead of time. Entrance times are every 15-20 minutes. Children must be at least 40 inches tall to enter FlyOver Canada. Children 12 and under must be accompanied by an adult or guardian 14 years or older.
If you choose parking on site underground, please ask at the Guest Services counter for a parking voucher and receive a discount on your parking.
If you love the Vancouver Christmas Market, bring your Christmas at FlyOver Canada tickets to the market and receive 50% off admission.
FlyOver Canada
flyovercanada.com | Facebook| Twitter
999 Canada Place, Vancouver
Lee-Anne Ekland
Leeanne Ekland is a stay-at-home mom of one, who's on a mission to rediscover love, wellness, and neighbourhood happenings and to have a ton of fun. She's also a lover of wine and yoga and believes that sharing her experiences at www.MomParadigm.com brings her closer to living her best life. Having started the parenting experience much later than most, she offers a unique perspective on the challenges and all that is amazing about being a mom over 40.