Back to School, Back to Creativity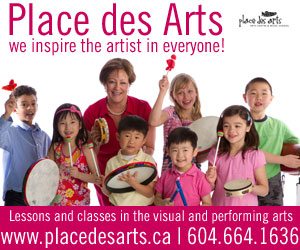 With September approaching, many Vancouver parents are making plans for extracurricular activities for their kids for the 2014/2015 school year. Back to school time is a great time to introduce your children to a new creative pursuit – or perhaps to start one yourself. Place des Arts in Coquitlam inspires the artist in everyone, with their affordable, accessible arts education in the visual, literary and performing arts to students of all ages and abilities. Here are some of the new programs and teachers they're offering this year.
Back to Creativity at Place des Arts
Classes for Little Kids
If you have wee ones, you should know that it's never too early to expose them to creativity. Tiny Stars: Musical Theatre Fun is for two, three and four year olds. In a fun and interactive environment students will bring story books to life. Kids will express themselves through movement and interactive theatre games set to fun children's music. In the process they'll gain confidence, coordination and social skills. The tiniest children will enjoy creativity through Baby Signing and Song, for little ones from birth to 23 months. Parents and babies will learn sign language through music and movement in this fun and supportive class. Mr. I's Family Music is a class for parents and children of all ages – including babies. Have fun together while singing songs, chanting rhymes, playing instruments and making music.
Classes for School Age Kids
Kids aged seven to nine can explore the theatre arts with Acting Basics. Students will explore a variety of drama skills like story-telling, acting with masks, puppetry, characterization and body language. 10-12 year olds can kick things up a notch with Musical Theatre Triple Threat Training as they seamlessly incorporate singing, dancing and acting skills together. Or focus on music with Vocal Basics for 10-12 year olds, where kids will perform musical theatre, pop and folk songs while learning vocal basics such as breath support, improving vocal range and tone quality, vocal health and singing styles. Acro for Dancers invites kids eight to twelve to focus on strength, balance, limbering, flexibility and tumbling. Students will safely learn tricks to expand their dance vocabulary.
Classes for Teens
The creativity isn't just for young kids. Youth aged 13-17 can explore Digital Photography, with two classes that will take them from the basics of photography to staged photographs to digitally enhanced landscapes. Acro for Dancers is also available for students aged 13+. Students will focus on strength, balance, limbering, flexibility and tumbling, safely learning tricks to expand their dance vocabulary. Advanced Contemporary for students aged 13+ blends contemporary dance with modern technique. This class is suitable for those with at least four years of dance experience.
Classes for Adults
Adults will enjoy exploring their creativity, too. The innovative offerings at Place des Arts span and array of visual arts, music and dance. An Illustrated Sketchbook covers fundamental sketching and watercolour techniques, as well as doodling, decorative borders, human proportions and more. Decorative Random Weave Basket is suitable for all levels and invites you to make a unique free-form basket. Pottery: Make Your Own Bake Ware will have you producing wares that will stand-up to the thermal rigors of the oven, such as casserole dishes, loaf pans and pizza stones. Singing for Adults invites beginner and recreational singers to have fun performing classical, musical theatre, pop and folk songs while learning vocal basics. Adult Dance for Fun invites adults of all levels to participate in dance-based exercises to target specific muscle groups, gaining strength, balance and flexibility, as well as some new dance moves!
There's a whole lot more creativity happening at Place des Arts this fall. Read more about the new and fresh offerings you and your kids can explore here.

This article was sponsored by Place des Arts. Registration for fall, winter and spring session classes is now open. New students will discover a warm, friendly learning environment where highly skilled teachers make learning fun and challenging. Theatre arts classes give kids with a love of performing the opportunity to try out different aspects of the dramatic arts. The centre's music department boasts over 35 reputable teachers – and prospective students may take a trial lesson with one or more instructor. There are dance classes in ballet, jazz, hip hop, contemporary, lyrical and tap, plus acro for dancers and advanced contemporary. Experienced artists offer visual arts instruction in everything from drawing and painting to mixed media, to cartooning and animation and fibre arts. Class size is limited so register early to avoid disappointment!
Vancouver Mom
Would you like to write for us? We welcome well-written guest submissions with a local interest slant. Share your tips, review local businesses and highlight hot trends for Vancouver moms. Get all the info on our Contributor Page!