Where to Eat in Vancouver: Trattoria Park Royal
Featuring floor-to-ceiling windows, rustic wine bottle chandeliers, butcher block tables, and a cozy-chic sun-drenched rooftop patio, Trattoria Park Royal is the perfect answer for where to eat in Vancouver. It's a fabulous North Shore destination for a romantic date night, or a casual dinner out with the whole family.
Where to Eat in Vancouver: North Shore Edition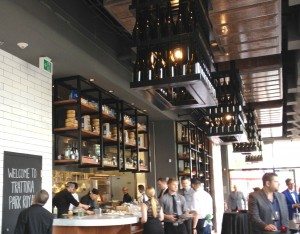 The ninth addition to the GLOWBAL COLLECTION of restaurants, the new space brings the classic Italian cuisine and friendly atmosphere of the original Trattoria (on West Fourth) to the North Shore. The menu boasts home-style Italian favourites, including a range of pizzas, pastas and veal or chicken dishes, as well as vegetarian and gluten-free meal options. For wine lovers, they also offer an expansive list of complimentary wines.
On a sunny day, Trattoria Park Royal's bright and open space feels as though you've been transported to an upscale Italian eatery in LA, complete with fashion's top shopping destinations steps from the door.
Not Just for Date Nights, Bring the Whole Family!
Don't be fooled by the fresh and classy ambiance. Trattoria Park Royal is not only the perfect setting for a date night or a night out with girlfriends, it also doubles as a welcoming, family-friendly destination. Complete with a children's menu, crayons, and high chairs, Trattoria provides a great urban alternative to the mundane, everyday restaurant chains, perfect for a night out with the kids. Bring the family for dinner on Monday nights, and kids under eight eat for free!
Trattoria Park Royal opens even earlier than the original West 4th location, offering brunch on Saturdays and Sundays from 9:30am. Steps away from the picturesque, oceanside seawall of Ambleside Park, you can bring the whole family and make a day of it!

Trattoria Park Royal
glowbalgroup.com | Twitter | Facebook
757 Main Street, Park Royal South, West Vancouver
Bianca Bujan
BIANCA BUJAN IS A MOM OF 3 (+ DALMATIAN), WRITER, AND CONTENT MARKETING QUEEN BEE FOR HER OWN BUSINESS, BEE COMMUNICATIONS. SHE WRITES A WEEKLY PARENTING COLUMN FOR 24 HOURS VANCOUVER NEWSPAPER, AND IS A REGULAR CONTRIBUTOR FOR HUFFINGTON POST PARENTS CANADA, BC LIVING, AND TOURISM VANCOUVER. WHEN SHE'S NOT SCRIBING OR SPREADING THE WORD, BIANCA IS SNAPPING PHOTOS WHILE EXPLORING THE OUTDOORS WITH HER FAMILY IN THE BEAUTIFUL SURROUNDINGS OF BC'S NORTH SHORE WHERE SHE CALLS HOME.