Where to Eat in Vancouver: A Hidden Gem in the West End
A light turquoise wall draws your eye to the stairs in the alley behind the Toyota dealership on Burrard and Drake. Elliot and I squinted in the rain to see if Musette Caffe was, indeed, open – and a friendly barista opened the door for us. We decided to give it a try to see if it fit the bill for where to eat in Vancouver.
A Cute Kids' Area Changes Everything
I had been hearing about Musette a little bit – their bike rides, the gluten-free baked goods, the interesting location. It's only four blocks away, but I assumed it would be small and full of greasy bike parts. When a food blogger friend was in town and stopped in, she texted me a photo of a cute kids' area at the back with a chalkboard, toys and a long table and chairs in little person size. This changed everything. Why did no one mention this before?
That rainy morning, we were the only ones in the cafe. A beautiful space, it's all metal French cafe chairs and gorgeous long wood tables. The walls are covered with cycling jerseys and memorabilia – it feels like it's been here for years. I ordered a latte and a scone for myself, and a steamed milk and pumpkin banana bread for Elliot. The steamed milk came in a beautiful little glass milk bottle with a straw, and at the perfect temperature.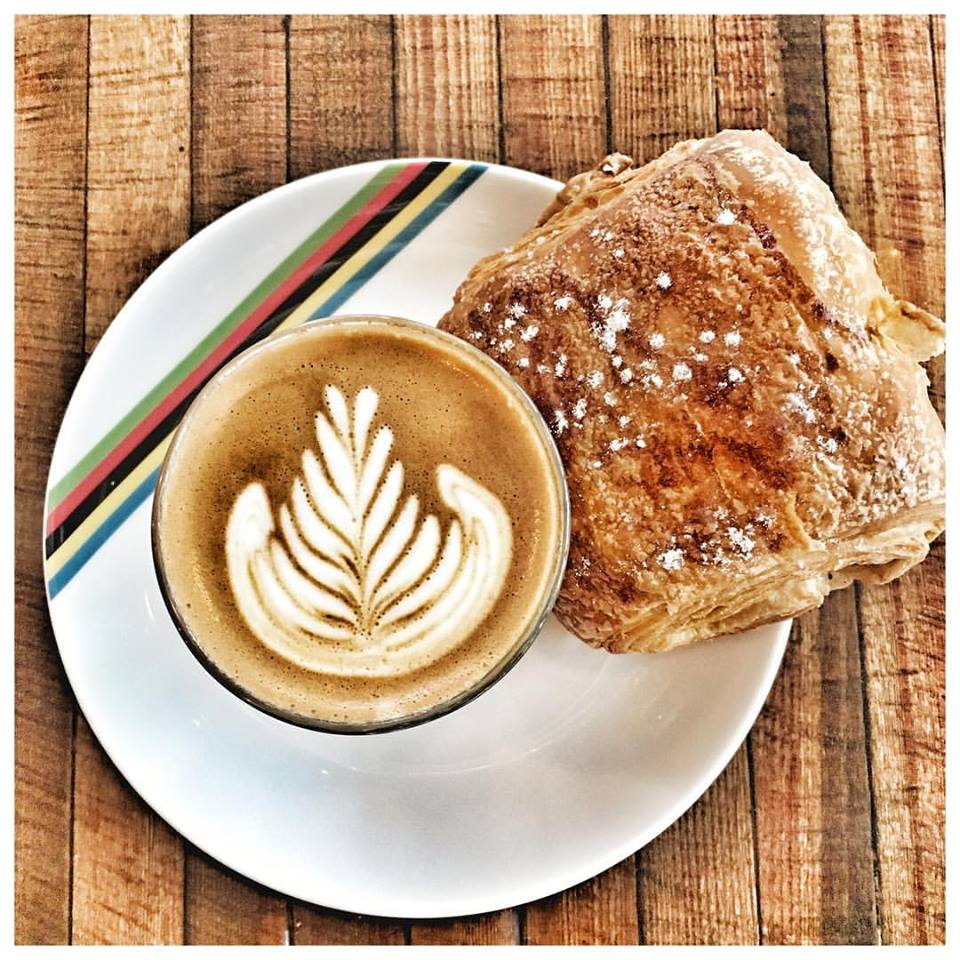 Where to Eat in Vancouver With Kids
Elliot plunked himself down at his own little table, and pulled out some toys. We happily chatted about the pictures on the walls, and played a few games of Tic-Tac-Toe on a cute wooden board. The pile of colouring books stole his attention for ages, and it took me ages to drag him out of there. It is utterly unheard of for me to be the one pulling him out the door of a cafe. I think he was ready to move in. He also polished off his banana bread and the last third of my scone.
They don't get many children coming in yet, but I think it's mainly because people don't know they are there. With lots of space for strollers and friendly staff, this is a wonderful kid-friendly independent cafe downtown, and there are not many of those. It's worth noting that there are a few stairs up to the front door, but the staff are so aware, I'm positive they'd be out there helping you in no time if you were trying to get up with a stroller.
Our New Local Cafe
We came mid-morning, but they serve lunch as well. There is one of the biggest selections of gluten-free treats I've seen, and both of our baked goods were excellent (though not gluten-free). Scones are so often cow pats of sawdust, but not this one. We were sent on our way with a gift of a huge coconut vegan marshmallow from Cloud 9.
I've found our new local cafe, that's for sure.
Musette Caffe
www.musettecaffe.com | Twitter | Facebook
1262 Burrard (enter from alley), Vancouver, 604-336-1159
Erin McGann
Erin McGann is the former Managing Editor for Vancouver Mom and Toronto Mom Now. She drinks just a bit too much coffee, is a bit obsessed about sourcing local food, plays the cello moderately well, spends too much time on Twitter, keeps honeybees on a rooftop, and has a thing for single-malt whisky. Erin is working on a novel set in turn-of-the-century Vancouver, which her husband, son and dog have to hear about all the time, and also blogs at Erin at Large.