Where to Eat in Vancouver: Go Fish
Like any self respecting Brit I have happy memories of eating fish and chips by the seaside and can name my favourite 'chippy' at the drop of a hat. It was with great trepidation that I moved to Canada fearing that I wouldn't be able to find an establishment able to satisfy my cravings. I had no idea where to eat in Vancouver for fish and chips.
Shortly after we touched down in this green and pleasant land we stumbled across Go Fish. It's not much more than a delightfully ramshackle hut but its location overlooking False Creek and the very boats that go out to catch the fish it serves is unparalleled. It is the perfect place for a pit stop on a walk around Vanier Park to Granville Island and with the skyscrapers of downtown glistening on the horizon there is no mistaking that you are very much in Vancouver.
Where to Eat in Vancouver for an Informal Family Meal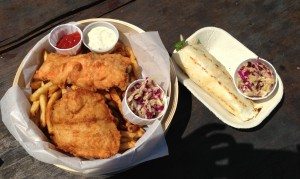 Open daily throughout the year (except Mondays), Go Fish has become one of our favourite answer for where to eat in Vancouver for an informal and fun family meal. All the seating is outside but there is a cover to protect diners against the rain and heaters so you can still enjoy a meal al fresco even in the depths of winter.
I have read a couple of reports suggesting that the quality of the food may have slipped but on my most recent trip it seems as though they are back up to their best and we were not disappointed. We enjoyed beautifully fresh and succulent salmon encased in a delicious, light, crispy Granville Island beer batter, delicate oriental inspired soup, peppery homemade coleslaw (that my two year old practically inhaled) and scrumptious fish tacos (or tacones as they call them). The chips are perhaps a little more spindly than my palate is used to but that didn't stop us clearing our plates. At $8 for a portion of cod and chips it's not the cheapest in the world but I would say the food and atmosphere is definitely worth it.
If You Go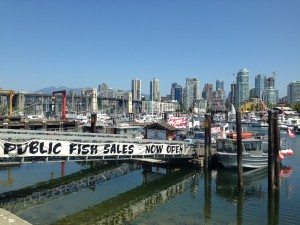 Unfortunately I am not the first to discover this gem, that has been trading here for nine years, so be prepared for a wait, particularly on busy summer weekend lunchtimes. There is often a long line but service is slick and there is plenty to distract a hungry child (or adult). Whilst waiting for our food I took the boys down onto the jetty opposite to take a closer look at the fishing boats that supply the restaurant and are moored up selling freshly caught local salmon.
We were invited onto one boat where they were filleting their fish, the enthralled boys were given an impromptu lesson on how to tell the type of salmon by looking at its scales, and I was given a recipe for a great fish broth that is apparently perfect for using to cook quinoa (well we are in Vancouver after all). Then it was a quick hop back up the gangplank to eat our fish. A pretty place where you can teach your kids where food comes from and get to eat delicious fish and chips at the same time – there's just no beating that.
Go Fish
Twitter
1505 West 1st Avenue, Vancouver
Jo Ramsay
Jo Ramsay is a producer, director, writer, Brit abroad, mom of two mischievous bundles of fun, a newly converted yoga obsessive and lover of all things comedy. Jo blogs at Titchy Jo and tweets as @JoRamsay1.