Where to Eat in Vancouver: Glenburn Soda Fountain
Do you love old school charm that caters to your sweet tooth? If so, Glenburn Soda Fountain just may be worth adding to your list of where to eat in Vancouver (ish). This retro gem is located in the Heights in Burnaby. Glenburn re-creatse that sense of nostalgia we all expect from a 40's styled soda shop. Providing its patrons with delicious drink both warm and hot, ice creams, to-die-for pies and so much more it truly is one of a kind. As they say themselves:
There is no place like it but it will remind you of someplace you have been before." ~Glenburn Soda Fountain
Where to Eat in Vancouver for Sweet Treats and Retro Flair
On my latest visit to Glenburn I happily enjoyed a butterscotch sundae and even indulged in a small egg nog dipped cone that I wish I had about a dozen of. It was such a lovely visit. I was greeted at the door by little ones wearing traditional soda fountain hats and aprons, introducing the lovely shop. It was a complete time warp and I loved every minute of it. From the chalkboard menus to the retro toys every little detail in the place made me more excited. My family views this as one of our go-to answers for where to eat in Vancouver when we are wandering the Heights. Knowing that it's a family-owned business makes it even more special to me, since I know I am supporting a magical little shop and a wonderful family.
The Food
Some of the highlights of the menu at Glenburn include:
Ice cream (in either cone or cup), that comes from Birchwood Dairy in Abbotsford. Even better, every day there is always a non-dairy option!
They have ten different specialty sundaes available for you to enjoy. I can't recommend the butterscotch one enough: it is sweet with hint a salty and is perfect.
Pies from the amazing Pie Hole here in Vancouver. They are so good I can't even begin to tell you.
Of course sodas, which are actually made on a 1931 Walrus Soda Fountain! The machine is a sight to see in itself, and comes all the way from Washington State.
One of the best parts about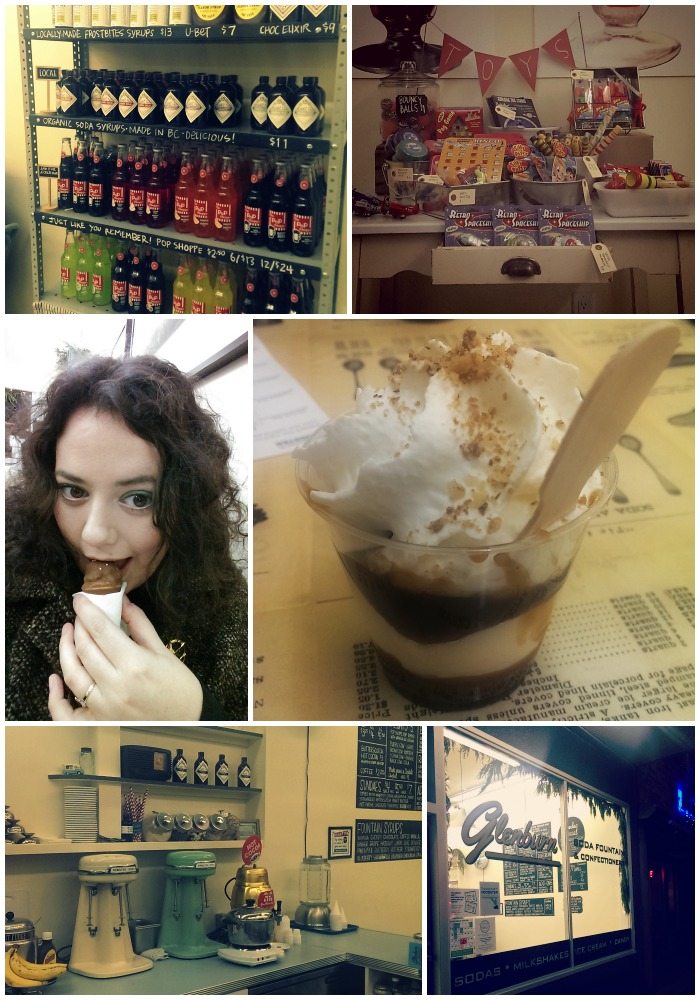 adding Glenburn to your list of where to eat in Vancouver is that they also throw some really great parties.  They have a wide variety of birthday party packages for kids age five and up. Though their space is small and suitable for smaller groups, they sure do know how to pack in a lot of fun.  All in all, I think Glenburn is a great place to make some memories with the family on any occasion.
Glenburn Soda Fountain
Twitter | Facebook
4090 Hastings Street, Burnaby, 604-500-4548
Eschelle Westwood
Eschelle Westwood is the writer of Mumfection and is a dedicated young mother to two wonderful (though mischievous at times) boys. In between school drop offs, scraped knees, and milk spills you can usually find her on Twitter or on her hilarious Facebook page.