Where to Eat in Vancouver: Faubourg
I've passed by Faubourg in Kerrisdale many times, and have peeked through the windows longingly at the amazing selection of pastries, breads, and desserts. Each time it has been packed with people and a long line – long enough to dissuade me from trying to navigate it with my sizable jogging stroller. However last weekend, my husband and I were craving some afternoon sweets and so we decided to go in the middle of the afternoon – hoping that we would be avoiding the brunch and lunch rushes. Of course, we strategized and brought our small umbrella stroller so we wouldn't be knocking into tables. We thought we were so smart as we planned where to eat in Vancouver that afternoon.
A Popular Kerrisdale Cafe
As we approached the front door I noticed that there were many full tables and a line up! It wasn't too hectic, but I quickly realized this place is always busy. Not necessarily a bad thing, just something to be prepared for. Luckily for us, the line up seemed to be moving quickly. I peered at the back of the restaurant and noticed there is an area that provides table service (I didn't notice any highchairs, unfortunately). This section, coupled with the great looking paninis and soup that I saw in the front case will definitely have me back for a proper lunch very soon.
Where to Eat in Vancouver for Delectable Desserts
We settled on a brioche for our little one (bread unfortunately being a big staple for him these days), a pistachio croissant, a Bordeaux canele, and an espresso. The service was quick and we grabbed a table near the front of the restaurant to enjoy our goodies. I have to say that the pistachio croissant was amazing. Light, buttery, and flaky – the way a croissant was meant to be. The Bordeaux canele was phenomenal. I'm a huge fan of any sort of caramelized sugar and boy, did this dessert deliver. My son gobbled up the brioche in no time. If you want something sweet and you're wondering where to eat in Vancouver, Faubourg is a great choice.
We'll be Back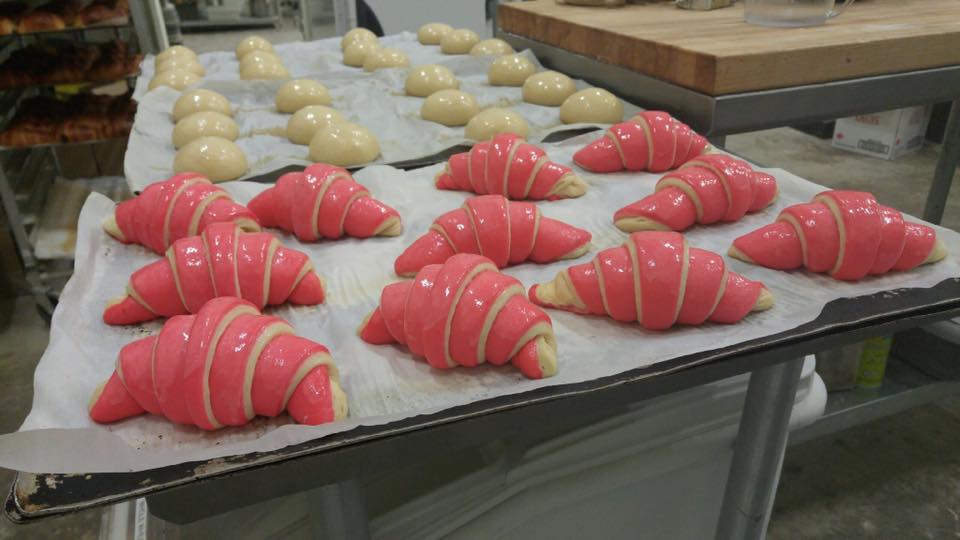 There are so many great looking desserts and pastries, that we will definitely need to go back for more. They have the classic macarons in enticing flavours like salted butter caramel, tahitian vanilla bean, and the Faubourg Signature – made with white chocolate and passionfruit. There are eclairs, various fruit tarts, and mille feuilles, but I would recommend the box of 8 or 12 mini versions of their desserts. Unfortunately they do not sell the minis individually.
If you love tea and you're wondering where to eat in Vancouver, check out Faubourg. They offer a weekend afternoon tea with a preset menu of sandwiches, scones, and sweets between 12:00 and 5:00 pm. They are open daily with various hours, so check their website for more info.
Faubourg
www.faubourg.com | Facebook
2156 West 41st Avenue,
769 Hornby Street
792 Main Street, Park Royal S
erincooper
Erin Cooper is a professional mother of one who is currently seeking the holy grail of family / work balance. Her "type A" personality leads her to believe that she'll come up with the solution one day…soon. On the weekends she can be found strolling to and from one of the many parks and great beaches on the west side, shopping for the ingredients to an amazing meal (to be prepared by her culinarily gifted husband), or rushing to a yoga class.