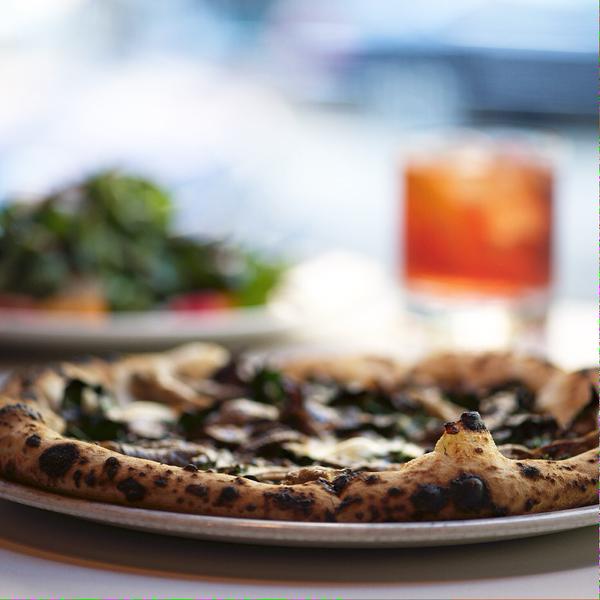 One of the very first on the Neapolitan pizza thing, Nicli is well established as a go-to for that beautiful bubbly crust.
It's definitely a Vancouver Mom staffer favourite. Our Community Manager Harriet still talks about the arugula, castelvetrano olive, orange, and shaved parmesan salad we had there months ago. The funghi pizza is a step above your average wild mushroom pizza, drawing carnivores over from the meat side.
Local mom Mona Stilwell agrees. 'Their pizza is so delicious and so is their burrata when they have it. Their house red is smooth and cheap!'
It's a great date night option, with easy dishes to share, a good cocktail list, and a beautiful atmosphere, says local mom Chloe Eckert. However, it's also doable with kids. Bench seating and tear and share pizza is hard to beat for kid-friendliness.
And an affogato, ice cream with a shot of espresso over it, solves many ills.
Nicli Pizzeria
62 East Cordova Street, Vancouver
Images courtesy Nicli Pizzeria
Find more great places for moms just like you. Download JellyBeen, the social mobile app to find the best places to shop, eat and play with kids.
Erin McGann
Erin McGann is the former Managing Editor for Vancouver Mom and Toronto Mom Now. She drinks just a bit too much coffee, is a bit obsessed about sourcing local food, plays the cello moderately well, spends too much time on Twitter, keeps honeybees on a rooftop, and has a thing for single-malt whisky. Erin is working on a novel set in turn-of-the-century Vancouver, which her husband, son and dog have to hear about all the time, and also blogs at Erin at Large.