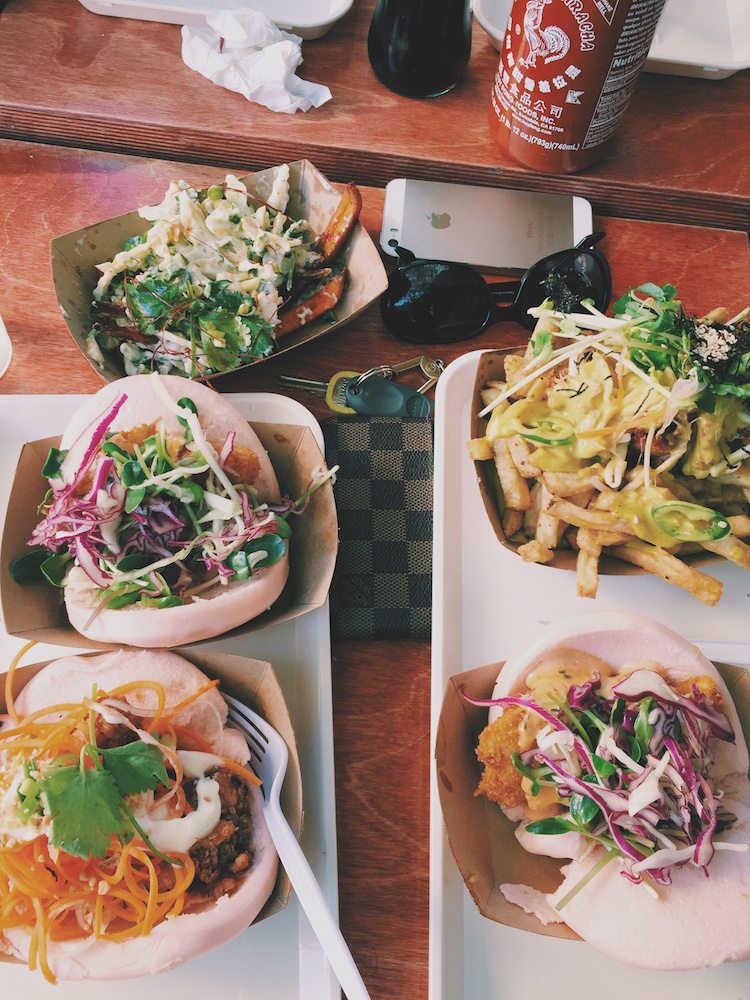 We have a new obsession in the VancouverMom office and it's called Bao Down.
This little place in Gastown is packed every lunchtime for good reason. It is loud loud, and the seating is quite random – stools at countertops on the ground floor, tiny tables upstairs. You don't want to try and bring your stroller in here. The outside tables are more doable with small people. Or make this your starting point for a night out in Gastown with your partner.
Bao sandwich joy
However you do it, you just have to come try this place. The bao (steamed buns, like you find stuffed with BBQ pork in a Chinese bakery) are sliced in half and filled to bursting with intriguing combinations of Asian fusion magic like coconut crusted catfish, cabbage, kimchi tartar sauce, and thai vinaigrette. All on one bao. It's not like those places where they throw a bunch of crazy stuff in one dish, call it fusion, and nothing works with anything else. These are some crazy combos that are just… whoa. We're working our way through the menu, and so far, the catfish is a favourite, called Jaws on the menu, as is the Flip Side featuring BBQ pork, sweet soy, carrot, daikon, and that thai vinaigrette.

Oh, but the fries
One bao is just about enough for lunch, but it's even better if you can split one of their equally inventive french fry sides. The kung fu fries are my personal favourite – though it took a leap of faith to try them. Sweet potato fries, topped with garlic scape mayo, sweet shoyu, scallions, Korean chili threads, chives, and bok choi slaw. There's about three things in there that sound like it could go very wrong, but it's oh so right.
Things to note
They are licensed, so you can get a beer or wine with your bao. They have infused water for free, which is a nice touch. It can take awhile for your food to come, and you need to pay attention because they shout your order number and leave it at the counter. The inside seating space is tight, so don't expect to be able to sit with eight of your closest friends. But really, just go.
Bao Down, 12 Powell St, Vancouver
Find more great places for moms just like you. Download JellyBeen, the social mobile app to find the best places to shop, eat and play with kids.
Erin McGann
Erin McGann is the former Managing Editor for Vancouver Mom and Toronto Mom Now. She drinks just a bit too much coffee, is a bit obsessed about sourcing local food, plays the cello moderately well, spends too much time on Twitter, keeps honeybees on a rooftop, and has a thing for single-malt whisky. Erin is working on a novel set in turn-of-the-century Vancouver, which her husband, son and dog have to hear about all the time, and also blogs at Erin at Large.