Twisted Mat Yoga for Kids, Parents… and Everyone
There's a little haven of calm in North Vancouver called Twisted Mat Yoga. Newly opened, it's the first studio in the area for kids, teens, family and adult yoga. There's something for everyone, from age two (Tiny Twist) to school age (Total Twist) to teens (Teen and Tween Twist) to adult, 'family' and mother-and-daughter classes.
Express Yourselves Through Yoga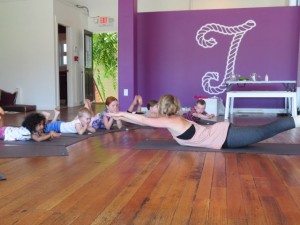 Run by Jenny and Josie, it's a beautiful, bright and welcoming space. All kids' classes are drop-in and drop-off, which is a welcome concept for busy parents. Although Twisted Mat offer five and ten-class cards (they never expire), there is no commitment required. And as we all know, it's lovely to have spontaneity with our kids (and not have too many obligations when they are out of sorts).
Twisted Mat aims to get both kids and parents to express themselves through yoga. They remind us that yoga is for everyone – preventing injuries, strengthening, developing emotional creativity – and teaching healthy habits and self-awareness from a young age. Yoga is non-competitive and improves balance and co-ordination, focus and concentration. It's got to be a good thing for every generation.
Yoga + Art + After School Kids Club
Next door to Twisted Mat is the popular Andrew's on 8th coffee shop, complete with outside tables and chairs if you want an instant caffeine fix after dropping off your kids. All in all, it's a serene spot for families wanting to de-stress and explore their inner selves. Each month, the studio also hosts a 'Karma Class' charity event where yogis are invited to a class by donation. Namaste.
In addition to yoga classes, Twisted Mat offers a two-hour 'YOGART' session, which includes a healthy snack and art-based activities. Kids from 2 to 9 can express themselves to the max! Class times vary by season. From the Fall, the after-school kids club is an extension to the Total Twist class, running from 3:30-5:30pm from Monday to Friday.
Birthday Parties
This is a lovely alternative party for ages two plus. Twisted Mat offers a two-hour party option, themed to your child's choice (dragons, fairies, whatever you want). The package includes an hour of yoga, 30 mins crafts, 30 mins free play/dancing and cake time, a t-shirt for the birthday kid, and a relaxation stone for each guest. Complimentary mats, fruit platter, cups, plates, tables and chairs all provided. Total cost $275.
A one class drop-in at Twisted Mat is $16, and a YOGART drop-in is $25 ($20 for additional sibling). A five-class card is $80 and a five-class YOGART card is $125 (10% off when shared with sibling). Or save some money and purchase a 10-class card for $145. Also, when you purchase your first 10-class card or YOGART 5-class card and you'll get 10% off. Finally, drop-in to your first yoga class and receive your second class free with 2 weeks.
Twisted Mat Yoga
www.twistedmatyoga.com | Twitter | Facebook
277 8th Street E, North Vancouver, 604-442-5387
Jackie Bateman
Jackie Bateman is an author and copywriter based on the North Shore. She has two children and several eye-bags. In between picking up goldfish crackers and making grilled cheese sandwiches, she writes dark, psychological thrillers. Drop by her website at www.jacbateman.com or follow her on Twitter where she's @jacbateman.